George J. Schafer, RA, Ph.D.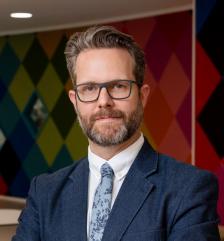 Senior Lecturer
Contact
School of Architecture
Office: Lee 3-103
Email: gschafe@clemson.edu

Education
Ph.D. in Planning, Design & the Built Environment, Clemson University (2015); M.Arch., Harvard University Graduate School of Design (1996); B.A. in Architecture, Clemson University (1992)
Courses
ARCH 8510, Studio III; ARCH 8790, User-Centered Design of Interactive, Responsive and Assistive Artifacts and Environments; ARCH 4520, Synthesis Studio; ARCH 4010, Architectural Portfolio
George Schafer, a registered architect, is currently a Senior Lecturer in Architecture at the School of Architecture. He holds a Ph.D. in Planning, Design & the Built Environment from Clemson University (2015), a Master of Architecture from the Harvard University Graduate School of Design (1996) and BA in Architecture from Clemson University. George was professor-in-residence for the 2015-2016 academic year at the Daniel Center for Building Research and Urban Studies located in Genoa, Italy. In 2014 George received the Excellence in Teaching Award for Clemson University's College of Architecture, Arts & Humanities. George's research focus is in cyber-physical systems, the user experience, and technology-enhanced literary texts and tools. His ongoing research explores the intersection between the domains of architecture, human-computer and robot interaction, library/information science and education through the design and evaluation of full-scale cyber-physical prototypes for children's literacy attainment. George's most recent studies feature prototypes at two scales – the LIT Room, a room-scale installation for a public library's children's room; and the LIT KIT, a portable cyber-physical system for deployment classrooms and homes. In 2012, the LIT Room concept – which hypothesized that children's literacy can be cultivated in an environment that is at once digital, physical and evocative of picturebooks – won funding from the National Science Foundation. George's ongoing research has been featured internationally in conference proceedings and academic journals. Most recently, his paper, entitled "Words Become Worlds: The LIT Room, A Literacy Support Tool at Room-Scale," won Best Paper at the 2018 Designing Interactive Systems (DIS) conference in Hong Kong.
Research Interests
Animated Architecture
Cyber-physical systems
Human-computer / robot interaction
User experience
Design for social justice
Technology-enhanced literacy texts and tools
Awards
Provost Award for Outstanding Collaborative Teaching, Clemson University, 2022; Excellence in Teaching Award, Clemson University College of Art, Architecture & Humanities, 2014
College of Architecture, Arts and Humanities
College of Architecture, Arts and Humanities | 108 Strode Tower, Clemson, SC 29634