You Can Help Make the Clemson Forest Even Better!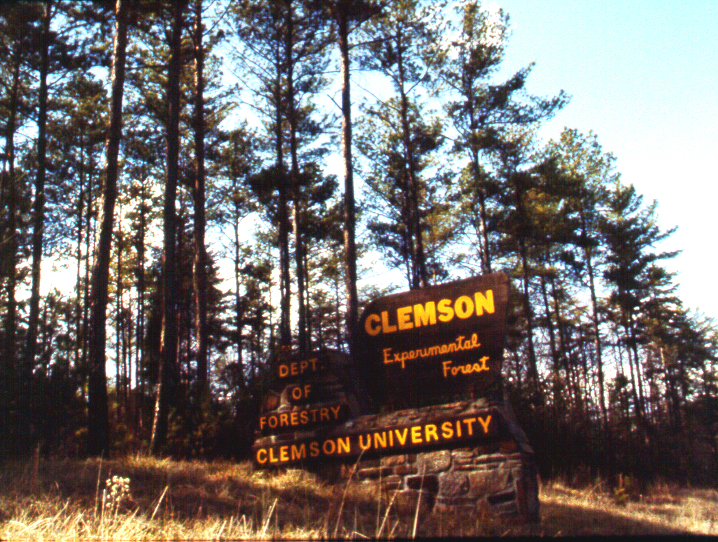 The Clemson Experimental Forest (CEF) provides a unique laboratory for natural resource management education, research and demonstration. The CEF is a working forest that helps support the needs of a state that is nearly 70 percent covered in forest that are mostly family owned. Forestry is the number one manufacturing industry in South Carolina in terms of jobs and payroll and provides a total economic impact of approximately $17 billion to the economy of the state. The quality of life and economic prosperity are linked to the forests of South Carolina.
When acquired as a federal land reclamation project beginning in 1934, severely depleted and largly abandoned agricultural lands were converted to forest. Diligent efforts of foresters and land managers applying sustainable management practices have resulted in a productive forest with abundant wildlife and recreational opportunities. Students can participate in forest inventory, harvest planning, timber sale layout, tree selection, prescribed fire, tree planting, wildlife management activities and other management efforts.
The CEF must generate all funding for staff, management and operations. You may make a donation to the CEF or to the equestrian trails initiative at the link below.
The Clemson Experimental Forest Trail System is divided into 3 primary areas: Fant's Grove (approx. 40 miles), Issaqueena (approx. 47 miles) and Todd's Creek (approx. 18 miles).  None of this trail system is managed for Public Recreational use in the sense that federal, state or municipal forests and parks are managed as recreational facilities.  The purpose of the CEF Trail System is to provide a facility that is open to public recreational use in a manner that gives us the opportunity to study, develop, and teach recreational trail design, construction and maintenance processes.  Your contribution supports this work and our ability to keep the trails open to the public.
Equestrian Trail riders may wish to help fund work that will directly apply to the maintenance and enhancement of equestrian trails.  Funds in this account have been focusing on trails in the Fant's Grove area to date.  Funds are used for maps, trails, bridges, and construction. 
Kim Arp is the development officer. She can be reached at  110 Daniel Drive,Clemson, SC  29631. 864-656-5727. kimarp@clemson.edu

Or, if you would like to make a secure online gift now, click the link below. You will be asked for your My Clemson Connections password or please create a new registration so that we can forward you a tax receipt.