Consortium Archives

Consortium Meeting Minutes
| | | | | | |
| --- | --- | --- | --- | --- | --- |
| 2014 | 2013 | 2012 | 2011 | 2010 | 2009-2008 |
| January 15, 2014 | January 9, 2013 | January 11, 2012 | January 19, 2011 | January 13, 2010 | December 10, 2008 |
| April 9, 2014 | April 8, 2013 | April 11, 2012 | May 4, 2011 | February 10, 2010 | March 12, 2009 |
| July 2, 2014 | July 3, 2013 | July 11, 2012 | July 13, 2011 | March 10, 2010 | June 9, 2009 |
| | October 9, 2013 | October 17, 2012 | September 14, 2011 | April 15, 2010 | July 15, 2009 |
| | | | November 9, 2011 | May 12, 2010 | August 12, 2009 |
| | | | | June 9, 2010 | September 15, 2009 |
| | | | | July 14, 2010 | October 14, 2009 |
| | | | | September 8, 2010 | |
| | | | | November 17, 2010 | |

Annual Stormwater Education Reports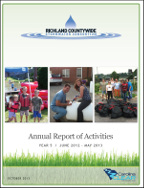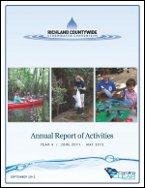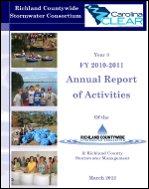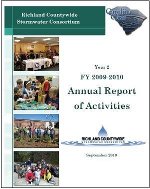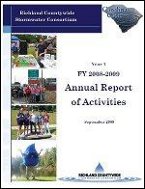 Year 5 Annual Report (2012-2013)
Year 4 Annual Report (2011-2012)
Year 3 Annual Report (2010-2011)
Year 2 Annual Report (2009-2010)
Year 1 Annual Report (2008-2009)
Annual Education Plans
Year 6 (2013-2014) Education Plan of Work
Year 6 (2013-2014) Education Plan of Work
Year 5 (2012-2013) Education Plan of Work
Year 4 (2011-2012) Education Plan of Work
Year 3 (2010-2011) Education Plan of Work
Year 2 (2009-2010) Education Plan of Work
Year 1 (2008-2009) Education Plan of Work

Newsletters
Watershed Moments Newsletter
Holiday Greetings
2014 Carolina Clear Holiday Newsletter
2013 Carolina Clear Holiday Newsletter
2011 Carolina Clear Holiday Newsletter
2010 Carolina Clear Holiday Newsletter
2009 Carolina Clear Holiday Newsletter
2008 Carolina Clear Holiday Newsletter
Past Events
Catching the Rain in Richland County

On Oct. 8, 2011, 17 participants built their very own rain barrels, just in time for fall and winter showers.  Rain barrels capture water from roofs to be used for watering gardens, washing cars, and anything else you might use an outdoor hose for.  If you missed this workshop, we will be holding another one in early spring, so check back for details.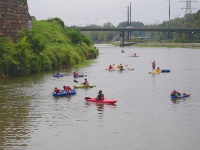 Second Annual Summer Celebration of Water makes a SPLASH!
On August 6, 2011, nearly 1200 people came out to Riverfront Park to celebrate local water resources and have fun in the water!  The event was hosted in partnership by Richland County, City of Columbia, and Lexington County.  The event included kayaking and tubing, water slides and bouncy attractions, exhibits by local non-profits and green businesses, casting lessons, catching bugs in the stream, and much more.  This is an annual event so if you missed it, be sure to join us next year!  More pictures...
4-H2O Pontoon Classroom 2011
20 students from Richland and Lexington Counties got a week full of summer fun and learning at the 2011 4-H2O Pontoon Classroom on Lake Murray!  This day camp introduces kids to water quality, marine biology, local history, wildlife, and fishing.  Campers tour the lake by pontoon boat, study macroinvertebrates, visit a water treatment plant, swim, learn to fish, and more.  Thank you to all of our great sponsors and guest speakers who made this program possible!  Click on the slide show above to view photos and details from this year's program.  More pictures...
4-H2O Environmental Classroom 2011
For older students, 4-H2O Environmental Classroom builds on knowledge from Pontoon Classroom and adds forestry for an extra challenge.  Students canoe at Congaree Park, tour a fish hatchery and SCE&G's testing lab, search a creek for macroinvertebrates (bugs!) and dissect a fish!  Thank you to all our wonderful guest speakers - we learned so much, and had a great time. More pictures...  
Cary Lake Cleanup
On Saturday February 19, 2011, Gills Creek Watershed Association organized a Cleanup of Cary Lake in Arcadia Lakes.  Twenty volunteers, including five Dent Middle School students picked up 20 bags of trash and 5 bags of recyclables.  Keep the Midlands Beautiful provided bags, gloves, and grabbers.  Thanks to everyone who made this effort possible, especially all the volunteers!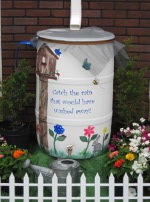 Build a Rain Barrel Workshop
On December 11, 2010, thirteen participants made rain barrels for their homes and learned how collecting rain water helps the environment.  Using rain water instead of tap water for outdoor watering conserves natural water resources and saves money too.  In addition, rain water can carry pollutants into streams, so holding back some of that water reduces the amount of pollution that is picked up during a storm.  More rain barrel workshops are planned for Summer 2011, so check back for dates soon!
Did you know?  In a 1-inch rain storm, nearly 600 gallons of water will run off a 1000 square foot roof!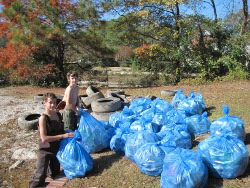 Lake Katherine Clean-up
On November 20, 2010, more than 55 volunteers removed at least 150 bags of trash (estimated weight = 2,250 pounds!) 20+ tires from the Lake and the shoreline.  Trash washes into Lake Katherine from shopping centers and streets upstream in its watershed.  Keep the Midlands Beautiful organizes cleanups like this one on the third Saturday of each month.  Visit their website to learn how you can participate and keep our communities beautiful and our water clean.

Richland County Recycles Day
On Saturday, November 13t, 2010, during the 4th Annual Richland County Recycles Day Event, the county collected more than a half million pounds of computers and mixed electronics, tires, mattresses, scrap metal, and household hazardous waste (i.e. paint, pesticides and household chemicals) all to be recycled. Along with allowing citizens to chunk their junk, Richland Recycles Day drew a record 7,750 residents to the "green" family- fun event at the Clemson Sandhill Research Center. Residents were also able to make the switch - participating in the launch of the Richland County light bulb exchange program exchanging 1,400 old light bulbs for long-lasting compact fluorescent bulbs.
4-H2O Pontoon Classroom and Advanced Camps
Our Summer 4-H2O Day Camp series offers fun outdoor learning adventures for 10-14 year olds in Richland and Lexington County.  The programs feature activities such as pontoon boat exploration of Lake Murray, hiking, canoeing, bug studies, and much more!
Rain Barrel Workshop
On May 15, 2010, thirty-one Richland County citizens learned all about protecting water quality with rain water harvesting as they built their own rain barrels to take home.  Combined with sales from Keep the Midlands Beautiful and the Richland County Conservation District, over 400 rain barrels found homes in Richland County since June of 2009.
Water Quality Education at Spring Festivals 2010
This spring the Richland Countywide Stormwater Consortium and our education partners are attending festivals across the county.  Sparkleberry Fair, Rooftop Rhythms, Nature Fest, Earth Day at the State House, and Forest Acres Festival, just to name a few.  Look for our display and watershed demonstrations at events in your community through the spring and summer!
Watershed Lessons at Bookman Road Elementary School
Students at Bookman Road Elementary School are learning about watersheds.  Our EnviroScape table top teaching model is a really fun way for students to identify non-point sources of pollution in a community, and follow those pollutants as they move through the watershed during a rain storm.  The model uses washable paint and real water to demonstrate the basic principles of runoff pollution in a lesson that students just have to get their hands on!  If you would like an EnviroScape program for your classroom, scout meeting, or event, email Mary Nevins at mnevins@clemson.edu.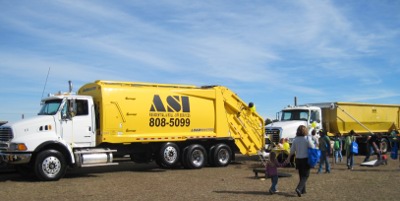 Richland County Recycles!
At Richland County's celebration of America Recycles Day on Nov. 14, 2009, 7000 residents brought 420,000 lbs of computers, mattresses, old appliances, batteries, documents to be shredded, and other house hold waste to Sandhills REC to be recycled!  The event included free food, children's activities, live music, prizes, and giveaways.  Although Richland County residents can recycle all year long through curbside pickup and drop-off centers, this event supplements that by taking items too large or unusual for the regular recycling program.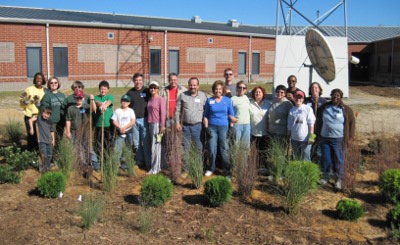 Rain Garden Installed at Bookman Road Elementary School
At a workshop for homeowners and schools on Saturday Nov. 7, 2009, with the help of 20 volunteers, the Richland Soil and Water Conservation District and the Richland County Conservation Commission, and East Peidmont Resource Conservation & Development installed a rain garden at Bookman Road ES to combat a serious erosion problem.  The garden uses a sunken design filled with perennial shrubs, grasses, and flowers to stop the large volumes of water from the school's roof and allows it to sink into the ground naturally.  Read more about rain gardens on the Carolina Clear website!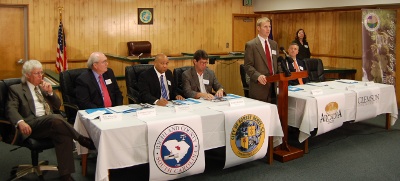 Joint Proclamation Signing
On October 6, 2009, representatives from Richland County, the city of Forest Acres, and the town of Arcadia Lakes, signed a proclamation to officially adopt a regional stormwater runoff education strategy through the Richland Countywide Stormwater Consortium.  This signing is a great step forward for our organization, as it demonstrates commitment from the local governments, and officially announced our existence to the public.  The signing had a nice turnout, and was covered on the WACH FOX nightly news.

Return to top