Rocky Branch Watershed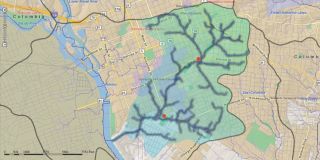 Where is the Rocky Branch Watershed?
The Rocky Branch Watershed is primarily located in the City of Columbia, and flows through Five Points, Maxcy Greg Park, and University of South Carolina campus.  For some portions of its journey Rocky Branch is carried underground in storm drain pipes.  It also includes the Olympia neighborhood in Richland County.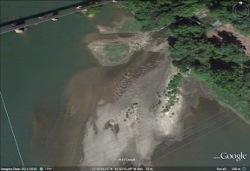 Where Does the Water from the Rocky Branch Watershed Go?
Rocky Branch Creek flows into the Congaree River just south of Columbia City limits.  The Congaree River flows south and joins the Wateree River at Lake Marion.  From there the Santee River carries the water to the Atlantic Ocean.  Left:  Rocky Branch entering the Congaree River.  Note the large amount of sediment deposited.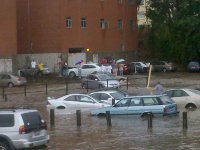 What Problems Exist in the Rocky Branch Watershed?
Like other watersheds in Richland County, Rocky Branch has pollution issues from stormwater runoff, including bacteria, sediment, and litter.  In addition, Rocky Branch experiences severe flooding throughout the watershed, which causes property damage and makes driving conditions unsafe.  Right: Flooding in parking areas near USC campus, 2010.
Who is Helping the Rocky Branch Watershed?
The Rocky Branch Watershed Alliance is a grass roots organization developed under Sustainable midlands, to unite citizens, businesses, and governments to restore the Rocky Branch Watershed.  Visit www.sustainablemidlands.org to learn more or join the alliance!