Twenty-five Mile Watershed
Where is the Twenty-five Mile Creek Watershed?
The Twenty-five Mile Creek Watershed stretches from Fairfield County through the Northeast corner of Richland County, into Kershaw County, and then into the Wateree River.  The watershed covers approximately 124 square miles.  Most of this area is rural, but the waterhed does include parts of Blythewood, Elgin and Lugoff.  This large watershed encompasses several smaller watersheds including Rice Creek, Bear Creek, Bridge Creek and Beaverdam Creek.  If you live in those areas, you live in the Twenty-five Mile Creek Watershed.  That means that what happens to the land and water where you live affects Twenty-five Mile Creek, and what happens to Twenty-five Mile Creek affects you!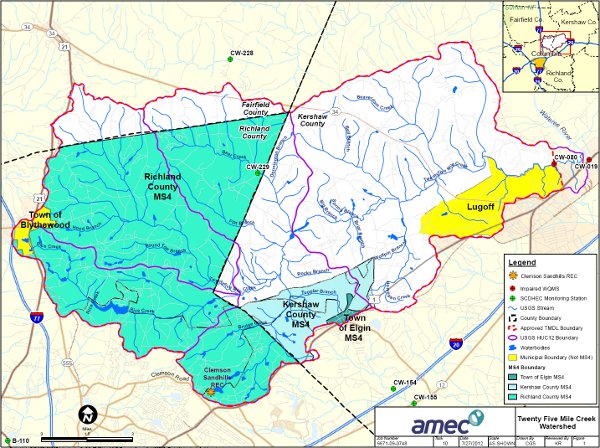 Where does water from the Twenty-five Mile Creek Watershed go?
Twenty-five Mile Creek flows flows into the Wateree River about 8 miles south of Lake Wateree, near where Hwy 1 crosses the Wateree River.  The Wateree River joins the Congaree River at Lake Marion.  From there the Santee River carries the water to the Atlantic Ocean.
What problems exist in the Twenty-five Mile Creek Watershed?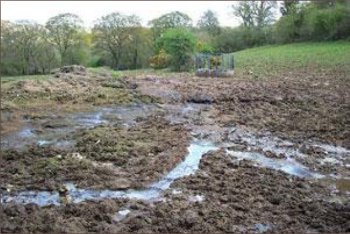 Twenty-five Mile Creek is considered impaired by SCDHEC because of high levels of fecal bacteria.  The sources of this bacteria are likely to be livestock waste, leaking septick tanks, overflowing sanitary sewers and pet waste.  The creek also does not support the variety of aquatic life that it should. Studies are beginning to better understand the sources of pollution in the Twenty-five Mile Creek watershed.
Who is helping the Twenty-five Mile Creek Watershed?
Kershaw County currently is working with Richland County and Fairflield County to develop a watershed based plan, using a 319 grant from SCDHEC.  Richland and Kershaw County Stormwater Divisions are sponsoring the project. AMEC is providing technical assistance for the project, and partners include the Town of Elgin, Town of Blythewood, NRCS, Soil and Water Conservation Districts, and Clemson Extension.  The purpose of the grant is to develop a document Document that identifies pollutants in the watershed, determines the sources of those pollutants and describes what needs to be done to address each source.  AMEC is currently looking for citizens and stakeholders within the watershed to take an active role in the planning process.  If you are interested in becoming involved, please contact Kelli Ressler at katherine.resler@amec.com.