Programs and Events
Earth Day Rain Barrel Art Contest Winners!

Congratulations to all of the wonderfully creative students who participated in the Earth Day Rain Barrel Art Contest!  Four gorgeous barrels were dropped off at Sumter Earth Day on Saturday for judging.  Festival participants voted for their favorites, and the judging was intense!  Here are the results:
1st Place – Lakewood High School
2nd Place – St. Francis Xavier High School
3rd Place – Kingsbury Elementary School
Chestnut Oaks Middle School will be installing their rain barrel at the school to use as part of their outdoor classroom.  The other three barrels were auctioned off at the festival, raising $141 for future stormwater education projects like this one.
Sumter Stormwater Solutions Meeting
July, 2013
Date and Time to be Determined
Sumter North Hope Center

Please join us to plan stormwater education, outreach, and public involvement programs for Sumter County.  All meetings are open to the public, so if water quality is important to you, we welcome your input.  Click here to read the minutes from the January 2013 meeting.
Storm Drain Marking
Sumter Stormwater Solutions is beginning a volunteer initiative to mark all the stormdrains in communities in the City of Sumter and Sumter County.  Storm drains flow to waterways without treatment, so it is very important to warn people not to dump oil, trash, leaves, household chemicals or anything else down a storm drain.  Your group can help, by marking the storm drains in your neighborhood!  The markers are installed with an easy-to-use adhesive, and younger volunteers can assist by distributing doorhangers to houses in the neighborhood.  Contact Mary Nevins, mnevins@clemson.edu for more information.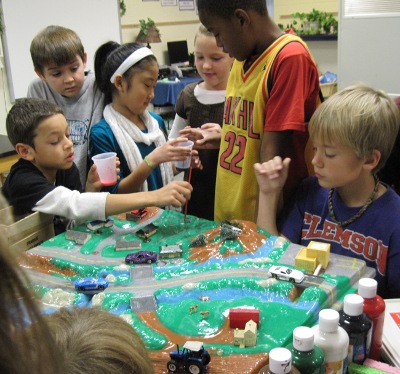 Interested in a presentation on Stormwater Pollution Prevention for your organization?
We offer educational programs for children, adults, and technical audiences, including schools, scout troops, homeowners associations, garden clubs, and water quality interest groups.  There is no charge for programs.  If you are interested, please call Mary Nevins at 803-865-1216 ext. 122, or send an email to mnevins@clemson.edu
Right: Students at a local elementary school discover sources of pollution in a community watershed, using a table top model and real water!
More programs from your neighboring Stormwater Consortiums:
Sumter Stormwater Educators - Tell us about your programs!
Click here to tell us about an upcoming activity!
Click here to tell us about a recent activity that you hosted!