Programs and Events
Stormwater Video Contest for Sumter Students
K-12 students in Sumter County, this is your chance to express your creativity and make a difference! Enter the Sumter Stormwater Solutions Stormwater Video Contest for Sumter County. Make a video teaching others how to prevent stormwater pollution and protect our rivers and streams.
- Elementary or Middle School: You could win a pizza party!
- High School: You could win a $200 gift card from Amazon!

To enter:
1. Download the official rules and registration form from www.clemson.edu/carolinaclear/scsc
-or-
2. Pick up a registration form from your school guidance coun-selor or the Clemson Extension office located at 115 North Harvin Street on the 5th floor in Sumter.

This contest is open to all K-12th grade students in Sumter County. Reg-istration must be submitted by Oct. 21, 2014. Video entry must be sub-mitted by Nov. 21, 2014. Visit www.clemson.edu/carolinaclear/scsc for more information. All videos submitted become property of Clemson Extension.
Earth Day Rain Barrel Art Contest

Sumter Stormwater Solutions will be hosting their third annual Rain Barrel Art Contest this spring! All public and private schools in Sumter County are encouraged to participate. Schools may have multiple classes compete, but only one rain barrel per class. SSS will provide a completed rain barrel, primer, and sealant to each class. The class/school will be responsible for providing painting materials such as brushes and colored paint. ONLY students may work on the rain barrel. Schools will be responsible for bringing the completed rain barrel to the Earth Day Festival in Sumter held in April. Barrels will be judged by the public attending the festival. Schools have the option of installing the barrel on school grounds, at a public location such as a library or church, or donating the barrels back to SSS to be auctioned off during the festival in a silent auction. Themes and prizes for 2015 will be announced in January. If you have any question please contact Mary Caflisch at (803) 865-1216 ext. 122 or mnevins@clemson.edu or Jolie Brown at 803-773-5561 or jolie2@clemson.edu
2014 Winners:
1st Place – Lakewood High School (Ms. Davis's Class)
2nd Place – Sumter High School (Ms. Renick's Class)
3rd Place – Millwood Elementary School Ecology Club
Sumter Stormwater Solutions Meetings
Sumter North Hope Center

Please join us to plan stormwater education, outreach, and public involvement programs for Sumter County.  All meetings are open to the public, so if water quality is important to you, we welcome your input.  Meetings are held quarterly (January, April, July and October).   Click here to read the minutes from previous meetings.
Storm Drain Marking
Sumter Stormwater Solutions is beginning a volunteer initiative to mark all the stormdrains in communities in the City of Sumter and Sumter County.  Storm drains flow to waterways without treatment, so it is very important to warn people not to dump oil, trash, leaves, household chemicals or anything else down a storm drain.  Your group can help, by marking the storm drains in your neighborhood!  The markers are installed with an easy-to-use adhesive, and younger volunteers can assist by distributing doorhangers to houses in the neighborhood.  Contact Jolie Brown, jolie2@clemson.edu for more information.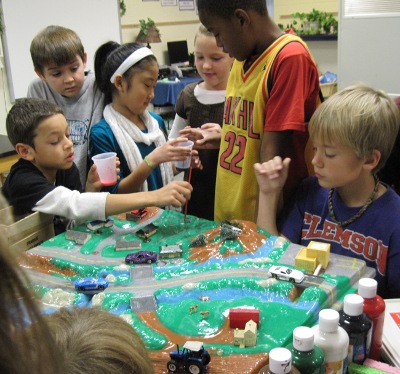 Interested in a presentation on Stormwater Pollution Prevention for your organization?
We offer educational programs for children, adults, and technical audiences, including schools, scout troops, homeowners associations, garden clubs, and water quality interest groups.  There is no charge for programs.  If you are interested, please call Mary Caflisch at 803-865-1216 ext. 122, or send an email to mnevins@clemson.edu
Right: Students at a local elementary school discover sources of pollution in a community watershed, using a table top model and real water!
More programs from your neighboring Stormwater Consortiums:
Sumter Stormwater Educators - Tell us about your programs!
Click here to tell us about an upcoming activity!
Click here to tell us about a recent activity that you hosted!