Volunteer Opportunities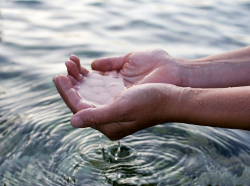 Looking for a way to make a difference in water quality in your community?
The education partners of the Sumter Stormwater Consortium have a wide range of opportunities for you to help our local waterways.  Check out the current needs for volunteers listed on this page, or contact Breann Liebermann (803-773-5561 or blieber@clemson.edu) for other ideas.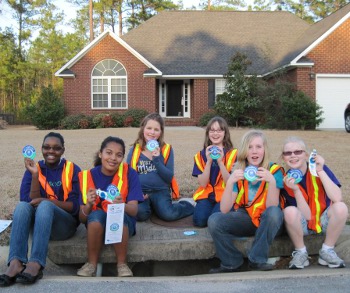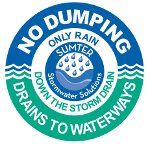 Storm Drain Marking
Sumter Stormwater Solutions is beginning a volunteer initiative to mark all the stormdrains in communities in the City of Sumter and Sumter County.  Storm drains flow to waterways without treatment, so it is very important to warn people not to dump oil, trash, leaves, household chemicals or anything else down a storm drain.  Your group can help, by marking the storm drains in your neighborhood!  The markers are installed with an easy-to-use adhesive, and younger volunteers can assist by distributing doorhangers to houses in the neighborhood.  Contact Breann Liebermann for more information.
Litter Cleanups
Littering is a highly visible problem in Sumter.  Litter thrown on the ground along roads and in parking lots is carried by Sumter's storm drains and ditches to rivers and streams.  Litter can harm fish and wildlife when fish, birds and animals try to eat it or get entangled in it.  Litter also harms community pride and decreases property values.  It can even be a danger to human health if it contains sources of fecal bacteria (such as dirty diapers or pet waste) or toxic chemicals such as motor oil, cleaners, automotive fluids or pesticides.  Sumter Stormwater Solutions hosts three major cleanup events during the year (spring Earth Day cleanup, summer cleanup with kayaks, and fall River Sweep) and helps to promote other cleanups hosted by community groups.  Contact Breann Liebermann to find out how you can participate.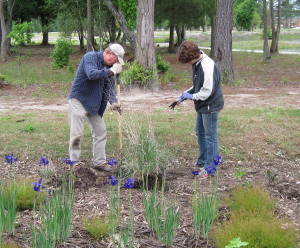 Rain Garden Maintenance
Do you like to garden?  Sumter Stormwater Solutions needs your help to maintain two rain gardens in Sumter, located at Patriot Park and Sumter County Public Works on Main Street.  These gardens need weeding, mulching and pruning several times a year to keep them looking their best and functioning properly.  This is a great way for Master Gardeners to earn their service hours or for novice gardeners to build their skills.  Contact Breann Liebermann for more information.
Find other volunteer opportunities:
Visit the new South Carolina Watershed Stewardship Map!  This tool allows you to easily locate water quality-related organizations near you.  If you are a representative of an organization, you can also add your organization so others can find YOU!

 

Thanks for helping keep our waters clean!