Daniel Bare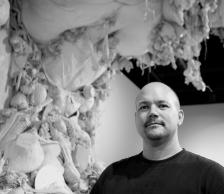 Lecturer of Art, Ceramics / Foundations / Clemson CSArt
Contact
Department of Art
Office: 2-140 Lee Hall
Email: bare2@clemson.edu

Education
M.F.A., Alfred University; B.F.A., University of the Arts
Precarious stacks of discarded commercial dishware, tchotchkes, and the like, are defaced and bonded together with thick layers of molten glaze, in the politically charged works of artist Daniel Bare.
Daniel is a full-time Lecturer in the Art Department at Clemson. Born and raised in Lancaster, Pa, he earned his MFA in Ceramic Art from Alfred University, Alfred, NY and BFA in Crafts/Ceramics from the University of the Arts, Philadelphia, Pa. His artistic practice in clay and professional experience includes international and national artist residencies at acclaimed programs including Star Works, NC, the Pottery Workshop Shanghai, China, Green Arts, Kanazawa, Japan, Medalta, Medicine Hat, Canada and The Archie Bray Foundation, Montana.
His ceramic work is featured in the recently released book, Glaze: The Ultimate Collection of Ceramic Glazes and How They Were Made, as well as, publications Ceramics Monthly, Ceramic Art and Perception, 500 Ceramic Sculptures, 500 Teapots Part I & II. He has exhibits and public lectures about his work at Arizona Museum of Art, ASU, Tempe, AZ, Rubin Center for Art, El Paso, TX, Art Macau, China, Greenwich House Pottery in NYC, Beijing Fine Art Academy in China, the Michigan Ceramic Art Association, the National Council for Education in the Ceramic Arts (NCECA) conferences, and many universities and art centers in the US and abroad.
College of Architecture, Arts and Humanities
College of Architecture, Arts and Humanities | 108 Strode Tower, Clemson, SC 29634