Phillip Rivers Hughes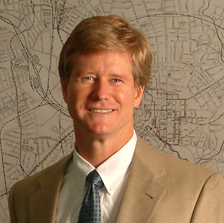 Lecturer
Contact
Nieri Department of Construction, Development and Planning
Phone: 864-242-2100
Email: Phil@HughesInvestments.com
Education
J.D., University of South Carolina; M.B.A., University of South Carolina; B.S. in Economics & Political Science, Duke University
Courses
RE Development Strategic Planning
Phil Hughes is the President of Hughes Investments, Inc. located in Greenville, SC. Hughes Investments'' projects include commercial, industrial, office, and mixed-use developments, with special focus on urban development and mixed-use projects. Mr. Hughes'' development efforts focus primarily on, land acquisition, design, construction and finance.
Mr. Hughes has been actively involved as a ULI Full Member for about 25 years. He has served as Council Chairman, ULI Board of Directors Trustee, and Governor of the Urban Land Foundation. He has been actively involved with South Carolina District Council and initiated Growing by Choice or Change – State Strategies for Quality Growth in South Carolina.
Mr. Hughes attended undergraduate school at Duke University and earned his graduate degrees from USC. He is an avid supporter of his community and serves as a Board Member on several civic, cultural, and educational boards. He has been recognized for his leadership role in converting McAlister Square Mall into University Center, expanding and revitalizing Heritage Green, and numerous developments including Poinsett Plaza, CenterPointe, and RiverPlace. Mr. Hughes is an avid supporter of Smart Growth principles and developments that demonstrate innovative architecture. He is a lifelong resident of Greenville. He is married with four children and especially enjoys adventurous travel.
College of Architecture, Arts and Humanities
College of Architecture, Arts and Humanities | 108 Strode Tower, Clemson, SC 29634