Michael L. Meng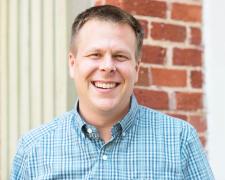 Associate Professor; M.A. Program Director
Contact
Department of History
Office: 116 Hardin Hall
Phone: (864) 656-3153
Email: mmeng@clemson.edu

Education
Ph.D., University of North Carolina at Chapel Hill (2008)
Courses
History Thinking and Methods (fall 2022); Heidegger: Being, Time, and Technology (fall 2022)
Research Interests
Central Europe, Intellectual History
I am currently writing a book, History, Death, and Salvation in European Thought, about different responses to death in European history.
Selected Professional Works
Books (Published)
Rebuilding Jewish Life in Germany. Rutgers University Press, 2020; co-edited with Jay Howard Geller.
Modern Germany in Transatlantic Perspective. Berghahn Books, 2017; co-edited with Adam Seipp.
Jewish Space in Contemporary Poland. Indiana University Press, 2015; co-edited with Erica Lehrer.
Shattered Spaces: Encountering Jewish Ruins in Postwar Germany and Poland. Harvard University Press, 2011.
Journal Articles & Book Chapters (Published)
"Responses to Silence: The Jewish Museums in Berlin and Warsaw," in POLIN: Studies in Polish Jewry, vol. 37, 2023.
"Writing on Death: Plague Narratives," Comparative Studies in Society and History, January 2022.
"Freed from Sadness and Fear: Politics, COVID-19, and The New Germany," German Politics and Society (fall 2021); co-written with Adam R. Seipp.
"Rousseau and Heidegger's Philosophy of Origins," Kronos (2020); co-written with Jeff Love.
"Heidegger's Silence," Kronos (2019); co-written with Jeff Love.
College of Architecture, Arts and Humanities
College of Architecture, Arts and Humanities | 108 Strode Tower, Clemson, SC 29634