Anthony Fattibene, M.S.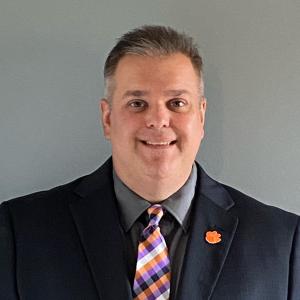 Lecturer of American Sign Language
Contact
Department of Languages
Office: 361 Humanities Hall
Email: afattib@clemson.edu

Education
Masters of Science, Clemson University (2019); Bachelor of Arts, Gallaudet University (1996)
Anthony Fattibene is a proud, native New Yorker who now makes his home in South Carolina. He is an adjunct instructor of American Sign Language at Clemson University and Tri-County Technical College. In addition, Anthony tutors ASL students at Clemson University and the University of Tennessee in Knoxville. He earned his Bachelor of Arts in Graphic Design from Gallaudet University. Anthony enjoyed many satisfying years as an industry professional in New York, until being impacted by the events of 9/11. He joined the family of Clemson alumni in 2019 by completing his Masters of Science in Graphic Communications. He has since gone on to pursue Professional Studies Training (PST) for ASL and Deaf Studies courses from Gallaudet University and expects to earn his ASLTA certification soon. He is a member of the South Carolina American Sign Language Teachers Association (SCASLTA), and the South Carolina Association of the Deaf (SCAD), and is active in the Greenville Clemson Club. Anthony loves graphic design and graphic communication. He's an avid sports fan and enjoys watching movies, editing films, playing video games, and traveling. He lives with his Deaf/Blind wife Joanna in Greenville, SC. They have a grown hearing son who is in law school, and recently adopted guide-dog-in-training, Coco Luno to complete their CODA (Child of Deaf Adults) / DODA (Dog of Deaf Adults) family.
College of Architecture, Arts and Humanities
College of Architecture, Arts and Humanities | 108 Strode Tower, Clemson, SC 29634