Yanhua Zhang, Ph.D.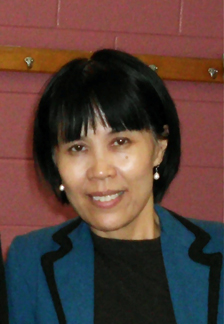 Associate Professor of Chinese
Contact
Department of Languages
Office: 304 Strode
Email: yhzhang@clemson.edu

Education
Ph.D., University of Hawaii
Dr. Yanhua Zhang (Ph.D., Anthropology, University of Hawaii) has been a member of the CU faculty since 2000. Her primary research interests include linguistic and medical anthropology, anthropology of emotions, Chinese lexicography, and Chinese culture and society. Her publications include the monograph Transforming Emotions with Chinese Medicine: An Ethnography from Contemporary China by SUNY (2007); "Negotiating the path to efficacy at a Clinic of Traditional Chinese Medicine" in Culture, Medicine and Psychiatry, Vol. 31 No. 1 (2007). She is also an associate editor to two dictionaries published by University of Hawaii Press: ABC English-Chinese and Chinese-English Dictionary (2009) and ABC Chinese-English Comprehensive Dictionary (2003). In addition to presenting papers at national and international conferences, Dr. Zhang and has also been invited to present her research at University of Missouri (2010), Wake Forest University (2010), and University of Chicago (2011). Dr. Zhang is the co-director of Clemson's study abroad program CU in China, which has been in operation since 2004. She is also the academic advisor for Chinese Language and International Health majors. For the Spring of 2019, she was a visiting faculty to the Department of History of Medicine, Medical School, Johns Hopkins University.
Selected Professional Works
Books (Published)
Transforming Emotions with Chinese Medicine: An Ethnographic Account from Contemporary China. SUNY series in Chinese Philosophy and Culture. 2007.
Books (Edited)
ABC English-Chinese & Chinese-English Dictionary (Assoc. editor.) Honolulu: University of Hawaii Press. 2010.
ABC Chinese-English Comprehensive Dictionary (Assoc. editor.) Honolulu: University of Hawaii Press. 2003.
Journal Articles & Book Chapters (Published)
2020 "Inventing Chinese medical paidu: market, embodiment, and self-care in contemporary China," Journal of Chinese Anthropology, Vol. 2: Medical Anthropology. Guest Eds. Judith Farquhar and Lili Lai. (25-62).
"Cultivating capacity for happiness as a Confucian project in contemporary China: texts, embodiment, and moral affects" in Perspectives on Chinese Happiness by Gerda Wielander and Derek Hird. Hong Kong: Hong Kong University Press, pp. 150-168. 2018.
"Review of Living Translation: language and the Search for Resonance in U.S. Chinese Medicine. by Sonya E. Pritzker, Berghahnbooks, 2014." In American Anthropologist, Journal of the American Anthropological Association, Vol. 118-No.3 (688-690). 2016.
"Crafting Confucian remedies for happiness: unraveling the Yu Dan phenomenon" in The Political Economy of Affect and Emotion in East Asia, ed. by Yang, Jie. Routledge. 2014.
"Attuning body-person: the way to healing in Chinese medicine" in ,i>the Mind Humanities: Philosophical Introspection and Social Healing, International Conference Proceedings. Institute of the Mind Humanities, Wonkwang University, Seoul, Korea. 2011.
"Translating minzu: from a perspective of linguistic anthropology" in N.W Ethno-National Studies No.3. Langzhou, China: Press of North West Minzu University. 2011.
"Review article on the Afterlife of Images: Translating the Pathological Body between China and the West by Larissa N. Heinrich, Duke University Press, 2008" in China Review International Vol.16, no.3 (344-347). Honolulu: University of Hawaii Press. 2011.
"Chapter One: Introduction" co-authored with Michael Morris in Culture and Language: Interdisciplinary Case Studies ed. by Morris, Michael. Frankfurt, Germany: Peter Lang. 2010.
"Negotiating the path to efficacy in a clinic of traditional Chinese medicine." Culture, Medicine, and Psychiatry, Vol.31-No.1 (73-100). Springer. 2007.
College of Architecture, Arts and Humanities
College of Architecture, Arts and Humanities | 108 Strode Tower, Clemson, SC 29634