Schwennsen, Kate, FAIA
Position
Professor, Chair of School of Architecture
Contact
Office: Lee 3-126
Phone: 864-656-3895
Email: kschwen@clemson.edu

Education
M.Arch., Iowa State University; B.A. in Architecture, with Distinction, Iowa State University
Brief Biographical Narrative
Kate Schwennsen, FAIA, Professor, is the Chair of the School of Architecture. Her teaching and research focus on issues of diversity, leadership and evolving education and practice models in architecture. Recent publications/presentations include: "You Can't Just Add Women and Stir", "Sustainable Education Sustainable Profession", and "The Architect at Mid- (21st) Century". She has held many leadership positions in professional organizations, and is currently a Co-Vice-President for Region III, (the Americas), on the Education Commission of the International Union of Architects (UIA). Schwennsen was 2006 President of the American Institute of Architects, the second woman to serve as the elected leader of this then-149-year-old, 80,000-member organization. She is licensed to practice architecture in Iowa and South Carolina. Professor Schwennsen was formerly (2001-2010) Associate Dean for Academic Programs of the College of Design, Iowa State University.
Faculty Poster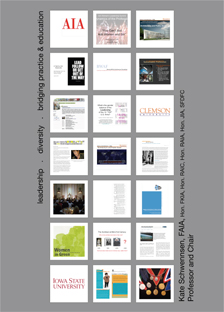 In Fall 2011, the School of Architecture faculty designed posters to represent their research, designs, accomplishments and interests, for use in the NAAB accreditation process.