Green, Keith E, RA, Ph.D.
Position
Professor, Director, Insitute for Intelligent Materials, Systems & Environments (iMSE)
Contact
Office: Lee 2-313
Phone: 864-656-3887
Web Site: http://www.keithevangreen.com
Email: kegreen@clemson.edu

Education
Ph.D. in Architecture, University of Pennsylvania; M.S. in Architecture, University of Pennsylvania; M.Arch., University of Illinois, Chicago; B.A., University of Pennsylvania
Employing advanced information technologies, particularly robotics, Keith Evan Green investigates how architecture can behave more like living things in response to human needs and opportunities. Supported by the National Science Foundation, Green's cross-College, trans-disciplinary teams develop, prototype and evaluate "intelligent environments" for an increasingly digital society. Green is cross-appointed as Professor of Architecture and Electrical & Computer Engineering, and serves as Director of the Clemson University Institute for Intelligent Materials, Systems & Environments [iMSE] (www.CU-iMSE.org), a novel research unit partnering Architecture, Materials Science & Engineering, and Electrical & Computer Engineering.
He teaches in Clemson's Masters of Architecture Program and in its Ph.D. Program in Planning, Design & the Built Environment, for which he coordinates the area of Design Research. With Dr. Ian Walker, Green offers the cross-listed course, ECE/ARCH 868 "Architectural Robotics: Intelligent and Adaptable Built Environments." Widely published, Green is also a regular peer-reviewer and program committee member for ACM/IEEE conferences, and co-hosts with Mark Gross of Carnegie Mellon University ARCHIBOTS, a workshop on "Architectural Robotics."
Green has supervised over thirty M.Arch. and Ph.D. student theses and regularly serves as thesis committee member for graduate students across three Clemson Colleges. Thesis work from his "Animated Architecture Lab" was judged among the "best practices in sustainable design education" by the American Institute of Architecture. Green is also a practicing, international-award-winning architect. He holds a B.A., M.S. and Ph.D. from the University of Pennsylvania, a Masters of Architecture from the University of Illinois at Chicago, and professional architectural registration.
Faculty Poster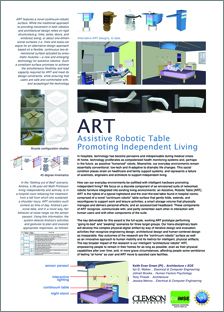 In Fall 2011, the School of Architecture faculty designed posters to represent their research, designs, accomplishments and interests, for use in the NAAB accreditation process.