Welcome to the School of Architecture
We are hiring: See our ads for tenure-track and lecturer positions on Archinect
School of Architecture Fall Newsletter
Are you a prospective student?
Clemson Architectural Foundation
CU-iMSE, an Institute of the School of Architecture
100+ Years of Architectural Leadership Celebrated
In late June, other faculty members, many alumni and I attended the AIA Convention, the largest annual meeting of the architecture profession in the country, (and probably of the world). The theme of this year's convention was "Building Leaders", and there could not have been a better theme or showcase for Clemson's School of Architecture. This "bonus-event" to our year of centennial events, provided very public recognition of a number of our alumni as "building leaders", or as we say, "transformational architectural leaders, shaping the world of the 21st century for a better future".
Derwin Broughton, AIA (2000), received one of only fifteen 2013 AIA Young Architects Awards, for his exceptional leadership early in his professional career in addressing the needs of emerging professionals as well as minorities and underrepresented groups. When congratulated on this award, Derwin spoke of how humbling it was to be recognized, but "with honor and recognition comes great responsibility – responsibility to not settle but to continue to strive for causes larger than me."
Mark Carroll, AIA (1978) and his partners received the 2013 AIA Twenty-five Year Award for the Menil Collection by Renzo Piano Building Workshop, for leadership in creating architectural design of enduring significance. Jury comments included: "Timeless - still an amazing precedent for museum design, daylighting, and a clean plan - it's about the contents, not the building itself. Contextually responsive to it's interesting low scale neighborhood it influenced this quadrant of Houston in many different ways."
Thomas Phifer, FAIA (1975 and 1977) and Partners received one of only eleven 2013 AIA Institute Honor Awards for Design Achievement in Architecture for his leadership in design achievement, "demonstrating exemplary skill and creativity in the resolution and integration of formal, functional, and technical requirements" (as defined by the AIA Honor Awards program), for our new academic home, the expanded Lee Hall. Jury comments included, "It is an exceptional work that surrounds students with a seamless integration of programmatic goals, energy efficiency, and creative tectonics."
Harvey Gantt, FAIA (1965), received the 2013 Whitney Young Jr. Award for his leadership as an agent of social change, as a noted civil rights pioneer, public servant, and award-winning architect. "We believe there has been no other AIA member who has contributed more to the social fabric of our society throughout his lifetime than Harvey Gantt," wrote William J. Carpenter, FAIA, and Jane Frederick, FAIA, directors of the AIA South Atlantic Region, in their joint nomination letter. "He has literally opened doors, provided opportunity, and personally mentored generations of design professionals and civic leaders through his life's work."
These great examples are the latest in a 100-year legacy of architectural leadership, a legacy that started with the founding of Clemson's architecture program and its first faculty and students, and lives on through these contemporary accomplishments. We will be celebrating this legacy of leadership this fall, with the concluding events of our centennial celebration. Please attend as many of them as you are able, including the October exhibition in the Lee Hall Gallery, where that 100-year legacy will be explored, honored and celebrated in an ambitious and innovative multi-media exhibit that you will not want to miss. See you there!
Kate Schwennsen, FAIA, Hon. FKIA, Hon. RAIC, Hon. RAIA, Hon. JIA, SFDFC
Professor and Chair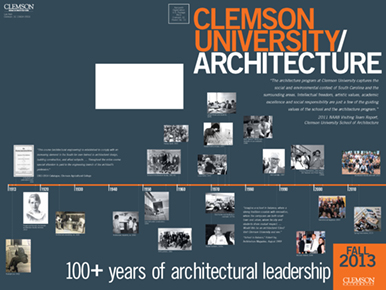 School of Architecture
Fall 2013 Newsletter
100+ Year of Architectural Leadership Celebrated
AIA National Convention
Centennial Celebration
Trends in Architectural Education at Clemson University: Part II
Symposium and Beaux Arts Ball
Fall 2013 News & Events
CU-iMSE
Partnering Architecture, Electrical & Computing Engineering, and Materials Science & Engineering, the 
Clemson University Institute for Intelligent Materials, Systems, and Environments
 is home to human-centered, trans-disciplinary research-and-teaching teams sufficiently complex in composition to address problems and opportunities in an increasingly digital society. CU-iMSE strives to realize the kinds of "cyber-physical systems" that cultivate interactions across people and their surroundings that define places of social, cultural and psychological significance.
Join our networks!
This is a great way to stay connected to your community, stay informed about developments in your field, meet potential employers/employees, discover exciting events, and just have fun. We welcome all students, faculty and alumni to join our networks.
Branch 1.0
Branch is a semi-annual, student-produced publication of student work. The inaugural issue was produced by students of the M. Arch. class of 2011. Branch 2.0 is in the works. 
View Branch 1.0 here.