Staff Performance Management
Clemson is phasing in a new online Performance Management tool called OnBase-Performance. The goal is to automate our current process in order to increase efficiency and effectiveness, reduce manual processing and increase collaboration between employees and supervisors throughout the performance management process. OnBase-Performance includes an online planning and evaluation form, automated workflow and electronic storage. View the OnBase-Performance Process Map (PDF) to see how OnBase-Performance automates the performance management workflow.
OnBase-Performance will be implemented in three phases to correspond with the Budget Center's current performance period group (PDF). Each group will begin using OnBase-Performance at the beginning of their performance period to establish plans for the new performance year.
Online, Self-Paced Training
It is imperative that you complete the training before logging into OnBase-Performance. The training provides instructions needed to navigate OnBase-Performance and to ensure the successful completion of all documents.
Quick Reference Guides
Once you have completed the training, use these quick reference guides to help you navigate OnBase-Performance.
Use the Performance Period Table below to determine your implementation group
Performance Periods

Group 1: July 1 - June 30

Planning Phase starts:
JULY 1, 2022

Group 2: Sep. 1 - Aug. 31

Planning Phase starts:
SEPTEMBER 1, 2022

Group 3: March 1 - Feb. 28/29

Planning Phase starts:
MARCH 1, 2023

CCIT
Athletics (Exception: Football/Soccer)
Academic Affairs
College of Science
College of Education
Athletics - Football/Soccer
Enrollment Management
Development and Alumni Relations
CURI
Facilities
Extension
CAFLS
Finance & Operations
AAH
General Counsel
CBSHS
Government Affairs/External Affairs
College of Business
Inclusion and Equity
CECAS
Institutional Excellence
PSA
Libraries
Student Affairs
Marketing & Communications
Watt Center
President's Office
YLI
Research
Secretary to the Board
Guidance for Performance Periods
Select your group below to view detailed guidance.
OnBase-Performance Accessibility Information
The Office of Human Resources is committed to ensuring equal access. The following resources are provided to help navigate OnBase-Performance.
Implementation Timeline
Implementation will occur from April 2022 - March 2023.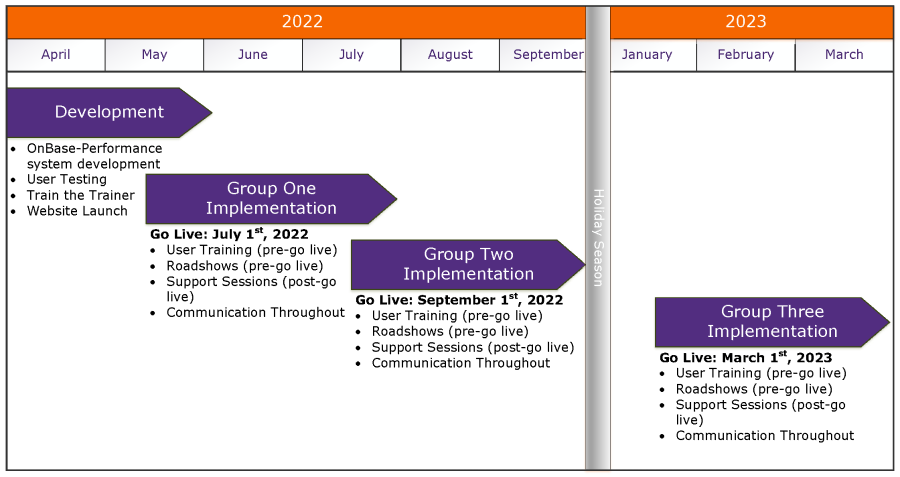 Development: April - June 2022

OnBase-Performance system development
User Testing
Train the Trainer
Website Launch

Group One Implementation: May - July 2022

Go Live: July 1, 2022
User Training (pre-go live)
Roadshows (pre-go live)
Support Sessions (post-go live)
Communication Throughout

Group Two Implementation: July - September 2022

Go Live: September 1, 2022
User Training (pre-go live)
Roadshows (pre-go live)
Support Sessions (post-go live)
Communication Throughout

Group Three Implementation: January - March 2023

Go Live: March 1, 2023
User Training (pre-go live)
Roadshows (pre-go live)
Support Sessions (post-go live)
Communication Throughout