M.S. Program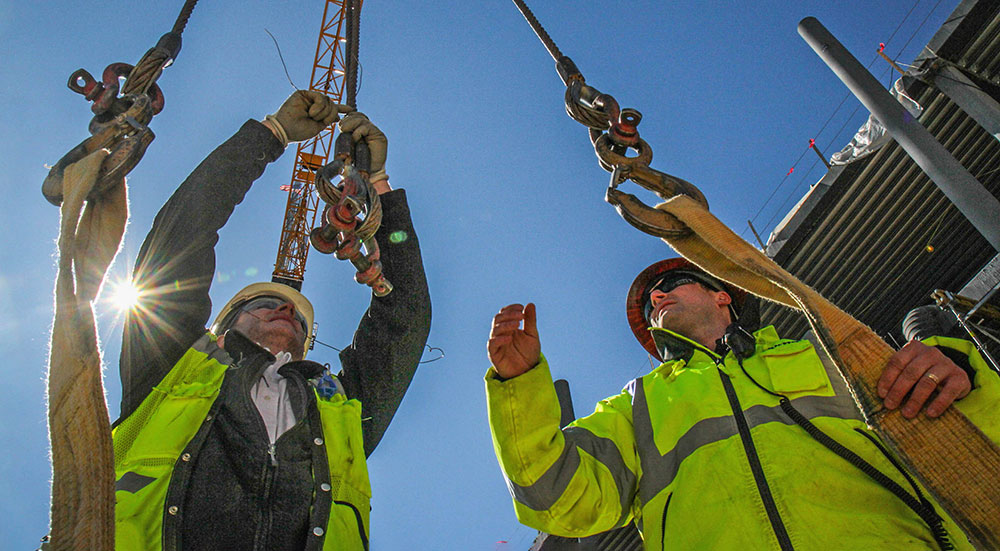 Demand for skilled civil engineers is expected to grow steadily in the coming decade, creating opportunities for motivated engineering graduates. Students who earn a Master of Science in Civil Engineering degree from Clemson University complete specialized training and can choose from a range of advanced programs based on interest.
Every aspect of the Civil Engineering Masters program through Clemson University, Glenn Department of Civil Engineering was designed to help graduates succeed and meet employers' needs. From highly qualified instructors with current industry knowledge to limited class sizes, the Civil Engineering program faculty is committed to excellence.
Students pursuing a Masters of Science in Civil Engineering degree are accepted into six major program areas. They will follow the requirements specific to that area: Construction Engineering and Management, Construction Materials, Geotechnical Engineering, Structural Engineering, Transportation Systems and Water Resources.
Advisory Committee & Plan of Study

M.S. students are required to select an advisory committee consisting of a faculty advisor and at least two committee members. After the first semester in the program, students are expected to submit their official Committee Selection and Plan of Study (accessed in iRoar) to the Graduate School. Consult with the CE Graduate Student Handbook and the Graduate School Policies and Procedures Handbook for more information about the makeup of the committee.

A student's Plan of Study includes all courses that will be used to satisfy the requirements for the M.S. degree. An approved Committee Selection and Plan of Study must be on file with Graduate Enrolled Student Services before a student will be allowed to apply for graduation.

Checklist for Completing M.S.

It is the responsibility of the student to be aware of and complete all CE Department and Graduate School requirements for the M.S. degree. Students graduating should refer to the deadlines listed on the Graduate School website. Following are general checklists for students pursuing a Masters degree in Civil Engineering:

Masters Degree, Thesis option

New students – attend all appropriate orientation sessions
Submission of GS2a – Graduate Advisory Committee Selection (end of first semester)
Submission of GS2b – Plan of Study (end of first semester
Apply for graduation via iRoar at the beginning of the final semester
Consult with Graduate Advisory Committee to schedule the thesis defense date
Notify Graduate School of defense date at least ten days prior to the defense
Final defense of thesis
Submit signed GS7M – Final Exam and Thesis Approval Form to Graduate Enrolled Student Services in 104-D Sikes Hall (provide a copy of signed form to Kristi Baker)
Submit completed thesis with all committee-recommended revisions to the Manuscript Review Office
Make any required formatting revisions and resubmit thesis to the Manuscript Review Office

Masters Degree, Non-Thesis option

New students – attend all appropriate orientation sessions
Submission of GS2a – Graduate Advisory Committee Selection (end of first semester)
Submission of GS2b – Plan of Study (end of first semester)
Apply for graduation via iRoar at the beginning of the final semester
Consult with advisory committee to schedule final exam
Notify Graduate School of exam date at least ten days prior to the exam
Take final exam
Submit signed GS7M – Final Exam and Thesis Approval Form to Graduate Enrolled Student Services in 104-D Sikes Hall (provide a copy of signed form to Kristi Baker)

Applying to the M.S. Program

Requirements

The M.S. requires a minimum of 30 credits beyond the bachelor's degree.

The Department offers two pathways leading to the M.S. degree: a research-based thesis option, or a coursework-only option. Following are requirements for each:

Masters of Science, Thesis Option

Research thesis will be submitted and defended during the final semester.

6 credits minimum M.S. Thesis Research (CE 8910)
24 credits minimum of approved coursework (12 at 8000-level courses)

---

30 credits minimum beyond the Bachelor of Science degree

Masters of Science, Non-Thesis Option

15 credits minimum of approved coursework (8000-level courses)
Comprehensive exam or project during the final semester - consult with a faculty advisor

---

30 credits minimum beyond the Bachelor of Science degree

How to Apply

Students interested in applying to the CE master's program must be accepted to the Clemson University Graduate School. Application information and forms can be found on the Graduate School website. International students are welcome to apply and must meet Graduate School requirements for TOEFL and GRE scores.

Additional information concerning deadlines and program contacts can be found on the Civil Engineering Graduate Admissions page.

Apply | Graduate School