Volunteer Opportunities
Looking for a way to make a difference in water quality in your community?
The education partners of the Richland Countywide Stormwater Consortium have a wide range of opportunities for you to help our local waterways.  Check out the current needs for volunteers listed on this page, or contact Karen Jackson (803-865-1216, ext. 116 or karen7@clemson.edu) for other ideas.
Take Action for your Watershed!
We all live in a watershed!  To make a difference in your watershed, click one of the links below.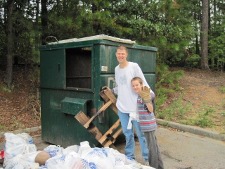 Stream and Highway Clean-ups
Keep the Midlands Beautiful coordinates with local groups wanting to "adopt" streets, highways, and waterways in Richland and Lexington Counties.  They assist with supplies, safety, and identifying areas that need attention.  They also offer scheduled clean-ups in some of the most heavily littered areas.  Keeping trash off our roadsides and out of our streams and rivers greatly benefits wildlife and the environment, and keeps our communities beautiful and enjoyable.
Visit Keepthemidlandsbeautiful.org for more information and a schedule of clean-ups in your area.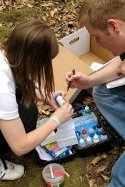 Stream Monitoring
RCSC is starting a new volunteer monitoring program!  We are looking for groups to select a stream or lake in their area and test it one or more times a year for pollution problems.  Monitoring involves simple chemical and biological tests, such as pH, dissolved oxygen, and invertebrate sampling.  Training and materials will be provided.  This is a great service project for Boy Scouts, Girl Scouts, church groups, youth clubs, science clubs, and adult groups, too!  Contact Mary Caflisch for more information.
Find other volunteer opportunities:
Visit the new South Carolina Watershed Stewardship Map!  This tool allows you to easily locate water quality-related organizations near you.  If you are a representative of an organization, you can also add your organization so others can find YOU! 
Thanks for helping keep our waters clean!