The Writing Lab, once called the "writing center," is an instructional service and lab "space" that provides writing support to undergraduate and graduate students, faculty, and staff. We offer both face-to-face and online consultations, as well as workshops for Clemson writers.
The Writing Lab is supported by the Department of English. We are considered the "lab" for ENGL 1030 students. We are housed in Cooper Library. You can find out more about our services and structures by reading our FAQ.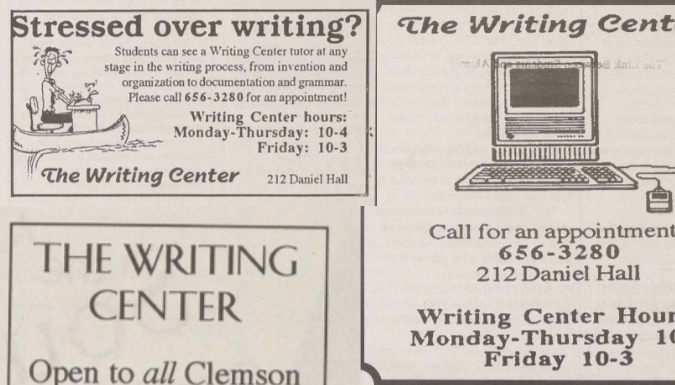 Supporting Clemson Writers Since 1983!
Over 30 years in writing support.
The Writing Lab was established in 1983 as an initiative to support students in ENGL 1030 courses. As the Writing Lab grew, it provided writing feedback to students and staff across campus. Around 1995, the Writing Lab changed its name to "Writing Center," reflecting new conventions in the field of writing center studies. Now, we've returned to our original name and we continue the Writing Lab's legacy of supporting writers in the Clemson Family.
Mission and Vision Statements
Vision Statement
The Clemson Writing Lab seeks to create a supportive and critical space the confident expression of individual voice through writing by providing an adaptable, inclusive, and trusted environment for all writers to grow and learn.
Mission Statement
The Clemson Writing Lab's purpose is to help students gain confidence in their writing, improve as communicators, and achieve their academic goals by providing high-quality, effective services in a supportive, inclusive environment.
The Clemson Writing Lab's staff share a commitment to:
Support student growth as they become more skillful, flexible writers.
Cultivate and promote a thriving culture of writing on campus.
Continually innovate our programs and services in a data-informed manner in order to meet the diverse needs of all Clemson writers.
The Clemson Writing Lab's professional staff share a commitment to:
Provide high-quality training and mentoring in order to foster the student staff's personal, professional, and intellectual development as active global citizens.
Maintain connection and relation to the greater writing lab community in order to stay current on research, trends, and innovations in the field.
Continuous innovation in our programs and services through data-informed decision-making in order to meet the diverse needs of all Clemson writers.
As a part of the global community, the Clemson Writing Lab fosters diversity in all of its dimensions and supports all writers in reaching their personal and professional goals. Writers, with their individual life stories, knowledges, identities, worldviews, languages, voices, and proficiencies are respected and welcomed. We provide an environment that is conducive to diverse learning styles and forms of expression, and we respect writers' use of their home languages and World Englishes. We also seek to engage others in pursuing justice and remedying current and historical inequities in higher education. Our Lab embraces the humanity of all people, celebrating the contributions each individual makes to the Writing Lab, the Clemson Family, and the global community.
Writing helps us connect!
The Writing Lab is all about making connections.
In 2021, the Writing Lab adopted a new logo. Our logo represents connection and relationships. In the Writing Lab, we think writing is all about making connections. When you write, you connect ideas. During an appointment, you connect with peer support. The Writing Lab is connected to our campus community, Clemson University, and the land on which Clemson is built. Writing, at its core, helps us connect.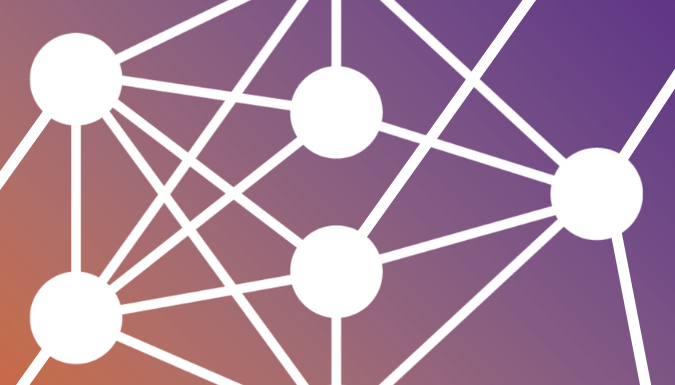 We acknowledge that the main campus of Clemson University occupies the traditional and ancestral land of the Cherokee People. Clemson's main campus is built on land seized through US military and diplomatic incursions culminating in the Treaty of Dewitt's Corner in 1777. This is also land on which people enslaved by the Pickens, Clemson, and Calhoun families lived and worked, and that was transformed into the campus of Clemson University through convict labor. 
We make this acknowledgement to remember the histories of violence that anticipate our gathering here, to recognize Indigenous and Black claims to life and land, and to recenter those claims as we commit to better ways of caring for each other and for this land. 
Along with this acknowledgement, we ask: what responsibilities and commitments can we make to foster more honest and generative relations with this land and with each other? Can we, wherever we go, acknowledge Indigenous claims to the land we occupy? Can learning about the lifeways and lifeworlds of the original and rightful caretakers of the land we occupy guide our own changing relation with the places we are and the communities that belong to those places? How can we share our learning with others? 
Thumbnail for "Mission and Core Values" page provided by Liza, for an ENGL 4980 project.