Intern Employer Day provides a venue for employers and students to meet and discuss internship and full-time employment opportunities. This event is hosted twice per year, in the spring and fall, by Clemson University's Department of Graphic Communications along with the Office of Career & Global Engagement at Clemson's Wilbur O. Ann Powers College of Business.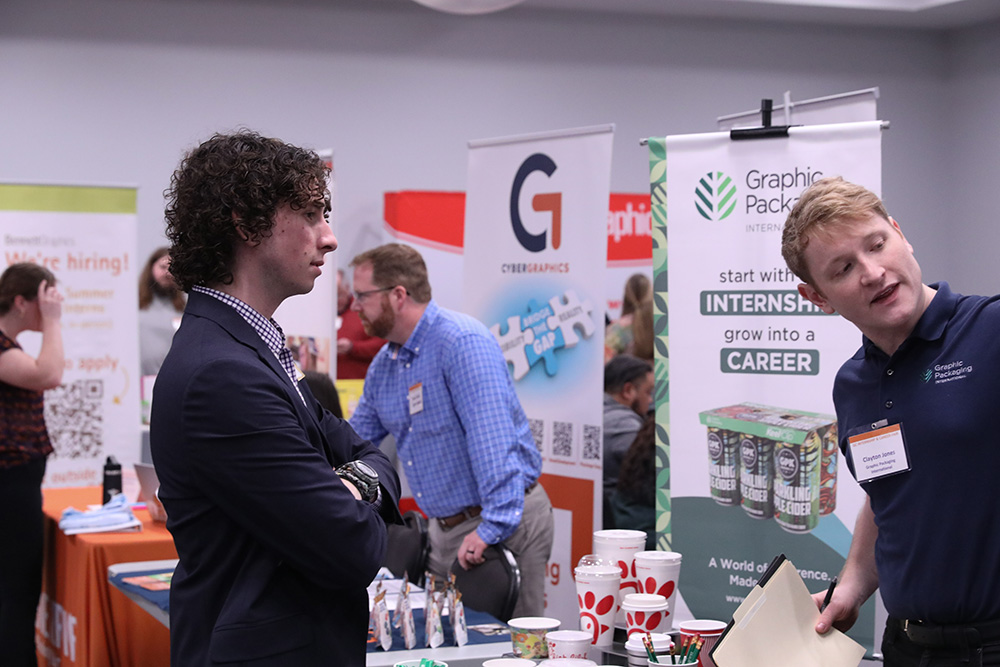 Next Intern Employer Day: Oct. 19
October 18: Graduating Seniors Reception
Location: 200 Godfrey Hall, Clemson University
Cost: $50/person for up to 6 attendees
If you have a need for permanent employees, this is a great opportunity to evaluate the caliber of Clemson graduates in an informal and noncommittal setting. Enjoy hors d'oeuvres and refreshments while meeting with graduating Graphic Communications students.
October 19: Intern Employer Day
Location: Hendrix Student Center, Clemson University
Cost: $150 for booth and 2 attendees; $25/person for up to 4 additional attendees
Join us in the morning for brief student and employer presentations over a continental breakfast, followed by the booth event upstairs. Companies are welcome to display literature and products and talk with GC students, freshmen through seniors. Both during and after Intern Employer Day, employers can arrange internships or set up interviews. We are glad to assist in matching the appropriate interns with employers.
View the Agenda
Please contact GCInterns@clemson.edu with questions.
We will be monitoring the COVID-19 situation as we approach Intern Employer Day. Current Clemson University COVID-19 protocols will be followed. In the event that we are unable to hold the in-person event, you will be notified and have the option of either transferring your registration to the virtual event on Oct. 20, or receiving a refund.
Department of Graphic Communications
Department of Graphic Communications | 200 Godfrey Hall, Clemson, S.C., 29634