Graphic Communications students at Clemson University are required to complete two full-time (40 hours/week) paid internships, typically in their sophomore and junior years, to receive their degrees. The internship program is a win-win for both the students and the companies that they work for. Employers invest in their own future as they preview upcoming talent and contribute to the development of prospective employees, while students explore various career paths while gaining valuable job experience.
Employers may offer competitive hourly rates, stipends, housing and other benefits to attract the best and brightest students. Students are encouraged to work in different geographic locations, process areas and segments of the industry to gain broad experience.
Standard internship periods:
Spring - early January to late April (15 weeks)
Summer - mid-May to late July (12 weeks)
Fall - mid-August to early December (15 weeks)
View Clemson University's academic calendar for specific start and end dates.
---
Internship & Career Fair
The Graphic Communications Internship and Career Fair provides a venue for employers and students to meet and discuss internship and full-time employment opportunities. This event is hosted twice per year, in the spring and fall, by Clemson University's Department of Graphic Communications along with the Office of Career & Global Engagement at Clemson's Wilbur O. Ann Powers College of Business.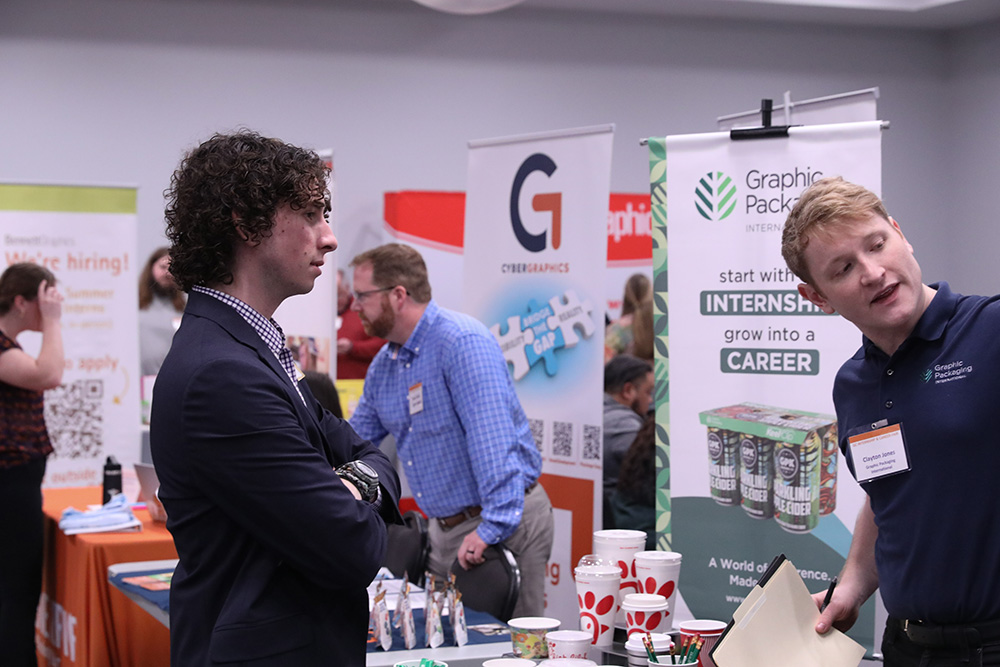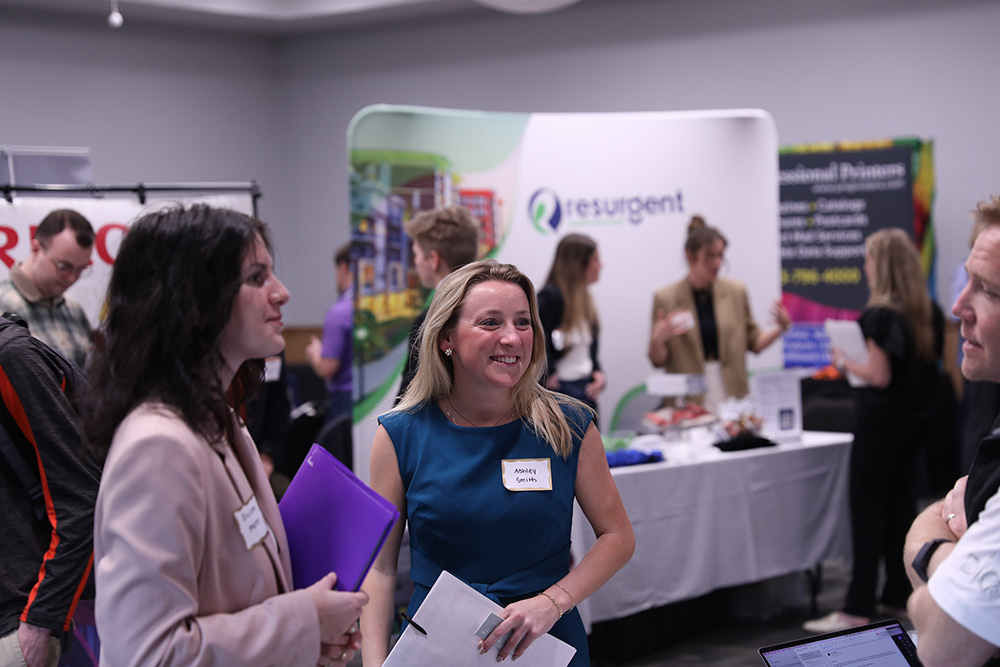 Registration is now open for the next GC Internship and Career Fair on Thursday, Oct. 6.
Thursday, Oct. 6: GC Internship & Career Fair
Location: Hendrix Student Center, Clemson University
Cost: $200 for booth and 2 attendees; $25/person for up to 3 additional attendees
Deadline to register: Friday, Sept. 30 (space limited)
Join us in the morning for brief student and employer presentations over a continental breakfast, followed by the booth event upstairs. Companies are welcome to display literature and products and talk with GC students, freshmen through seniors. Both during and after the GC Internship & Career Fair, employers can arrange internships or set up interviews. We are glad to assist in matching the appropriate interns with employers.
Tickets to our Graduating Seniors Reception on the evening of Wednesday, Oct. 5 may be bundled with your booth registrations or purchased separately.
Booths & Bundle Registration
Senior Reception Registration
---
Students & Employers
Hiring a GC student can be accomplished by several methods, although all internships provided by employers or requested by students must be approved to ensure they meet the requirements of the department. Internships must provide meaningful work experience in the area of graphic communications and must be paid, full-time positions for the duration of the term.
Employer Internship Approval Form
Student Internship Approval Form
Three ways to hire a Clemson GC student:
Utilize Business JobLink to post or search for opportunities.* Employers will receive an email once their posting is live.

Attend an Internship and Career Fair at Clemson University.
Work directly outside of Clemson postings and events to coordinate an approved internship.
*Please note, post-acceptance on the Business JobLink site is not verification that an internship meets the requirements of the Graphic Communications program. Please submit the forms above before posting or accepting internships to ensure students will receive credit.
---
Student Requirements
The semester prior to your internship, submit an up-to-date copy of your Intern Information Sheet to the GC Internship Coordinator, Bobby Congdon. This will start the process to have your name submitted to the database of intern candidates. You will receive an email of acceptance in return.
Accepting an offer:
Once you have decided on a relevant internship, fill out and submit this Internship Approval Form. Your academic advisor and the GC Internship Coordinator will approve your internship.

Once approved, you may accept your internship offer with the company.
If you received any other offers, immediately advise the other companies that you have accepted a separate offer.
Enrolling in courses:
Enroll in one of the following course sets:

GC 3500 & Co-op 2010 (first required internship after GC 1020 but before any 4000-level class)
GC 4500 & Co-op 2020 (second required internship after GC 4060 or GC 4400 but before your last semester preceding graduation)
GC 4550 & Co-op 2030 (optional third internship not in place of GC 4500)

If you pre-registered for other courses for the term you are interning, be sure to DROP all other classes you no longer need to take. You may still take an online course if you desire.
You will be billed for one credit hour per internship along with a $30 co-op fee. You must pay your fees when you enroll or you will be automatically dropped from the course. Bills are not sent out immediately for the Summer session, so be sure to fulfill the course fees when you enroll.
Near the beginning of your work period, you will find information on all required coursework (primarily, the journal and final abstract) accessible on Canvas. Check due dates and announcements frequently.
To receive a co-op certificate with your diploma after completing two internships, visit the Co-op Office located in Suite 316 of the Hendrix Student Center (846-656-3150) and fill out a Co-op Information Sheet. For GC majors in Co-op 2010, 2020 or 2030 all co-op written requirements are fulfilled through the Graphic Communications department.
Starting work:
Complete the company's normal HR process, which may require a drug screening, physical exam, etc.
Start work no later than the first day of classes for that semester or the first Summer session. Work through the last day of classes for that semester or the end of the second Summer session.
Alternate schedules can be arranged in advance and agreed upon by both your employer and Bobby Congdon, GC Internship Coordinator. Intern employment must meet a minimum of 15 full-time weeks for a regular semester or 12 full-time weeks for the summer.

Notify Bobby Congdon IMMEDIATELY of any change in your employment status.

Documented performance problems, irregular attendance and/or punctuality mandates a lower course grade. Interns terminated prior to completion of the required number of weeks shall receive an "F." No exceptions.
View more student internship advice.
---
Contact
For general inquiries about internships and the GC Internship and Career Fair, email GCInterns@clemson.edu.
For internship approvals and all other questions, email Bobby Congdon, GC Internship Coordinator, rcongdo@clemson.edu.
Department of Graphic Communications
Department of Graphic Communications | 200 Godfrey Hall, Clemson, S.C. 29634