Welcome to the Wilbur O. and Ann Powers College of Business
The Wilbur O. and Ann Powers College of Business is transforming students into innovators, entrepreneurs and leaders who succeed in the global marketplace of ideas. Through an immersive educational experience, in and out of the classroom, our students become proven, market-ready leaders poised to shape the future.
With a unique structure that teaches applied business disciplines, the business college is committed to the development of exceptional talent through programs that are globally competitive and entrepreneurially focused. If you are ready to realize your academic and career potential, our college is for you!
Fall Signing Day
If you have a full-time job, internship, co-op or study abroad program for Spring 2024, let's celebrate your achievement! Join us for Signing Day on Dec. 7 from 10 a.m. - 2 p.m. in the Richardson Atrium for customizable t-shirts, photos and refreshments.
RSVP Now!
Explore the Office of Career and Global Engagement
The Office of Career and Global Engagement provides principal resources for undergraduates in career preparation, employment opportunities, mentoring and international program participation. The office also collaborates with faculty and staff to serve as a conduit for connecting with corporate partners, Clemson alumni and other constituents to enhance the Clemson Experience.
Learn More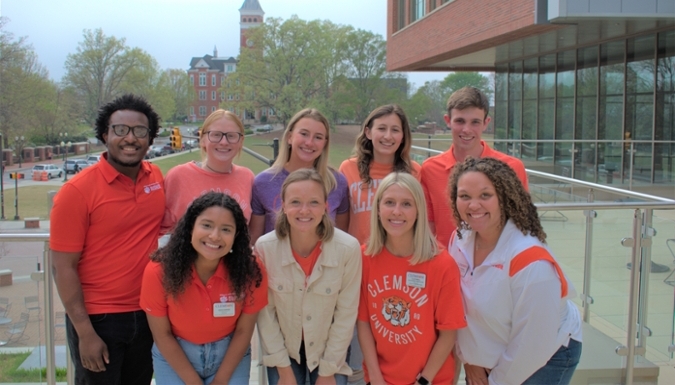 Wilbur O. and Ann Powers College of Business
Wilbur O. and Ann Powers College of Business | 343 Chandler L. Burns Hall, Clemson, S.C. 29634