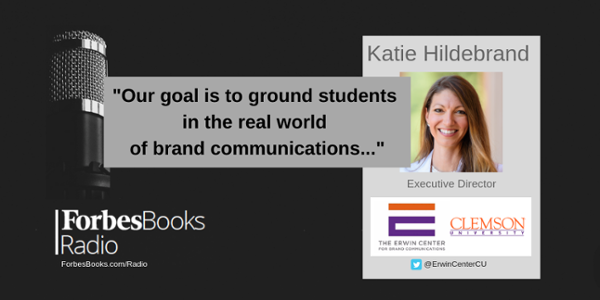 Our Executive Director Katie Hildebrand sat down with ForbesBooks and Gregg Stebben to talk about the Erwin Center, our brand project initiatives and what makes our program so unique! Check out the podcast here:
The Erwin Center for Brand Communications
Clemson University's Erwin Center for Brand Communications is a practitioner-based educational program for future brand communications professionals.
The Center's hallmark is its curriculum model, a "teaching hospital" that combines traditional academic coursework with hands-on instruction from current industry professionals. The result is a program that provides students with personal experiences and interactive access to the tools that will allow them to step straight from the classroom onto a client or agency brand team - and to be the job candidate who can hit the ground running on day one.
At The Erwin Center, students learn by doing, in disciplines ranging from advertising, marketing and creative development to research, strategy, media and analytics.
Successful industry practitioners teach using real-world, real-time experiences, and students learn by applying communications principles to real-life client and agency challenges.
By delivering a dynamic, evolving and experiential learning environment where professional and collegiate collaboration are encouraged, The Erwin Center ensures that graduates are equipped to enter today's global workforce as thoughtful, cutting-edge marketers - prepared and excited to contribute their creativity and resourcefulness in a wide variety of communications fields.