The Erwin Center was founded in 2012 as a strategic partnership created to provide opportunities and insight to help guide and build the next generation of brand leaders. The program prepares students for careers in the world of brand communications and focuses on professional development to create the next generation of brand leaders. The program now offers a Brand Communications minor in the Wilbur O. and Ann Powers College of Business in partnership with the Graphic Communications department.
The Gift from Joe and Gretchen Erwin
Joe and Gretchen Erwin, Greenville residents and co-founders of the leading advertising and marketing firm Erwin Penland, headquartered in Greenville, SC, donated $1.05 million to establish The Erwin Center for Brand Communications at Clemson University.
Joe Erwin graduated from Clemson in 1979 with a bachelor's degree in political science. Over the years, he has served as a member of the Rutland Institute for Ethics Advisory Board and the President's Advisory Board.
Gretchen Erwin is a 1977 graduate of the University of Georgia's Grady College of Journalism and Mass Communication and was named to the centennial class of Grady Fellows in 2015.
The Erwins become the second Cornerstone Partner for Academics at Clemson University with this gift, a gift that represents their dedication and commitment to investing in our students and the leaders of tomorrow.
Initially, the Erwins' gift would provide up to five new courses to support a new emphasis area in brand communications for all majors at Clemson, but now these courses are also offered as a minor in Brand Communications. Their gift has transformed into coursework available to undergraduate and graduate students, a speaker series that invites brand leaders to engage with students and a DIVE IN program to advance diversity in the field of brand communications. In order to give students real-world experience and expertise, many of the classes are taught in collaboration with industry experts at EP + Co, a 400-person agency with offices in Greenville and New York.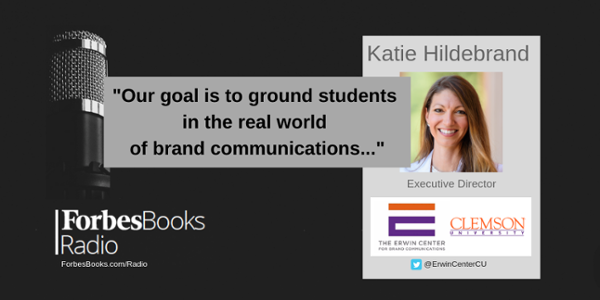 Our Executive Director Katie Hildebrand sat down with ForbesBooks and Gregg Stebben to talk about the Erwin Center, our brand project initiatives and what makes our program so unique! Check out the podcast here:
Erwin Center for Brand Communications
Erwin Center for Brand Communications | 130 Wilbur O. and Ann Powers Hall - Erwin Center, Clemson, SC 29634