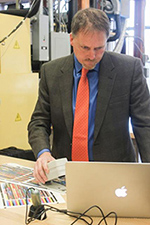 Chip Tonkin, Ph.D.
Department Chair
tonkin@clemson.edu
Chip Tonkin is the Chair of the Department of Graphic Communications and Director of the Sonoco Institute of Packaging Design & Graphics. He holds a B.S. in Mechanical Engineering, a Masters of Industrial Education in Graphic Communications and a Ph.D. in Computer Science from Clemson University and was in the packaging and printing industry for almost 15 years at International Paper before joining Clemson University to launch the Sonoco Institute. This move from industry was a unique opportunity to create an environment that brought together multiple academic disciplines with engaged industry partners to drive innovative packaging development, greatly expand student and faculty opportunities and act as a catalyst for research into "game-changing" technologies. This combination of practical experience, strong technical background and broad exposure to diverse markets and customer voices gives him an unusual perspective in the graphics, print and packaging worlds.
---

Liam O'Hara, Ph.D.
Professor
lohara@clemson.edu
Liam O'Hara is a Professor of Graphic Communications at Clemson University. He obtained a master's degree in Graphic Communications from Clemson in 1997. After working in the corrugated industry, he returned to Clemson in 2001 initially to organize industry training programs but soon became integrated with the teaching faculty. He completed his Ed.D. in Career and Technical Education in 2005.
O'Hara currently teaches GC 4440/6440, which focuses on current trends and developments such as workflows, digital printing and student-led experimental research on a variety of topics. He is also the adviser to the Clemson student chapter of TAGA (the Technical Association of the Graphic Arts).
O'Hara serves on the Board of Directors for TAGA. His research interests include color reproduction, expanded gamut printing and printed electronics.
---

Eric Weisenmiller, Ph.D.
Associate Professor
emweise@clemson.edu
Eric Weisenmiller currently holds the rank of Associate Professor in the Department of Graphic Communications at Clemson University. His primary duties involve teaching undergraduate courses in Commercial Printing (GC 4400/6400). When not engaged in curriculum updates and the integration of new technologies into these areas of the Clemson graphics lab, his research interest areas include digital imaging and prepress production workflow, process control, color management and photographic and digital imaging. Over the past decade, Weisenmiller has served as chair of the Treadaway Print Leadership Forum and as Faculty Advisor to the Clemson student chapter of Gamma Epsilon Tau (GET), an honorary fraternity for the graphic arts. Prior to joining the faculty at Clemson in the year 2000, he taught for two years at Illinois State University as an Assistant Professor in the Printing Management and Imaging Technologies program. He holds a Ph.D. in Curriculum and Instruction from Virginia Tech as well as a Masters's degree in Printing Management and a bachelor's degree in English from Georgia Southern University.
---

Charles Weiss, Ph.D.
Associate Professor
ctweiss@clemson.edu
Charles Weiss has been an Assistant Professor in the Department of Graphic Communications at Clemson University since 2013. Prior to working at Clemson University, he was an Associate Professor of graphic communication at Western Illinois University for eleven years. In addition to teaching, Weiss has also worked as a graphic designer, layout artist and customer service representative at a commercial printer. He has more than 15 years of teaching experience and has instructed a variety of courses that include offset printing, screen printing, digital printing, photography, multimedia, graphic design software, variable data printing and the commercial aspects of printing. His research focuses on hybrid learning, augmented reality and design.
---

Nona Woolbright, Ph.D.
Professor
nwoolbr@clemson.edu
Nona Woolbright has been a faculty member at Clemson University since 2002 and has over 20 total years of teaching experience. She is currently the lead instructor for GC 4800: Senior Seminar and GC 4070; Advanced Flexography. She is also a co-instructor for GC 1020: Computer Art and CAD Foundations. Over the past 6 years, Woolbright has coordinated the Phoenix Challenge college team - an international competition for flexographic printing where her team has won multiple awards. Recently, she developed the department's first study abroad program and led a group of students to the United Kingdom to study global packaging design.
Past classes she has taught include CG 4480: Planning and Controlling Printing Functions and GC 1040: Introduction to Graphic Communications. She has also been a judge for the Flexographic Technical Association (FTA) as well as served on several FTA committees.
Woolbright has been appointed to several other departmental and university-wide committees over the years.
She has a strong interest in management and personnel practices for the printing industry as well as developing creative problem-solving techniques for teaching package printing and design.
---

Shu Chang, Ph.D.
Associate Professor
schang2@clemson.edu
Shu Chang is an Associate Professor at Clemson University in the Department of Graphic Communications. Prior to joining Clemson, Chang held the Melbert B. Cary Jr. Distinguished Professorship in the School of Media Sciences at Rochester Institute of Technology, where she created new course offerings and initiated research programs in print for manufacturing. Previous to that, Chang worked in printing technology research and development at Xerox for over 20 years. Her work at Xerox spanned from printing technologies and materials science research to sustainability in printing and market explorations. Her expertise extends to process and materials systems, lean six sigma, modeling and simulation and materials characterizations. Her current research identifies techniques to bridge the system aspects of conventional digital printing to the rapidly growing field of print for manufacturing.
Chang holds over 25 U.S. Patents and patent applications as well as over 40 publications. She obtained her Ph.D. in Materials Science and Engineering from the University of Minnesota.
---

Carl Blue, Ph.D.
Associate Professor
cnblue@clemson.edu
Carl Blue, Associate Professor for the Department of Graphic Communications, obtained his B.S. in Communications with a concentration in Graphic Design from Appalachian State University (ASU) in 1985. After undergrad, he worked in newspapers, television and a photography studio before leaving for three years in the US Peace Corps in Honduras and Uruguay as a teacher and graphic designer. Before returning to graduate school, he worked for seven years in the textile industry producing marketing materials and tradeshows. In 1999 he returned to ASU to complete a Master's in Industrial Arts with a concentration in Technical Communications in digital media. ASU hired him in 2001 as a Computer Consultant II, "Associate Webmaster," responsible for maintaining university websites, designing department websites and teaching faculty and staff courses in web development. In 2003 he was recruited by North Carolina State University (NCSU) to pursue an Ed.D. in Technology Education. While at NCSU, he was a TA of digital graphics and media communication courses and was an RA on two NSF grants. After graduation in 2006, he was hired as Coordinator of the Graphic Communication Program and Assistant Professor at the University of Northern Iowa in the Department of Industrial Technology. In 2009 he relocated to Western Illinois University to work in the Department of Engineering Technology as an Assistant Professor in the Graphic Communications Program. In 2011 he transferred to the University of Southern Maine in the Department of Technology, teaching in their Technology Management: Information and Communication Tech concentration degree. Blue received tenure in 2015 and was appointed and served as Department Chair until 2019.
Excited about being at Clemson and pursuing tenure in the Department of Graphic Communications, presently he is teaching GC2071, and shadowing GC1041, GC2070/71 and GC3400.
---

Erica Walker, Ph.D.
Assistant Professor
eblack4@clemson.edu
Erica Walker has a diverse background in visual communications, which includes feature film production, web design & development, print buying, marketing and graphic design. As a faculty member in the Department of Graphic Communications at Clemson University, Walker teaches courses in photography, video, web development and entrepreneurship. Before becoming a faculty member at Clemson University, Walker co-founded a film production company and two of her larger projects included a feature-length documentary film and an educational television series for children that aired on public television.
Outside the classroom, Walker speaks at conferences across the country on topics including implementing Adobe applications, curriculum development, mixed methods classroom research, the entrepreneurial mindset, game-based learning, color management and branding.
Her current research focuses on a patent-pending technology to consistently display brand colors across various video inputs on large-format screens at live sporting events and classroom research, where she works as an instructional designer in partnership with industry expert adjunct lecturers.
---

Amanda Bridges, Ph.D.
Clinical Assistant Professor
awbridg@clemson.edu
Amanda Bridges joined the Department of Graphic Communications in Fall 2019 as a Clinical Assistant Professor. Before working at Clemson University, she served as an Associate Professor and Graphic Design Coordinator at Gardner-Webb University. She has been teaching in higher education since 2004 and has taught a wide range of courses in graphic design, color and typography, web design, multimedia and print production. She has also chaired and served on several University committees and advisory boards, as well as served as a faculty advisor for several student organizations. In addition, she has participated in several community service projects and enjoys incorporating service learning into the classroom. Her current research interests include curriculum development and assessment in the fields of graphic communications and design, as well as variable data printing.
---

Patrick G. Rose
Lecturer- Retired
patricr@clemson.edu
Patrick Rose graduated from Virginia Tech in 1972 and began teaching high school art, graphics and photography in 1973. He continued teaching until 1989, when he spent a year at Clemson earning a master's degree in Graphic Communications. After receiving his degree, he resumed teaching high school until returning to Clemson in 1992. His interests are screen printing, computing, computer networking and server technologies.
---

Kern Cox
Senior Lecturer
kernc@clemson.edu
Kern Cox is a lecturer in Clemson University's Department of Graphic Communications who teaches undergraduate-level courses in all major printing processes, electronic prepress, package printing technologies and color management. He joined the department in 2012. Kern brings with him ten years of experience in professional education development, where he provided various training and R&D services through Clemson University's Printing and Converting Research Center and Clemson University's Sonoco Institute of Packaging Design and Graphics. Kern served the post-print corrugated, narrow web and wide web flexographic market segments as well as the offset lithography market segment. His professional and research interests span flexography, corrugated, and color management and is currently researching international initiatives for technical training and human development in the packaging and printing field.
Kern joined Clemson University's Department of Graphic Communications as a lecturer in 2012. He continues to offer various consulting and training services to the printing and packaging industries.
---

Michelle Fox
Lecturer
mbost@clemson.edu
Michelle Fox graduated from Clemson University in 2004 with a bachelor's degree in Elementary Education and in 2006 with a master's degree in Graphic Communications. Upon graduation, she began teaching high school graphic communications. While teaching at the high school level, she actively participated in committees to rewrite the state-level GC standards and update the teacher certification exam. During this time, her students won multiple state-level awards in Skills USA Screen Printing, Dye Sublimation and Job Skills.
Fox joined Clemson's Graphic Communications department as a lecturer in the fall of 2016. Since returning to Clemson, she has worked with a variety of courses such as Computer Art and CAD Foundations, Inks and Substrates and Commercial Printing, and is currently the lead instructor for Introduction to Graphic Communications. She has also developed a graduate student summer boot camp course.
Fox has a strong interest in flexography, screen printing, and offset lithography and curriculum in the graphic communications classroom. She also serves on the advisory council for many high school graphic communications programs.
---

Daryl Stevens
Lecturer
wdsteve@clemson.edu
Daryl Stevens is an award-winning graphic designer and Lecturer in Clemson University's Department of Graphic Communications. He joined the department in 2018 and brings with him 10 years of experience in higher education and over 25 years of industry experience.
Stevens earned a Master of Fine Arts in Graphic Design from Marywood University in 2018 and before working at Clemson University, he taught a variety of web and digital media courses at Belmont University in Nashville, TN.
Specializing in web design, print design, product design and branding, Stevens continues to work with corporations and small businesses, providing strategic creative solutions. His websites have won international awards, and his illustration work has graced the pages of national consumer and business magazines. Stevens has worked with corporations such as Sony Playstation on the product launch for Ape Escape 3 and animation for Knoll's worldwide corporate management team.
Stevens brings his extensive professional experience into the classroom to help students learn to design goal-driven visual solutions.
---
Hanna Gibson
Lecturer
hgibson@clemson.edu
Hanna Gibson is a lecturer in Graphic Communications. Gibson graduated from Clemson University and holds a B.A. in English with a minor in Education. She is the first person all incoming Graphic Communications students meet when they attend orientation. In addition to orientation, Gibson works with the Success Matters program each semester to help students who are struggling to fulfill the minimum GPA requirements.
Gibson enjoys working closely with faculty and staff both within the Graphic Communications department and the entire Wilbur O. and Ann Powers College of Business. Her favorite part of the job is the time she gets to spend with students and the role she plays in helping them navigate their way through their first semester.
---
Naomi McRedmond
Student Services Coordinator and Advisor
nmcredm@clemson.edu
Naomi McRedmond graduated from the University of Massachusetts, Boston, with a degree in Communications and Art History. She has a decade of experience in Higher education, primarily focused on Student services and academic advising. Her ultimate goal as the Student Services Coordinator and primary advisor for new Graphic Communications majors is to provide reliable guidance and resources that enable students to confidently navigate our program - ensuring successful completion of their degree, as well as new self-awareness and interpersonal skills that will enhance their college experience, career outlook and contributions to society. She is passionate about student success and grateful to share that passion with the students at Clemson University.
Samantha Haselden
Administrative Coordinator
suselma@clemson.edu
Samantha Haselden is one of the first faces you see in Graphic Communications. She handles all incoming calls and correspondence with students, parents and industry partners. She has been with Clemson Extension County Offices for the last four years and is excited to be working with Graphic Communications now.
Haselden's position as Administrative Coordinator entails financial support and processing for all GC expenses, assisting students and industry with internships, travel arrangements for faculty and students, and departmental communications. She assists with the coordination of 2 Intern/Employer Day events, the GC Awards Banquet and the Bill Treadaway Leadership Forum. She also distributes job and scholarship information announcements to GC majors.
---
Brian Frederick
Building Coordinator
bfred@clemson.edu
Brian Frederick has been the Lab Technician in the Graphic Communications Department at Clemson University since 2014. His tasks include installation, maintenance, troubleshooting and repair of printing equipment. Frederick is the liaison to facilities for building maintenance as well as the building coordinator for security and safety. Prior to coming to Graphic Communications, he was an Engineering Associate for Clemson Apparel Research from 1999-2014 where he was the mechanic for automated sewing technology, responsible for parts purchasing and supplies and received a patent for sealed seam technology. His interests include kayaking, building computers and restoration of classic cars and trucks.
Ian Ruff
Lab Manager
iruff@clemson.edu
Ian Ruff, a 1998 graduate of the GC program, joined the Clemson Graphic Communications Department in 2018 as Lab Manager. Prior to working for Clemson, Ruff worked in the printing and packaging industry with International Paper and Graphic Packaging International for 18 years. During that time, he had a variety of roles ranging from production prepress to graphic design to marketing. He has extensive experience in packaging design and prepress along with account management and sales support.
Ruff taught Digital Art and Design full-time from 2011 to 2013 at the Anderson District 1&2 Career Center. He enjoyed teaching, especially mentoring and fostering creativity among his high school students. His love of passing on knowledge is still evident as he has moved up to the college level. His primary focus as Lab Manager is lab readiness and graduate assistant supervision.
---

Department of Graphic Communications
Department of Graphic Communications | 200 Godfrey Hall, Clemson, S.C. 29634