2024-2025 OA Applications are OPEN!
Orientation Ambassadors are students who are well-respected, academically successful leaders on campus. These students are chosen based upon their current and potential academic, interpersonal and leadership qualities. Orientation Ambassadors assist new students through their transition to Clemson by facilitating an introduction to campus and its resources. The team is selected each fall and participates in the subsequent summer orientation sessions.
Application Timeline Updates
Orientation Ambassadors Applications are available on the OA TigerQuest page until October 29, 2023. 
Questions?! Contact the Orientation Staff.
What to Expect

Orientation Ambassador is a premiere leadership positions on campus. If you are hired, here are some things to expect:

EDSA

Orientation Ambassadors enroll in a 3-credit hour course in the Spring Semester titled EDSA 3900: Skills for Student Leaders. The course takes place on Tuesday's and Thursdays from 8:00AM-9:15AM. EDSA 3900 prioritizes students' personal identity and leadership foundations, while also including some role-based training. The curriculum seeks to consider the development of the whole person, challenging personal assumptions and exploring diversity, equity, & inclusion concepts. The course also includes instruction around Clemson campus & community context, so as to prepare students to meet the demands of the Orientation experience.

NSW

Orientation Ambassadors assist the National Scholars Program in facilitating National Scholars Weekend typically in the month of February. OA's serve as escorts to the interview candidates and create connections with them as they share their Clemson experiences.

Retreat

Early in the Orientation Ambassador experience, the graduate interns and professional staff members will put on a weekend long retreat for the new Orientation Ambassador team. This retreat allows the team so have some cohesion opportunities and develop our goals for the summer.

Summer

Orientation Ambassadors are the student facilitators of Ready, Set, Roar! Helping the professional staff in the Center for Student Leadership & Engagement, OA's will lead a small group of incoming students and share with them not only their Clemson story, but Clemson resources as well to help those students successfully transition to campus. OA's will move onto campus for the summer typically in the first week of June and will remain until the end of July once sessions have concluded.

Contact Us

If you have any questions during this process, please don't hesitate to contact Matthew Boudreaux or our Orientation staff.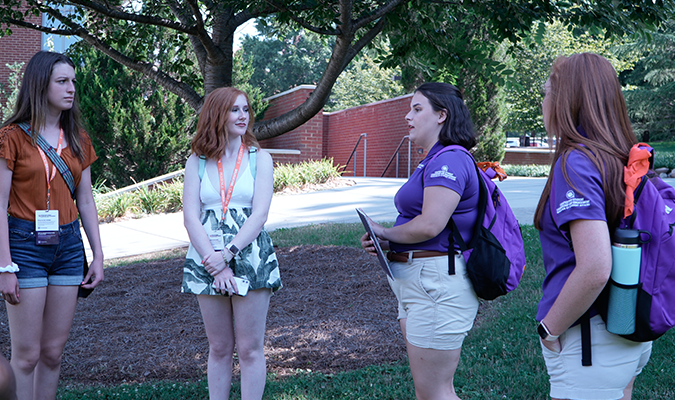 Requirements and Benefits
Requirements
Must maintain at least a 2.5 past-semester and cumulative GPA and continue to be in good standing with the University
Must be attending Clemson for the Academic year
Must NOT enroll in Summer Session courses
Must enroll and participate in EDSA 3900 (3-hour course) for Spring (and pass the course)
Have no extracurricular activity and/or employment interfere with ability to successfully carry out requirements of the position
Background check
Benefits
Summer on-campus housing
Stipend of $2000 paid bi-weekly in June/July
Training and orientation-day meals provided
Orientation uniforms and gear provided
Friendship & New love for Clemson
Leadership experiences to be applied to your future career
Center for Student Leadership and Engagement
Center for Student Leadership and Engagement | 300 Sirrine Hall, 515 Calhoun Dr, Clemson, SC 29634