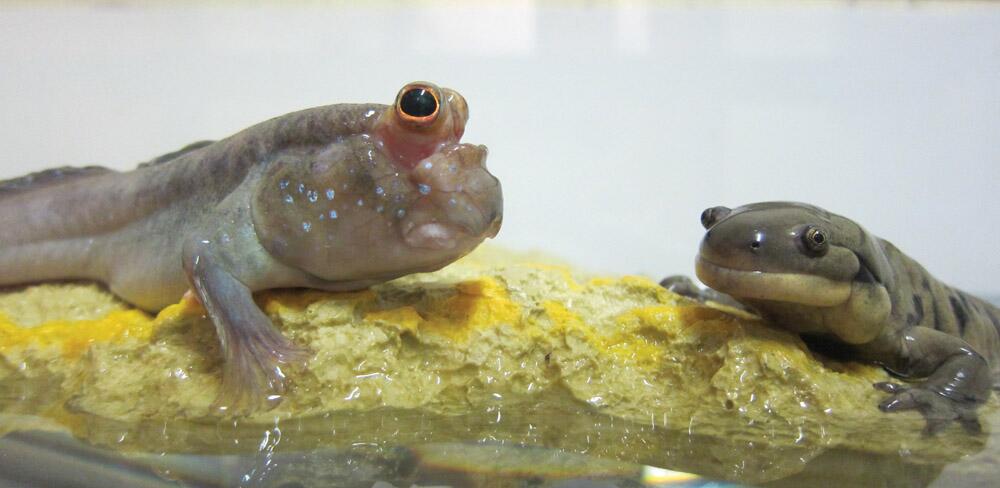 #1 "Weird Animal" News
Dr. Blob's lab found the #1 "weirdest" animal story of 2013, according to the website LiveScience.  

The animal is the Nopoli rock-climbing goby (Sicyopterus stimpsoni), found throughout Hawaii, which can climb its way up waterfalls 300 feet tall, using an ancillary mouth sucker.  

Read the LiveScience article.

Read the publication by Dr. Blob and graduate student Takashi Maie.


---
Namrata Sengupta wins SETAC Award

---

Namrata has been awarded the SETAC's (Society of Environmental Toxicology and Chemistry) Student Training Exchange Opportunity Award to perform research on the effect of toxicants and diet on higher crustaceans at the Mount Desert Island Biological Laboratory in Maine, during July 26 to August 9.

Lauren Sweet and Brennen Jenkins Win SETAC Awards


---

Congratulations to the two other award winners from Clemson at the Carolina SETAC meeting this weekend!

Platform 2nd prize- Lauren Sweet (Entox)

Platform 3rd prize- Brennen Jenkins (Micro)



---
---
Microbiology Students Sweep Awards at SC Branch ASM Meeting

The South Carolina Branch of the American Society for Microbiology held its annual meeting on April 11-12th at Presbyterian College. Twenty-eight graduate and undergraduates from across the state presented their research at the meeting.  

Clemson students excelled as Brennen Jenkins and Kathleen Jwanowski (both mentored by Dr. Tamara McNealy) took home 1st and 2nd places respectively in the Graduate Student Oral Presentation session. 
Joseph Angeloni (mentor: Dr. Min Cao) took home 1st place in Graduate Student Poster Session and undergraduates Rachel Weber, Carly Dameron, and Andy Taylor took 1st, 2nd, and 3rd places in the Undergraduate Poster session. Rachel and Carly both conducted research with Dr. Barbara Campbell and Andy works with Dr. Harry Kurtz.
Congratulations to all who participated.  

The meeting also featured a very well-received talk from Dr. Mario Marco from the University of California, Davis who delivered the keynote lecture on "Impacts of the Indigenous Plant Microbiota on Fresh Produce Food Safety." Our faculty represented also, as a session on Metagenomic Analysis in Microbiology featured Dr. Barbara Campbell and her postdoctoral researcher Dr. Dudovic Besaury and a session on Science Education and Teaching featured Dr. Tamara McNealy.  

---
Dixie Damrel Awarded a Fulbright Teaching Scholarship

This spring Dixie Damrel, curator of theClemson University Herbarium, was awarded a prestigious and highly competitive Fulbright Teaching Scholarship for 2014-2015. Dixie's proposal called for her to spend five  to six months teaching and exchanging best practice curation techniques with several herbaria in Malaysia. The precise details and length of the award are still being finalized, but she expects to be   based primarily at the Forestry Research Institute of Malaysia   (FRIM) in Kuala Lumpur and also spend several weeks working and teaching at herbaria in Sarawak and Sabah.  

---
Wild salamanders living in some of
North America's best salamander habitat are getting smaller as their surroundings get warmer and drier, forcing them to burn more energy in a changing climate.

That's the key finding of a new study published March 25, 2014 in the journal Global Change Biology that examined museum specimens caught in the Appalachian Mountains from 1957 to 2007 and wild salamanders measured at the same sites in 2011-2012.
Dr. Sears' work has generated national and international attention, appearing in sites from Buzzfeed to National Geographic. You can explore these sources here. You can also read the Clemson University press release here. 
---
The Clemson University Department
of Biological Sciences conducts the Biology Merit Exam to recognize and promote outstanding achievement in the biological sciences among middle and high school students in South Carolina.  We also provide laboratory visits and tours around campus to promote interest in the life sciences and a preview of college life.
Students attending the Biology Merit Exam at Clemson University will have an opportunity to test their biology knowledge, aquaint themselves with campus, visit museums and science exhibits, explore a college atmosphere, and compete against other students for awards.
The event is made possible by Dr.
Barbara Speziale, and her HHMI/SC Life award. This is just one of the projects she funds with her award from HHMI. The 9 middle and high schools she sponsors visit campus on Thursday, have science lab/activities and a Science Expo/Reception that evening before taking the BME on Friday.


---
Dr. Temesvari has been researching
Entamoeba histolytica, a pathogen that causes amoebic dystentery and amoebic liver abscesses in over 50,000,000 people annually in developing countries for the last 14 years.  Her research is part of the University program called the Eukaryotic Pathogens Innovation Center (EPIC).  This grant comes from the National Institute of Allergy and Infectious Diseases, part of the National Institute of Health, and will allow her research to continue in locating a stress response in the pathogen and possibly finding a cure.  
You can read the Tiger article here, learn about EPIC here, or read the Greenville News report here. 
---
Dr. Kurtz's lab has received a
Program Development Grant from the South Carolina Sea Grant Authority for a series of initial studies into the microbial ecology and biogeochemistry of South Carolina beaches. SC Sea Grants are directed at developing a fuller understanding of coastal processes. Dr. Kurtz's work is designed to examine ecological processes in barrier island beaches and examine potential biogeochemical links between beach processes and the persistence of certain organisms that affect recreation, tourism and fisheries.
---
Our Award Winning Graduate Students this Semester

Graduate student Evan Apanovitch
recently received an honorable mention with the NSF Graduate Research Fellowship Program for his proposal "Chytrid disease dynamics: thermal and hydric effects on the spread and susceptibility of Bs in North American salamanders." Additionally, he received a fellowship from the Highlands Biological Station to support his work this summer for his proposal "Rising stress: investigating multiple plethodon stressors across elevational gradients."
---
Graduate student Eric Riddell recently
received an honorable mention with the NSF Graduate Research Fellowship Program for his proposal "High and dry: acclimation and transcriptomics of mountaintop salamanders under climate change." He also received a fellowship from the Highlands Biological Station to support his work this summer for a project titled "Uncovering the capacity of a terrestrial salamander to respond to climate change with a reciprocal transplant study and transcriptomics."  In addition to these successes, Eric was a finalist for the Huey Award Competition, sponsored by the Division of Ecology and Evolution of the Society for Integrative and Comparative Biology, for Best Student Presentation in the division and he received a Grant in Aid of Research from the Society for Integrative and Comparative Biology.
---
Graduate Student Zhao (Jack) Chen has received a Distinguished Graduate Student Fellowship Award in the amount of $5,000. Jack was selected by the Graduate Fellowship Committee at Clemson University.
 .
---
The first ever Three Minute Thesis
Competition kicked off this year, a precursor to bigger and better competitions in the future. However, our department gets to claim special boasting rights as two of our students took both First Place spots. The 3MT finals were "ridiculously close" and Dean Burg and the Graduate School were impressed with all presenters. Our
students, Ashlee Tietje and Namrata Sengupta tied for First Place! You can read more about the 3MT competition and the Graduate School here. 
---
Sandy Kawano won the Estes Award from the Society for Vertebrate
Paleontology for best dissertation project in non-mammalian paleontology. Sandy Kawano also won a research travel award from the Society for Integrative and Comparative Biology.
Funds provided by the Society for Vertebrate Paleontology Estes Memorial Grant and the Society for Integrative and Comparative Biology Fellowship of Graduate Student Travel are being used to study important fossil specimens of stem tetrapods at natural history museums across the United States, in order to gain a better understanding of how vertebrates became terrestrial. Using the research collections at the museums, Sandy is developing a substantial database of 3D scans for many important fossil fishes and amphibians, which will be used to model the ability of these fossil taxa to move onto land. The integration of paleontology, biomechanics, engineering, and mathematics are being implemented to provide a comprehensive analysis of how changes to the musculoskeletal design from fishes to tetrapods led to one of the greatest events in the history of vertebrates.  
---
Kelly Diamond won a Sigma Xi grant-in-aid of research, which allowed her to travel to Hilo, HI to collect data on the escape response of waterfall climbing goby fish for her master's research. Thanks to this funding, they were able to test how water velocity and attack direction affect the escape response of juvenile goby fish in both laboratory and environmental settings. These data are some of the first to measure this important behavior of fish under conditions they experience in nature.
---
Kim Newton (Entox PhD student of Steve Klaine's) won best research poster in the PhD division at a Fulbright Academic Symposium competition, which was held on 07 March 2014 and hosted by the Fulbright Student organization at Clemson University. The purpose of the symposium was to showcase the research of Fulbright scholars at Clemson and other regional universities in the form of a research poster presentation competition. An award of $125 is given to the best PhD research poster as well as the best Masters research poster.
Congratulations to all of our hardworking and success-driven graduate students. 
---
Charlie Wei Receives US Patent
Dr. Yanzhang (Charlie) Wei recently
received a US patent for his work.  The patent has a title of Polypeptides comprising Fas activation and NKG2D-ligand domains (Patent #: 8,541,560). The present invention is drawn to fusion proteins comprising (a) a ligand for an NK receptor and (b) a Fas activation domain, and to nucleic acids encoding such fusion proteins. The invention also includes methods of making and using such proteins and nucleic acids, including their use in preventing or treating cancer.
---
Dr. Gallicchio, working with the OMICS Group, is organizing a symposium entitled " Translational and Personalized Medicine" that will take place November 3-5, 2014 in Las Vegas, NV at the Embassy Suites Hotel. OMICS Group International is an amalgamation of Open Access publications and worldwide international science conferences and events. Established in the year 2007 with the sole aim of making the information on Sciences and technology 'Open Access', OMICS Group publishes 350 online open access scholarly journals in all aspects of Science, Engineering, Management and Technology journals. OMICS Group has been instrumental in taking the knowledge on Science & technology to the doorsteps of ordinary men and women.  Click here for the full story!
---
Dr. Wen Chen receives US Patent
Dr. Chen received a patent for
his invention, which relates generally to the field of cancer diagnosis and treatment, and more particularly to compositions and methods that are useful in eliminating HER2+ breast cancer cells, triple-negative breast cancer cells that do not express estrogen receptor, progesterone receptor or HER2/neu, and cancer cells with stem-like characteristics. The paper is titled, "Compositions and methods for visualizing and eliminating cancer stem cells." 
You may read more about the patent here.
---
Researcher of the Month is an
opportunity to receive recognition, gratitude, publicity for your research or projects, and some special library goodies from Clemson's Cooper Library.  
Nominees are current students, faculty, or staff members who contribute to the academic and intellectual culture here at Clemson. Lisa was chosen not only for her work with golden lion tamarins, but also because she "recommends books and articles to her students based on interests they express in her classes."  Read the full story.
---
Dr. Gohad featured on Clemson News Now - 1/14

Clemson News Now filmed Dr. Neeraj Gohad's work in the Clemson Research Minute Series.  Check it out! URL: http://www.youtube.com/watch?v=BW7w3c-EkyA
---
---
Bears Do it  - 9/13
The New Yorker recently ran an article about Dr. David Tonkyn's former MS student,Brandie Smith.  She graduated with an MS in Biological Sciences in 1997 and wrote her thesis on "Minimization of  inbreeding in captive populations of endangered species". She is still involved in that effort, as you can read in the story. After Clemson, Brandie worked for the American Zoo and Aquarium Association for awhile before becoming a Senior Curator at the National Zoo. In addition to this work and interview, she had a lot of face time a few months back when Rusty the Red Panda escaped from the National Zoo into greater DC. 
You can read the entire article here.
---
You are invited to attend the 6th Annual CBASS: Clemson's Biological Science's Annual Student 
Symposium, tomorrow, February 22nd!
We will have a talk session, with 5 minute thesis presentations beginning at 9am in Vickery Auditorium. There is a poster session in the afternoon, starting at 1:30 in the Life Science Facility Atrium, and ends at 3:30. Come join us to see what CAFLS and SAFES graduate and undergraduate research is all about! Attached is the announcement flyer and also a schedule of events! Hope to see you there!

CBASS Team
Download the schedule of events here.
---

Neeraj Gohad, an assistant research professor in the College of Agriculture, Forestry and Life Sciences, is thinking big about small things. His research on biofouling has the potential to save millions in ship maintenance and exceptionally lowering the usage of fossil fuels for the naval and maritime fleets.
---
Tamara McNealy Lab Receives Grant
The McNealy lab - in collaboration with Dr. Daniel 
Jenkins and colleagues at the University of Hawaii - was awarded a USDA grant entitled 'New Engineered Approaches for Recovering Disperse Populations of Low-Tolerance Pathogens from.' The $498,000 grant will fund research over the next three years to develop a rapid gene-based detection system of pathogens in the field, specifically on produce. The grant capitalizes on the nanoparticle based biofilm disruption work that Dr. McNealy's lab has been working on and integrates this with novel engineering developments from the UH group.
---
Dr. Krista Rudolph Receives Award
CAFLS faculty member Dr. Krista Rudolph received theNational Scholars Program's Award of Distinction from soon-to-graduate Chris Covey from the Clemson National Scholars Program this past July.


Each year, the NSP invites seniors to present this award to the faculty and advisors who have served as mentors in helping the students develop intellectually, professionally and personally.  The remarks the students made praising their mentors were inspiring.
---
Barbara Campbell, a microbial ecologist
and assistant professor in the Dept. of Biological Sciences in the College of Agriculture, Forestry and Life Sciences, received $215,942 for the first two years of a five-year grant from the National Science Foundation Dimensions of Biodiversity. The research project at Clemson University has been recommended for a total amount of $434,876 over the five years.
---
Dr. Tamara McNealy at the Melbourne Convention and Exhibition Centre
In October 2013, Dr. Tamara McNealy was invited to 
speak on her work on Legionella biofilms and nanoparticles at the 8th International Conference on Legionella 2013, held at the Melbourne Convention and Exhibition Centre, Melbourne, Victoria, Australia. This meeting is held once every four years and is the key meeting for Legionella Researchers around the world.
---
Experimental Biology Cover Photo
Neeraj Gohad & Dr. Andrew Mount's work were featured on the cover of Experimental Biology, June 2013.  
Barnacle cyprid adhesives:You can find more information about their work here.
---
Lowering arsenic levels in apple juice
is a step in the right direction, but regulators could and should go further, says Clemson University biologist Lisa Bain, who researches the genetic and developmental effects of arsenic on animals. The U.S. Food and Drug Administration is moving to decrease the amount of arsenic allowed in apple juice to 10 parts per billion — the same level the U.S. Environmental Protection Agency has set for drinking water. Bain advocates halving the established level to five parts per billion.