2021 Tigers for Inclusion, Diversity, and Ethics Conference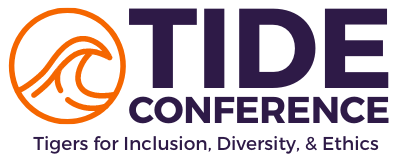 Theme: The Ethics of Pandemics
Date: Tuesday, March 30, 2021
Time: 5:00pm-7:45 pm
The societal unrest of 2020 is forcing us to address racial tensions, systemic oppression, the legacy of chattel slavery in the United States, various inequalities, and national policing. Cities across the nation are critically examining the practices and historical justifications once deemed acceptable but now questionable in today's climate of change.
The Rutland Institute's TIDE Conference seeks to inform participants of ethical dilemmas created by the intersection of diversity and inclusion as it relates to specific academic disciplines and to move participants to address those dilemmas. The conference will critically examine how ethics and diversity intersect, diverge, and create a more just society and a university culture that promotes equity and respect.
This year's theme, "The Ethics of Pandemics", was chosen by faculty members to highlight the effects of the pandemic on every facet of life, regardless of academic discipline. Each individual college speaker has been chosen by that college to address the intersection of ethics and diversity as it relates to that particular discipline. In addition, the keynote session will look at the effects of the pandemic holistically.
Conference Schedule
Session One- Individual College Speakers
5:00-6:15 pm
Conference attendees are encouraged to participate in any of the following sessions:
Break
6:15-6:30 pm
Session Two- Keynote Address
6:30-7:45 pm 
Addressing the Ethical Implications of Racial Inequities in American Healthcare
Dr. Dayna Bowen Matthew
Dean, The George Washington Law School
A nationally recognized lawyer and legal scholar, Dean Matthew is the first woman to lead GW Law. Dean Matthew is an expert in health equity and public health policy with a passion for public service. She previously served as the University of Virginia Law School's William L. Matheson and Robert M. Morgenthau Distinguished Professor of Law and the F. Palmer Weber Research Professor of Civil Liberties and Human Rights. She was also a professor of public health sciences a the UVA School of Medicine and served as director of the Equity Center at UVA, which works to build relationships between the university and its surrounding community to address racial and socioeconomic inequality. Prior to her tenure at UVA, she served as professor of law, vice dean and associate dean of academic affairs at the University of Colorado Law School and, before that, as professor of law and medicine at the University of Kentucky College of Law.
Dean Matthew has held a number of important positions in the policy world. She served as the Robert Wood Johnson Health Policy Fellow for U.S. Senator Debbie Stabenow and as senior advisor in the Office of Civil Rights at the U.S. Environmental Protection Agency. She also is a non-resident fellow in the Center for Health Policy at the Brookings Institution.
A prolific writer, she is the author of the book "Just Medicine: A Cure for Racial Inequality in American Health Care," and has authored or co-authored dozens of book chapters and articles, focusing largely on health care reform, public health law, health disparities, patient protection, and antitrust laws and civil rights.
Dean Matthew received a BA in economics from Harvard-Radcliffe College, a JD from the UVA School of Law, and a PhD in health and behavioral sciences from the University of Colorado Denver.
The keynote address is sponsored by Clemson's Pan African Studies Department.