Maria Bose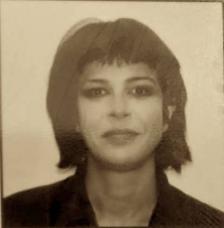 Assistant Professor
Contact
Office: 809 Strode
Email: mbose@clemson.edu

Education
Ph.D. English, University of California, Irvine (2017); B.A. English, Stanford University
Courses
contemporary film and media; cultural materialism; cultural politics
My work broadly addresses the political economy of late-twentieth- and twenty-first-century culture. I've tracked isomorphisms between literary and technical systems in the contemporary novel of ethnicity, showing how a remarkable number of anglophone writers develop a "postracial" narrative form keyed at once to race's declining political salience and its rising technical abstraction. Forthcoming work in this area theorizes the race concept's iteration across two countervailing vectors of "postracial" racialization: tech-intensified neoliberal market logics that granularize racial distinction the better to serve online industries' increasingly personalized rubrics for identity, and militarized regimes of hypervisibility operative in the projects of U.S. and global counterterrorism that conversely simplify race to coarse, embodied schemas of subalternity, culture, and color. I've also written about corporate branding and the visual rhetoric of environmentalism in Pixar animation and Silicon Valley architecture; and, once again, about corporate branding and political authorship in postmodern and contemporary novels. My most recent work is on cinematic video games, which I read as complex totems of de-globalization: artifacts of a fundamental ambivalence toward global connection that capture the contradictory experience of living in a world system integrated beyond historical precedent yet keener than ever to disconnect, jostling to reduce economic interdependencies and heighten comparative advantages at a moment of profound social and political dysfunction.
My current book-in-progress, Cinema's Hegemony: Medium & Empire at the Start of the Asian Century, is a study of the U.S./China geopolitical conjuncture and the evolution of the culture/power nexus, as manifested by the twenty-first-century ambitions of the American and Chinese film industries.
Selected Professional Works
Journal Articles & Book Chapters (Published)
"Distantly Reading Race in the Contemporary 'Postrace' Novel," Textual Practice 35.1 (2021): 39-55
"Virtual Flânerie: Teju Cole and the Algorithmic Logic of Racial Ascription," C21 Literature: Journal of Twenty-First-Century Writings 7.1 (2019): 1-29
Allegories of 'Postracial' Capitalism: Colson Whitehead and the Materials of Twenty-First-Century Black Cultural Authorship," Critique: Studies in Contemporary Fiction 60.4 (2019): 419-431
"Immaterial Thoughts: Brand Value, Environmental Sustainability, and WALL-E," Criticism 59.2 (2017): 247-277.
"Branding Counterculture in Pynchon's The Crying of Lot 49," Studies in American Fiction 43.1 (2016): 73-96.
Reviews & Interviews
Understanding Colson Whitehead: Revised and Updated Edition by Derek C. Maus, Studies in the Novel 53.3 (2021)
Vicious Circuits: Korea's IMF Cinema and the End of the American Century by Joseph Jonghyun Jeon, Critical Inquiry 47.2 (2021): 408-410
Digital Works, Videos, CDs & DVDs, Software (Published)
"Still Made in China," Clemson Humanities Now (3 Aug 2020)
"Branding Sustainability," Between the Lines (29 Sept 2015)
"They're At It Like Were-Rabbits," Cherwell (14 Oct 2005)
Grants
Lightsey Faculty Fellow, Clemson University (2020-21)
Tigers Advance Grant, Clemson University (2020)
Curriculum Development Grant, Global Engagement, Clemson University (2018-20)
Watt Faculty Fellow, Clemson University (2018-19)
Professional Development Grant, English Department, Clemson (2017-2020)
College of Architecture, Arts and Humanities
College of Architecture, Arts and Humanities | 108 Strode Tower, Clemson, SC 29634