CEFPACK - Center for Flexible Packaging
CEFPACK is an extension of the flexible packaging activities carried out by the Department of Food Nutrition and Packaging Sciences at Clemson University.  Activities conducted by CEFPACK are done under collaboration between the Department, industrial members of the CEFPACK organization and other University organizations affiliated with CEFPACK.   The organization exists to facilitate the three main activities undertaken by Clemson University, teaching, research and service.
Teaching - Laboratory experiences are available in all aspects of converting and flexible packaging for undergraduate and graduate students in packaging science.
Research -  Projects are focused on developing, evaluating, and understanding new and existing flexible packaging materials, structures and packages. Additional projects produce films, laminates and packages for active / intelligent packaging research and food-package interactions.
Service - A broad range of support services is available to industry -  preparation of films, laminates / packages; testing / evaluation of flexible packaging materials; permeability testing;  training / equipment demonstrations; and analysis / identification of materials and structures  Other departmental labs include thermal processing of filled packages; transportation testing; and sensory / shelf-life labs.  
A membership model provides the center with a reliable cash flow to enhance our ability to hire staff and maintain equipment while providing the members a 20% discount and easy access to services.  You can find more information about becoming a member of CEFPACK under the Membership tab to the left.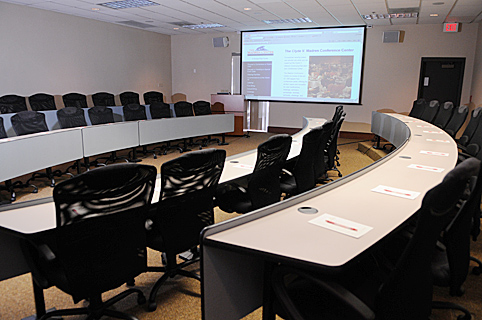 [virtual] Spring 2021 Members' Meeting: April 7th, 2021