Eucalyptus Leaf Beetle
The Eucalyptus Leaf Beetle, Paropsisterna m-fuscum (formerly Chrysophtharta m-fuscum), is a plant pest native to Australia and New Guinea and detrimental to cultivated eucalyptus stands.  First discovered in America in Orange County, California in 2003, P. m-fuscum was reported for the first time in South Carolina in July, 2012. 
The genus Paropsisterna, recently expanded to include Chrysophtharta, contains more than one hundred species of leaf beetles in Australia.  Adult beetles and larvae chew notches along the edges of eucalyptus leaves, leaving them unsightly and torn.  The beetles alone are not known to kill eucalyptus trees; however, heavy infestations of beetles can consume almost all of the leaf tissue, stressing the plant enough that it will eventually die. 
Adult beetles are rounded, about 1/4 to 3/8 inch long, and gray to reddish brown.  Females can lay forty or more bright orange eggs at a time.  She lays them either side by side or in an irregular group, and they turn dark brown before hatching.  The larvae can resemble caterpillars and sawfly larvae, but lack the fleshy, round, leg-like prolegs on their abdomen.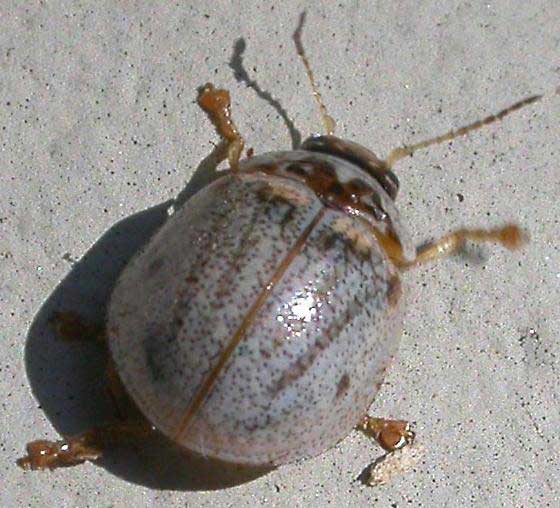 DPI, Clemson Entomology and Clemson Extension are working together to monitor this pest.  If you think you have found a Eucalyptus Leaf Beetle, please contact your local county Extension office.