What is Air Force ROTC?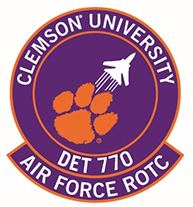 Air Force Reserve Officer Training Corps is a college program offered at more than 1,000 colleges and universities across the U.S. that prepares you to become an officer that is prepared to enter the Department of the Air Force. The Department of the Air Force is comprised of the United States Air Force (USAF) and the United States Space Force (USSF).
Clemson AFROTC provides you with a challenging program to hone your time management, physical fitness and analytical skills – and helps you push yourself to achieve your goals.
Through academic and practical skills training, you will be molded into an officer who is ready to enter the Air Force or Space Force. The academic class is available to any student who attends Clemson or cross-town schools. Students can take the freshman and sophomore classes free of obligation if they are unsure as to whether or not they wish to commit to the Air Force or Space Force. Students can pick any major the University has to offer. Students who complete our upper-level classes earn a minor in Aerospace Studies. Upon graduation, students will enter active duty (four-year commitment) as a commission officer, 2nd Lieutenant, in the Department of the Air Force.
For those who are up to the challenge, the rewards last a lifetime.
Air Force ROTC Detachment 770
Air Force ROTC Detachment 770 | 300 Tillman Hall, Clemson, S.C. 29634