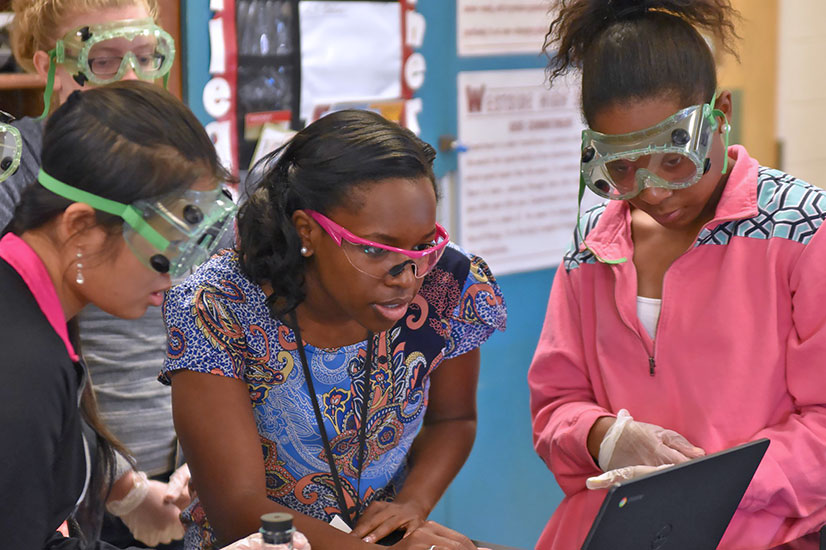 Destinee Cooper has accumulated some impressive credentials, including a master's degree in chemistry education from Stanford University, experience as a Knowles teaching fellow, and placement in Clemson's new Bridge to Doctorate Graduate Fellowship program. Destinee, who is working with Dr. Matthew Voigt, said she plans to focus on equity and access in STEM education and is interested in becoming a professor. Her degree program is off to a great start, she said.
"I know it's a large school, but all of my classes are really small," Destinee said. "I feel like I know my classmates already. We know each other by name, we have really rich discussions and we're all really passionate about this."
Our ESED Ph.D. Program provides a rich curriculum with a focus on STEM Education. To view requirements or apply to the program, please visit our ESED Admissions page.
Seminar Series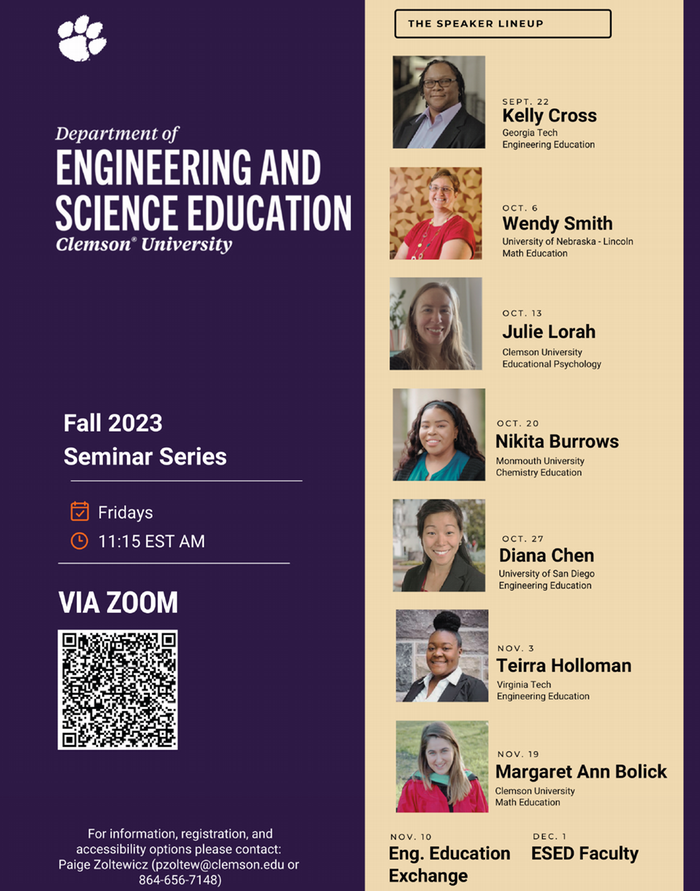 Fall 2023 Seminar Series
Fridays at 11:15 am via Zoom
For information, registration, and accessibility options, please contact: Paige Zoltewicz (pzoltew@clemson.edu or 864-656-7148)
View Flyer
"The Engineering and Science Education Department at Clemson University provided me with the tools and resources to succeed. The faculty mentored me in ways that pushed me to think critically about my research and education but also supported my growth and development in a nurturing environment. I am truly grateful to be an alumna of such a unique and innovative program."
---
Engineering and Science Education Ph.D. Program
The Clemson University ESED Ph.D. program provides a rich curriculum with a focus on STEM (science, technology, engineering, and mathematics) education. Applicants should at least have a master's degree in a STEM discipline.
The deadline for applications for the Ph.D. program for full consideration for admission and funding is December 1 of each year. There will be a second round of consideration for any remaining places in the incoming fall cohort starting February 1.
Additional Academic Opportunities
Clemson University and the Department of Engineering and Science Education offer additional ways to expand academic opportunities and experiences. Please visit the ESED Academics page for more details.
Certificate Program
Bridge to Doctorate
STEMFACDEV
---
Discover How Engineering and Science Education Excels