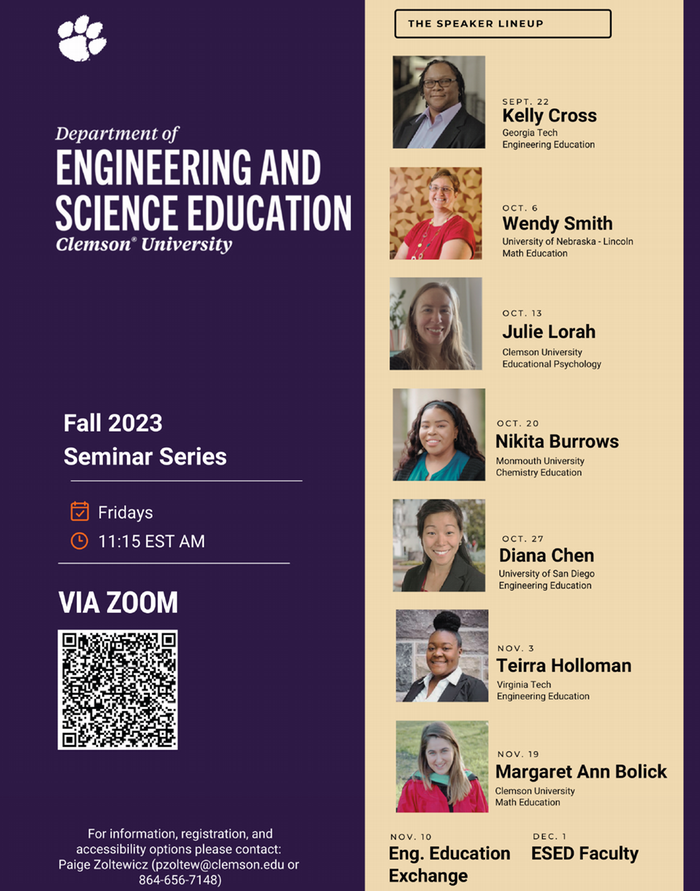 Clemson University Engineering and Science Education Seminar Series is held weekly on Fridays. All ESED seminars occur at 11:15 AM via zoom. For information, registration, and accessibility options, please email Paige Zoltewicz or call 864-656-7148.
Please view additional information on the ESED Blog.
"The Engineering and Science Education Department at Clemson University provided me with the tools and resources to succeed. The faculty mentored me in ways that pushed me to think critically about my research and education but also supported my growth and development in a nurturing environment. I am truly grateful to be an alumna of such a unique and innovative program."
---
Engineering and Science Education Ph.D. Program
The Clemson University ESED Ph.D. program provides a rich curriculum with a focus on STEM (science, technology, engineering, and mathematics) education. Applicants should at least have a master's degree in a STEM discipline.
The deadline for applications for the Ph.D. program for full consideration for admission and funding is December 1 of each year. There will be a second round of consideration for any remaining places in the incoming fall cohort starting February 1.
---
Discover How Engineering and Science Education Excels