Explore the Best of Clemson
EUREKA! participants are given several opportunities to get to know their fellow EUREKANs, while also exploring Clemson University campus and the surrounding community.
Experiences for in-person participants include field trips on and around Clemson campus, with past cohorts also visiting nearby cities, including Greenville, Atlanta, and Charlotte. 
Whether you choose the virtual or in-person experience, participants will also have several events designed to help them get to know key campus contacts, such as in the University's Center for Career and Professional Development, which has consistently been recognized by the Princeton Review as one of the top 10 career services programs in the country – and was #2 in 2021.
Students in either delivery option have the opportunity to attend weekly meetings designed to introduce them to campus life and provide valuable resources to help them grow, both academically and socially.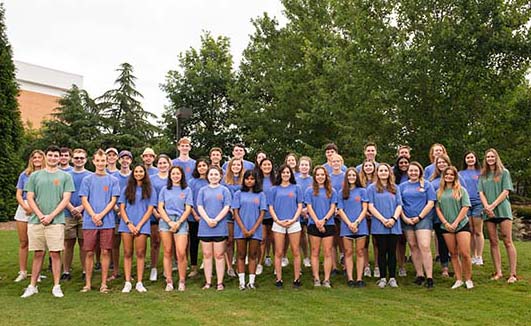 Online Experiences
The online EUREKA! program is delivered through a creative, virtual format, with all facets of the program, including campus and community activities, being performed remotely from home through video conferencing and other online means. 
Online participants are able to meet each other and are given several opportunities to also get acquainted with campus resources and some of the university's best faculty and administrators. Many of our students will also be able to meet their EUREKA! mentors in person when they arrive on campus for the fall semester. 
In-Person Experiences
EUREKA! students living on campus during the program in past programs have been invited to dinner with the Clemson football team, excursions to Atlanta and Charlotte, whitewater rafting, hikes, and cultural and sporting events on and around University campus.
Students also get a head start on campus living, as they will be living in campus housing and getting to know campus through a variety of activities, including scavenger hunts.
Meet the EUREKA! Counselors!
EUREKA! counselors are Honors students who provide care and support for the program participants on a daily basis, while also serving as role models on and off campus.
Online Counselors
Kaden Liles

Major: Financial Management

Email: kliles@clemson.edu

Hello, everyone! My name is Kaden Liles and I am the head counselor of the online 2022 EUREKA! Program. I am a rising sophomore from Corpus Christi, Texas, majoring in Financial Management with a minor in Political and Legal Theory. Last summer as a EUREKA! participant, I worked with Dr. Voigt to investigate the relationship between declared undergraduate major and experiences in mathematics courses through the Clemson Department of Engineering and Science Education. It helped me realize how much I enjoy data analysis and brought me into Clemson strong.

EUREKA! was the best experience I could imagine for coming into Clemson. I was initially unsure about spending so much of my summer on Zoom after a full school year of it, but I am so glad I joined EUREKA! because I ended up meeting some of my best friends, preparing for my first semester, and having a lot of fun. As an out of state student, I was nervous when navigating unfamiliar waters and going into school with people I didn't know, but EUREKA! gave me confidence in my place in Clemson and a group of friends to meet on my first day. I strongly recommend any incoming Honors first-year students to apply for EUREKA!; it is such a great program for all aspects of entering your new university home and has something to appeal to every student. I'd love to tell you more about my experience or answer questions if you have any, and other than that I'm excited to potentially meet you this summer!

Lia Anderson

Major: Mechanical Engineering

Email: liaa@clemson.edu

Hi, everyone! I'm Lia Anderson, a rising sophomore from Louisville, Kentucky, and planning on going into Mechanical Engineering.

I participated in EUREKA! last year when it was completely virtual. I worked with Dr. Ethan Kung, two other EUREKANs, and a graduate student. The project was a Bioengineering and Mechanical Engineering project working to predict the likelihood of a patient with carotid stenosis also experiencing a stroke. My group created 3D models of stroke and non-stroke patients using an application, Simvascular. Then, we analyzed the data collected by running simulations on the models in Paraview. I loved how much personal attention we got from our mentor. He was with us during the whole process.

I would definitely recommend applying for EUREKA! It has done so much for me and I made so many good friends. I loved how much I had in common with the students in this program. I have never had such a strong friend group. EUREKA! also gets your foot in the door for research. As an incoming first-year student, it can be very intimidating to reach out to professors about their research but this program acted as a steppingstone for me so I was more comfortable doing so. EUREKA! also helped me with my career. Coming in, I thought I wanted to major in Chemical Engineering or Bioengineering. After completing research with both Bioengineering and Mechanical Engineering, I found that I really enjoyed Mechanical Engineering and switched my major. EUREKA! did so much for me academically and socially. I really recommend you apply! I'm so excited to meet you all!!

Lilli Hicks

Major: Chemistry

Email: lihicks@clemson.edu

Hey, everyone! I'm Lilli Hicks and I am one of the counselors for the online 2022 EUREKA! Program. I am a rising sophomore majoring in Chemistry from Greensboro, North Carolina. Here at Clemson, I am involved with Clemson Wesley and the Clemson University Symphony Orchestra. Last summer I worked with Dr. Arya on his Novel Antibacterials project. I enjoyed being able to get a glimpse at what research in chemistry looks like and I'm excited to dive further into research this summer.

EUREKA! was the perfect way for me to start my time here at Clemson University. The program is one of the best things that the Honors College offers, and I can't imagine my time here not including this experience. I also feel that EUREKA! is more than just a summer research program; it's a way to start building a community . Coming from out-of-state I only knew one person from my high school attending Clemson and EUREKA! allowed me the opportunity to get to know a group of students who would be joining me in the fall. Last summer I got just as much out of the social aspect of EUREKA! as the research aspect.

I really enjoyed my time in the EUREKA! Program last summer and would definitely recommend the program to any incoming Honors College first-year student. I am so excited to spend the summer with all of you.
In-Person Counselors
Ryan Meyer

Major: Economics and Management

Email: rcmeyer@clemson.edu

Hey, everyone! My name is Ryan Meyer and I am the head counselor of the 2022 in-person EUREKA! program. I am a rising sophomore from Simpsonville, South Carolina majoring in Economics and Management with a minor in Communication Studies. As a former EUREKAN!, I worked with Dr. Luo to perform research on Crop Genetic Engineering for Enhanced Abiotic Stress Tolerance in Transgenic Creeping Bentgrass. I loved my time with Dr. Luo and the other EUREKANS! the summer before my first year. Even though I found that this field was not for me, I did discover a love for research, leading me to come back for more research this summer!

For me, EUREKA! was the best way possible to begin my time at Clemson. I was nervous about spending my summer in an unfamiliar environment with people I did not know but it was the best decision I could have ever made. I learned so much about Clemson, research, and formed some of the strongest friendships that I have had through the EUREKA! program. My time in the program allowed me to set myself apart as a Clemson student and was easily one of the best decisions I could have made coming into Clemson.

A million times over, I would highly recommend applying to EUREKA! if you have any interest in completing undergraduate research, getting involved at Clemson early on, or if you want to get a jumpstart on your college experience. I had no experience with research going into the program, but Dr. Luo was incredibly patient and helpful, and so were the other faculty mentors. The EUREKA! program is a fantastic way to begin your time at Clemson and helps your transition from high school to college become so much easier. Don't be afraid to reach out to me if you have any questions or just want to talk about my experience! I am looking forward to another great summer of EUREKA!

Omika Merchant

Major: Microbiology with a Concentration in Biomedicine

Email: omercha@clemson.edu

Hello, everyone! My name is Omika Merchant and I am a rising junior from Greenville, South Carolina, majoring in Microbiology with a Concentration in Biomedicine. When I participated in EUREKA!, I studied under Dr. Xia Jing to evaluate the performance of MetaMap's configuration options when processing clinical actionable genomics texts. I continued my research after the program ended and even wrote a manuscript that got me an invitation to a prestigious summit that offered me a publication!

Before my first year at college had even begun, EUREKA! unlocked numerous opportunities to delve into research, establish long-lasting personal connections with professors, and make 35 new friends. EUREKA! isn't just a summer program— it's a future social and academic investment that lasts far beyond your four years of college. I am so grateful for the foundation EUREKA! gave me and I'd love to talk to you about how it can jumpstart your college career so feel free to email me with anything! I'm looking forward to meeting you this summer!

Sophie Burhans

Major: Language & International Business and Economics

Email: sburhan@clemson.edu

Hey, everyone! My name is Sophie Burhans and I am so excited to spend the summer as a EUREKA! counselor. I am a rising sophomore from Homer, New York and a double major in Language & International Business and Economics. Last summer, during my time as a participant in the EUREKA! Program, I worked with Dr. Touya writing a research paper on different factors contributing to the rise of populism in France as paralleled to the United States and Hungary. Working on this project helped me find a passion for research and improve my academic writing skills. Dr. Touya was amazing and really tailored the project to my specific interests. I also met some of my best friends in EUREKA! and I wouldn't change a thing about my experience.

Before starting my research, I was extremely insecure about my writing and my lack of knowledge when it came to academic research, but Dr. Touya and all the counselors were more than willing to help. I always felt supported and over the course of the summer, I grew both academically and personally thanks to this support. The research aspect of EUREKA! is amazing and a great starting point for undergraduate involvement but what makes it such a great program is the people. The administrators, counselors, professors, and participants really are the core of the program and I cannot stress enough how important the relationships and connections I made have been. I would be happy to share more about my EUREKA! experience and answer any questions so please reach out! I can't wait for this summer!