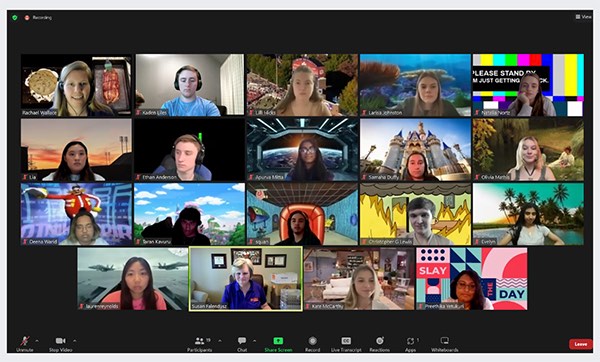 Apply by May 7
The online EUREKA! program is delivered through a creative, virtual format, with all facets of the program, including campus and community activities, being performed remotely from home through video conferencing and other online means. 
Online participants are able to meet each other and are given several opportunities to also get acquainted with campus resources and some of the university's best faculty and administrators. Many of our students will also be able to meet their EUREKA! mentors in person when they arrive on campus for the fall semester. 
Are you looking for an on-campus experience? Explore our in-person delivery option! 
How to Apply
The EUREKA! application is in your Admitted Student Portal. After you sign in, go to the "Your Clemson Journey" tab and scroll down to EUREKA! application information. 
Online EUREKA! Program Option Timeline

| What | When |
| --- | --- |
| Application open for EUREKA! 2023  | April 1, 2023 |
| Application due date (including $50 application fee) | May 7, 2023 (11:59 p.m.) |
| Notification of admission to EUREKA! | Week of May 15, 2023 |
| Program fees due (electronic payment RECEIVED, not postmarked) and participation forms completed and submitted | June 1, 2023 |
| Individual check-in meetings | June 12 - 16, 2023 |
| 2023 Online EUREKA! Program Dates | June 19 - July 21, 2023 |
| Online EUREKA! Poster Forum | July 21, 2023 |
EUREKA! Online Program Benefits
Meet Fellow Tigers!
Make connections with other incoming first-year Honors students and with your EUREKA! counselors, who are rising sophomores (and EUREKA! alumni themselves!).
You will attend daily meetings designed to introduce you to campus life and provide valuable resources to help you grow, both academically and socially, and help you become familiar with your fellow Honors students in the online program.
Get Started on Research!
Not every research project is conducted in a laboratory.
Our online EUREKA! program offers a variety of opportunities for you to engage in research with Clemson faculty, without traveling to campus.
Many of our online participants meet their faculty mentors when they arrive on campus to start their fall semester.
Build Your Clemson Community!
Online EUREKA! participants are given several opportunities to get to know their fellow EUREKANs, while also exploring Clemson University campus and the surrounding community.
You will also be connected with key campus contacts online,including with faculty mentors and key campus contacts, such as in the University's Center for Career and Professional Development, which has consistently been recognized by the Princeton Review as one of the top 10 career services programs in the country - including #1 Best Career Services in 2022.
Online Program Fees and Policies
Program participants are held to local, state, and federal laws as well as Clemson University's alcohol and drug policy. The EUREKA! program has a ZERO TOLERANCE policy concerning drugs and alcohol.
Students found in violation of these laws and policy will be dismissed from the program. No program refunds will be issued for dismissed students.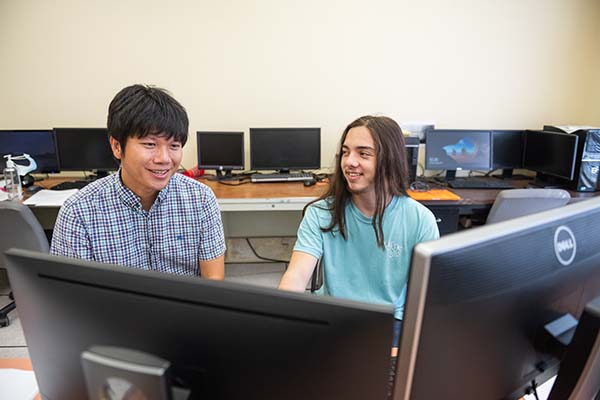 Meet the Online EUREKA! Counselors
Olivia Mathis, Head Counselor
Hi, everyone! My name is Olivia Mathis, and I am the Head Counselor of the Online 2023 EUREKA! program. I am a rising sophomore from Anderson, South Carolina, majoring in English with a minor in life sciences. Last summer as an online EUREKA! participant, I researched Plant Genetic Engineering for Enhanced Abiotic Stress Response in transgenic turfgrass under Dr. Luo in the Department of Genetics and Biochemistry. My experience in EUREKA! was so wonderful that I have continued my research. Although I was an online format participant, my research is now in the Biosystems Research Complex in person on Clemson's campus. The translation between online research to hands-on research was a key experience in my first year that allowed me to gain a more dynamic understanding of the world of research!
EUREKA! allowed me to design a path where I could combine two fields of study that I am deeply passionate about– literature and science, particularly sustainable science. My EUREKA! experience taught me that, here at Clemson, you can do anything you dream of, even if your dreams may seem like polar opposites. During online EUREKA!, I met the best people from both in-person and online formats, connected with amazing faculty, and found my passions– and all from the comfort of my own home with a flexible schedule!
I have found my home at Clemson, and I am so grateful for how much EUREKA! contributed. EUREKA! is an incredibly fulfilling experience that provided the foundation for my first year at Clemson. If you are interested in the program, a little unsure, or just curious, I would be happy to talk with you more in-depth about my experience. I can't wait to meet y'all this summer!
Ethan Anderson
Hello! My name is Ethan Anderson and I am one of the online counselors for the 2023 EUREKA! Program. I am from Fort Mill, South Carolina, and my major is computer science.
Last summer, I participated in the EUREKA! online program with Dr. Cheng as my research mentor. Our project focused on finding a way to automatically categorize reviews left on Amazon Alexa Skills using sentiment and semantic analysis. Our categorizer focused on whether or not a review was about Alexa being unable to hear or understand the user. First, we manually analyzed and classified data and then developed a program to perform the task automatically. My favorite part of the research was learning how to break sentences into their corresponding parts of speech to obtain the meaning with an algorithm. English never fails to amaze me with how weirdly complex it can be.
EUREKA! was a great way for me to start off my Clemson journey. I made tons of new friends, got to start working on research immediately, and had fun. I recommend all Honors first-year students that are interested to apply, and I hope to see you in the summer.