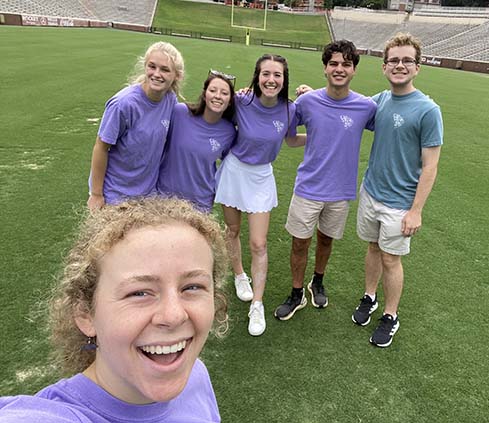 A Summer Research Experience on Campus
EUREKA! participants in the in-person program are immersed in the Clemson experience for 5 weeks. They are given several opportunities to get to know their fellow EUREKANs, while also exploring Clemson University campus and the surrounding community.
In the past, our in-person EUREKAns have been invited to dinner with the Clemson football team, on excursions to Atlanta and Charlotte, whitewater rafting, hikes, and cultural and sporting events on and around University campus.
Students also get a head start on campus living, as they will be living in campus housing and getting to know campus through a variety of activities, including scavenger hunts.
Not sure if you can make it to campus this summer? Explore our online delivery option! 
In-Person Program Policies
Explore in-person program policies before you arrive. This page also contains helpful tips to help you plan how to get here and figure out where to shop and do laundry while you're on campus. 
In-person EUREKA! Program Option Timeline

| What | When |
| --- | --- |
| Application open for EUREKA! 2023  | April 1, 2023 |
| Application due date (including $50 application fee) | May 7, 2023 (11:59 p.m.) |
| Notification of admission to EUREKA! | Week of May 15, 2023 |
| Program fees due (electronic payment RECEIVED, not postmarked) and participation forms completed and submitted | June 1, 2023 |
| Move-in and opening dinner | June 23, 2023 |
| Move out | July 29, 2023 |
| EUREKA! Poster Forum | September 14, 2023 from 2:30-4 p.m. (right before Clemson Family Weekend) |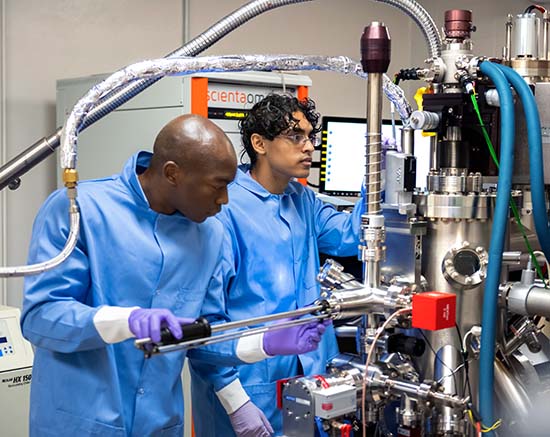 Explore Clemson and its Surrounding Communities!
Meet Fellow Tigers
Get to know fellow incoming first-year Honors students, building connections that, for many of our EUREKA! alumni, can last throughout (and beyond!) your undergraduate experience. 
You will also make key campus connections, including with faculty mentors and key campus contacts, such as in the University's Center for Career and Professional Development, which has consistently been recognized by the Princeton Review as one of the top 10 career services programs in the country - including #1 Best Career Services in 2022.
Get Started on Research
Working as part of a team or one-on-one, EUREKA! gives students the chance to engage early and start a path toward their next great discovery.
Many of the participating students continue their projects throughout their undergraduate years. We hope their enthusiasm for research will encourage their peers to follow their lead to build an exciting and productive environment for undergraduate research, scholarship, and discovery at Clemson University.
Take Shared Adventures
Although your five weeks on campus will be focused on your research, we also make time for you to familiarize yourself with Clemson and its surrounding communities, through a series of team-building events and day trips.
EUREKA! adventures are planned by your counselors, who are also program alumni. These activities help you bond with your cohort while helping to ease your transition to your new home at Clemson.
Program Fees and Policies
Program participants are held to local, state, and federal laws as well as Clemson University's alcohol and drug policy. The EUREKA! program has a ZERO TOLERANCE policy concerning drugs and alcohol.
Students found in violation of these laws and policy will be dismissed from the program. No program refunds will be issued for dismissed students.
Program Fee

EUREKA! program fees are collected online. If your student is selected for the program, program fees are due on June 1, 2023.

Program fees for the in-person option include:

Application fee ($50)
Program fee ($2,800)
Meal plan ($500) fee

$100 is refunded to the TigerStripe accounts of all students who successfully complete the program. 

No application fee refunds. 

Please note that no refunds are given to any student expelled from the EUREKA! program. 

Attendance Policy

Students are expected to attend 100% of EUREKA! events. The in-person program option is a 24/7 immersive experience, whereas the online program offers more location flexibility and requires less time each day. Please keep this difference in time commitment in mind when applying.

Students who successfully complete the program will be refunded $100 via TigerStripe in the Fall.

Orientation and Ready, Set, Roar!

You must complete first-year orientation modules before the start of the program. We do not allow students to be excused from EUREKA! program events to participate in orientation or Ready, Set, Roar! events. You should register for orientation as instructed by the Office of Orientation (you will receive registration instructions via email).
Meet the In-person Counselors!
EUREKA! counselors are Honors students who provide care and support for the program participants on a daily basis, while also serving as role models on and off campus.
Makenzie Jones
Hello, everyone! My name is Makenzie Jones and I'm the Head Counselor for the 2023 in-person EUREKA! program. I am a rising sophomore from Rock Hill, South Carolina, majoring in Bioengineering with a concentration in Biomaterials. I am currently involved with tissue engineering research and the Clemson Rock-Climbing Club! During my time in the 2022 EUREKA! program, I worked with Dr. Ethan Kung to evaluate possible stroke risk in carotid stenosis patients. To do this, 3D models were constructed via a modeling software, Simvascular. These models were then tested through fluid dynamics simulations to evaluate potential stroke risk. I had an amazing time conducting this research, and I can't wait to continue my research during the 2023 program!
EUREKA! was the perfect way for me to begin my transition to life at Clemson! Not only was it an amazing opportunity to get a head start on undergraduate research, but the relationships I formed and memories I made really made my EUREKA! experience unforgettable. The idea of throwing myself into the EUREKA! program was intimidating at first; I had never spent more than a week at a time away from home. However, taking that leap of faith was easily one of the best decisions I've ever made. I formed such valuable friendships, grew both personally and academically, and was able to forget any worries I may have had about moving to campus in the fall. I can't say enough great things about the EUREKA! program and how my experience benefited me; feel free to reach out with any questions or if you'd like to learn more about EUREKA!. I look forward to another great year of EUREKA! and to meeting everyone this summer!
Garrett Lewis
Hey, everyone! My name is Garrett Lewis and I'm a rising sophomore from Columbia, South Carolina on my way to completing a major in mechanical engineering. When I participated in EUREKA! last summer, I worked with Dr. Shunyu Liu to research Laser Directed Energy Deposition (a process used to 3-D print metals and ceramics) and its potential use with High Entropy Alloys. Although I did not end up carrying out further research with Dr. Liu due to scheduling conflicts, I can say EUREKA! was an absolutely amazing experience for me as an incoming student.
I had been interested in becoming involved in undergraduate research when I was coming in to the Honors College and when I found out about EUREKA!, I knew that it would be an incredible opportunity! Not only did the program give me a taste of some interesting and exciting research, but it also was a chance to build relationships with faculty and students that share that same itch to learn more and expand one's understanding. The people I met and the relationships that I built over the summer made for a wonderful social stepping stone into college life and I cannot recommend it enough for anyone who think it might be for them!
Taran Kavuru
Hello, everyone! My name is Taran Kavuru and I am one of the counselors for the in-person 2023 EUREKA! Program. I am a rising sophomore from Fort Mill, South Carolina, majoring in Computer Science and minoring in business administration. During my time in the virtual EUREKA! program last summer, I worked with Dr. Cheng and a few other participants to create a program that would identify problematic reviews of Amazon Alexa skills through the College of Engineering, Computing, and Applied Sciences. I even continued working with him into my first semester here at Clemson!
I learned and gained a lot through both the academic and social aspects of the EUREKA! program. For example, I realized how undergraduate research is far more accessible than I originally thought and that emailing professors to work with them is not as hard as it seems. Furthermore, I was given easy opportunities to interact with people whom I had a lot in common with, resulting in me making good friends and acquaintances that I continue to see frequently see in class and around campus. There are plenty of benefits to be reaped as a EUREKA! participant, and as such, I believe that the program is an amazing and exciting way to begin your time here at Clemson and I strongly advise that any incoming Honors students apply. I am looking forward to meeting all of you this summer and I would be more than happy to talk with you about any questions or my general experience last summer, so feel free to email me!