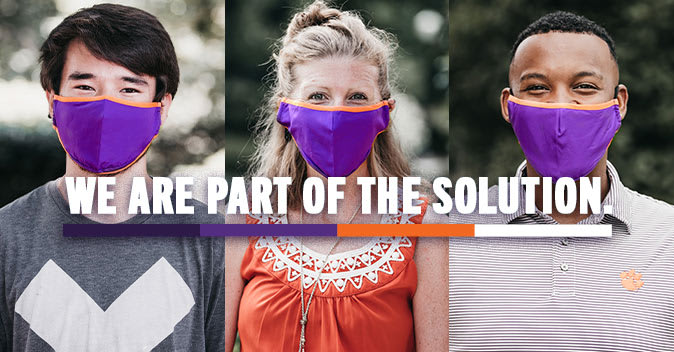 A successful return to on-campus
A successful return to on-campus living requires following University guidance for healthy practices regarding housing, dining, campus life and more.
Isolation and Quarantine
Read Clemson's COVID-19 Isolation and Quarantine Procedures
Students who have tested positive or been exposed to COVID-19 will be notified by officials from South Carolina Department of Health and Environmental Control (DHEC) or Redfern Health Center. Clemson Home will temporarily relocate residential students to a space on campus or near campus designated specifically for isolation or quarantine for a specified amount of time.
Students in isolation or quarantine protocol will be provided:
Medical care as needed by Redfern Health Center.
Meal delivery once a day (around lunchtime) and shelf-stable boxes of food.
Trash pickup service.
Laundry service.
Cleaning supplies.
Students will be cleared to return to their residential space following the required length of isolation or quarantine and notified via Clemson email. After returning their temporary key, they will pick up their original room key and are able to return.
Sick students also have the option to return home and recover away from campus.
Students who live off campus may isolate or quarantine in spaces that are designed as single bedrooms with access to a single bathroom. Students who live off campus in shared rooms or bathroom spaces may reach out to Clemson Home for assistance with isolation and quarantine, with space offered as available.
Familiarize yourself with campus resources available through Student Health Services. Redfern Health Center will help guide students through the quarantine and isolation process.
The Office of Advocacy and Success serves all current Clemson students as a trusted place for care, advocacy, and referrals to campus and community partners. Click here to file a CARE report.
When Going into Isolation and Quarantine Students
 Must Notify of Class Absence 
Log into your courses in canvas and use the Notification of Absence process to let your instructors know that you will be moving to online only participation in classes for at least the next two weeks. If your instructor does not use canvas, contact them directly to let them know of this temporary shift in how you will be participating in classes. Use the same process to inform your instructors that you have been cleared to return to in-person classes. 
Clemson Home is committed to establishing safety precautions within residential areas through the following measures:
Physical distancing and reduced congestion in communal areas such as dining halls and shared bathroom spaces.
Custodial and facilities staff will work diligently to clean and disinfect frequently touched surfaces in common areas of residence halls, such as laundry facilities, elevators, communal bathroom spaces, front desks and door handles.
Campus dining operations will provide alternative meal services to students. Click here to find the latest on dining facility openings, procedures and related information.
Other resources for students and campus life
Housing & Dining
Learn more about safely living and eating on campus.
Student Organizations
More than 500 student organizations make up the Clemson University campus community. Those experiences may look a bit different this Fall. Learn how.
Student Study Spaces
Find information on where you can study on campus and links to reservations for all available spaces.