Master Rain Gardener is a certification program focused on rain garden and rainwater harvesting system design and installation. The Master Rain Gardener (MRG) program will provide design standards and the knowledge-based skill set necessary to install rain gardens and rainwater harvesting systems on a residential scale. Rain gardens and rainwater harvesting offer residents and landscape professionals with a management tool for flooding on property, erosion prevention, incorporation of native plants and backyard habitat into the lawn, and the establishment of a low-irrigation landscape. The Master Rain Gardener program is a hybrid, multi-week curriculum allowing for self-paced online learning modules, hands-on field experience, and a two-track option to meet the needs of diverse audiences.
Register for the 2023 Course
Online course content will include:
Rain garden site assessment, soil analysis, design standards, construction, plant selection, design elements, maintenance, and more.

Rainwater harvesting system sizing, pre-filtration devices, component considerations, water use and safety measures.
Both course tracks include hands-on components that provide participants with the opportunity to apply practices learned. 
Certification Track
The Certification Track is intended for contractors, landscape designers, landscape installers and other professionals who will install residential-scale rain gardens and rainwater harvesting systems for pay. In order to achieve certification, individuals must complete four weeks of Master Rain Gardener online course content, attend a full-day, in-person training and pass the course exam. Recognition as a certified Master Rain Gardener can serve as a marketing tool for professionals. The Certification track is open to residential audiences who wish to participate in the field day.
Letter of Completion Track
The Letter of Completion Track is intended for home gardeners, Master Gardeners, Master Naturalist, and other residential audiences. Attendance in the field day is not included in this track. In order to receive a Letter of Completion, individuals must complete four weeks of Master Rain Gardener online course content, complete hands-on class assignments and weekly quizzes.
This class is applicable towards 18 CEUs for ASLA members, 10 continuing education credits for SC Master Gardeners, 1 (Core) hour of SC Pesticide Applicator credit & 20 hours of renewal credit for educators through the SC Department of Education.
Email Kim Morganello with Master Rain Gardener questions at  kcounts@clemson.edu.
Course Syllabus
| Week | Topics |
| --- | --- |
| 1 | Online: The Built Environment, Introduction to Rain Gardens, Siting & Soil Assessment |
| 2 | Online: Drainage Area Analysis, Rain Garden Size & Shape, Planting Mix, Soil Amendments |
| 3 | Online: Landscape Design, Plant Selection, Mulch Calculation & Rain Garden Maintenance |
| 4 | Online: Introduction to Rainwater Harvesting, System Sizing & Use, Rain Barrels, Cistern Conveyance & Pre-filtration, Maintenance |
| 5 | Resource & Content Review |
| 6 | Field Day in Charleston, SC (Certification Track Only) |
| 7 | Exam Week (Certification Track Only) |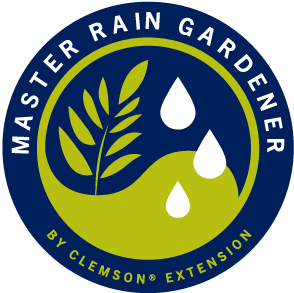 Registration
Registration for the 2023 Master Rain Gardener Course is now open.
Register Now
Instructor Team
Kim Morganello
Cal Sawyer, Ph.D.
Chuck Jarman, P.E.
Amy Scaroni, Ph.D.
Amy Dabbs
Laura Lee Rose
Guinn Wallover
Jeremy Pike
Mary Martinich, PLA
Marty Morganello