Joint City University Advisory Board
The Joint City University Advisory Board was created in 1985 for the purpose of improving the quality of life for those in the Clemson community. It is the expressed desire of both Clemson University and the City of Clemson to build on the positive relationship historically present between the two parties. In 2019, the growth and change in the area prompted a restructuring of the board to include established work groups to allow the board to continue to be effective in its mission.
The JCUAB shall be the official body of representatives responsible for:
strengthening the relationship between the City of Clemson and Clemson University
strengthening relationships for the Clemson area and University communities
initiating solutions in implementing partnership initiatives
preparing an annual budget with expenses shared equally between the City of Clemson and Clemson University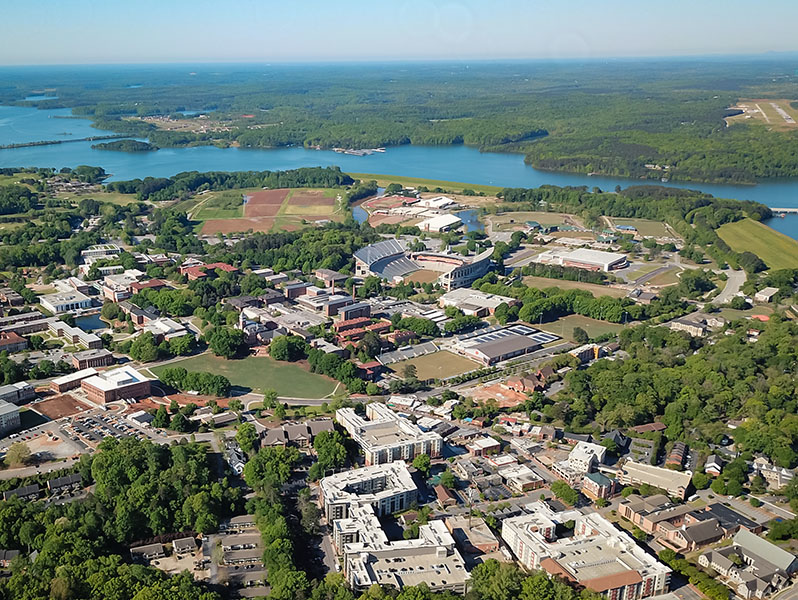 The JCUAB is an advisory board. Its mission shall be to identify issues of mutual concern while maintaining open and transparent communications with all relevant parties and departments within both the City and the University. The issues typically involve but are not limited to:
Planning and land use
Student housing
Growth in enrollment and its impact on the community at large
Area transportation and parking
Security and public safety
Public works and utilities
Fiscal responsibility and impact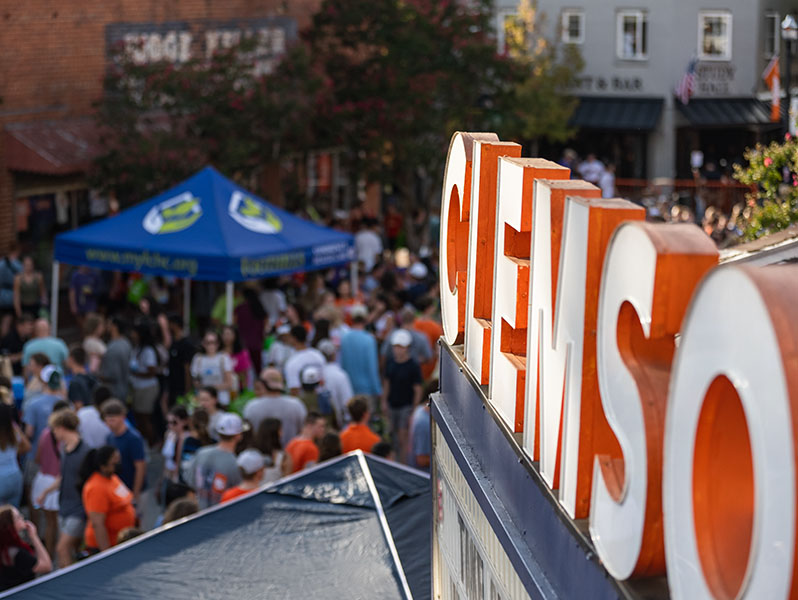 Once identified and agreed upon by the JCUAB and in consultation with the University president and City mayor, the issues shall be researched jointly with any proposed solutions presented to the respective governing or administrative officials. The consideration of any proposed solution will always be in the context of mutual benefit. Proposed solutions are not binding on either party but must be approved separately as appropriate.
The JCUAB exists to create the highest degree of collaboration between the City of Clemson and Clemson University. This will always involve open, honest and cooperative communications between all parties. The JCUAB shall always be an organization striving to support each other in our individual and mutual goals and objectives.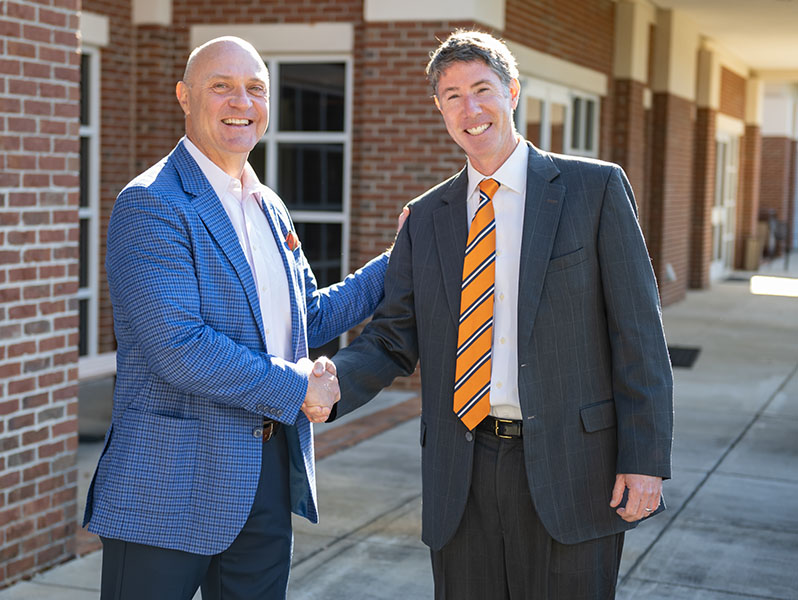 JCUAB Workgroups, 2023-24
Economic Development
Name
Affiliation
Chair (vacant)
Vacant
Andy Blondeau
City of Clemson
Brittany Chapman
Business Owner
Kryssa Cooper
Clemson University
Robert Halfacre
City of Clemson
Shontavia Johnson
Clemson University
Phil Landreth
Clemson University
Lindsey Newton
City of Clemson
Doug Zirbel
Business Owner
Housing
Name
Affiliation
Nathan Woods, Chair
City of Clemson

Leasa Evinger

Clemson University
Allison Gantte
City of Clemson
Pete Knudsen
Clemson University
David Kuskowski
Clemson University
Jacob Peabody
City of Clemson
Alesia Smith
Clemson University/City of Clemson
Gary Wiser
Clemson University
Public Safety
Name
Affiliation

Sarah Custer

, Chair
Clemson University
Jorge Campos
City of Clemson
Rick Cramer
Clemson University
John Duckworth
City of Clemson
Nate Heard
City of Clemson
Greg Mullen
Clemson University
Nikki Munn
City of Clemson
Public Works
Name
Affiliation
Nathan Hinkle, Chair
City of Clemson
Todd Barnette
Clemson University
Pete Knudsen
Clemson University
Cody Lingefelt
City of Clemson
Catherine Watt
City of Clemson
Transportation
Name
Affiliation
Dan Hofmann, Chair
Clemson University
Sammy Grant
City of Clemson

Kathy Bush Hobgood

Clemson University
Kat Moreland
Clemson University
Wayna Sarasua
Clemson University
Laura Smith
City of Clemson
Humanities, Arts, Recreation
Name
Affiliation
Kryssa Cooper, Interim Chair
Clemson University
Angela Agard
City of Clemson
Jay Bennett
City of Clemson
Bob Brookover
Clemson University/City of Clemson
Chad Carson
Green Crescent Trail Rep
Dave Frock
Clemson University
Kade Herrick
Clemson Area Chamber of Commerce
Joan Phillips
City of Clemson
Dave Vandeventer
Clemson University
Denise Woodward-Detrich
Clemson University
Kyle Young
Clemson University
Communications
Name
Affiliation
Sarah Wickham, Chair
City of Clemson
Lowell Arwood
City of Clemson
John Fulmer
City of Clemson
Joe Galbraith
Clemson University
Vicki Roberts
Clemson University
Philip Sikes
Clemson University