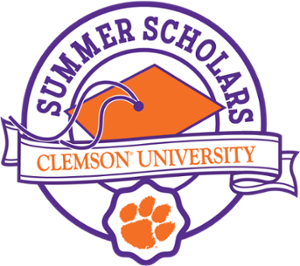 Thank you for a wonderful summer! Registration for Summer 2024 will open in January 2024. Have a great school year!
Have your child 'try on' Clemson for a week this summer. 
Is your rising 7th to 12th grade child (up to the age of 17) exploring different college majors? Give them a sneak peek at what college life is all about, and different subjects they can explore, through a Summer Scholars course this summer!
Every summer, the Summer Scholars program at Clemson University welcomes hundreds of campers who enjoy a one-week introduction to a variety of university learning options, while being immersed in our campus culture.
Experience Clemson opportunity.
Students will engage in hands-on, immersive courses in their field of choice taught by Clemson instructors during the day. Afternoons include free time which can be spent exploring campus, attending a campus tour, or meeting a representative from Admissions or Clemson University Honors College. Evenings feature many of the recreational activities Clemson students enjoy and may include a show at the planetarium, ice cream, games on Bowman field, and an end of the week celebration.
Camp on campus.
Participants taking courses stay in a residence hall and eat meals in a dining hall throughout the week to complete their on-campus experience. Summer Scholars students will also meet current Clemson students, who serve as counselors to guide, mentor, and answer questions about life as a Tiger.
Build international connections.
Partnerships with international education providers such as Gyeonggi Science High School in South Korea bring global perspectives to specific courses. When these students are able to travel to Clemson campus, they are given the opportunity to both explore a college subject while participating in social and cultural events on and off campus with other Summer Scholars students.