Buildings, Facilities and Space Management
Securing Safe and Healthy Academic Spaces
To create safe work, study and

 
learning
 

spaces, Clemson is placing an emphasis on prioritizing the flow of people

 
in a given
 

area. The University will continue to perform ongoing space analysis to determine recommended room capacities to maintain physical distancing recommendations. 
SIGNAGE
Signage has been created to help reinforce this information and can be utilized by departments and offices as needed across the Clemson campus.
When inside any University building:
Keep to your right in hallways and when using the stairs.
In classrooms, individuals arriving first should occupy the front of the space. The space should fill from the front to the back, and individuals at the back of the space should exit first.
Use bottle fillers instead of water fountains.
To order signance please go to the COVID signage order form.
SPACE MANAGEMENT
Throughout campus, faculty, students, staff and campus visitors will find:
Posted informational and reminder notices in and around facilities, including floor markings, elevator capacities, pathway modifications and posted room capacities.
Plexiglass barriers installed throughout high-traffic customer areas.
Standardized foot traffic direction to minimize confusion and to maintain optimum physical distancing, including one-way passages.
Employees: Please review the Signage and Asset document (PDF) for full guidelines on using and hanging signage. Review the Space Management Implementation Guidelines to ensure proper space management strategies are implemented to slow the spread of COVID-19 across all University properties.
Campus Life
Accommodations for living and recreating on campus have specific guidelines attached to them. For more information, click through the links, below.
Recreation
Housing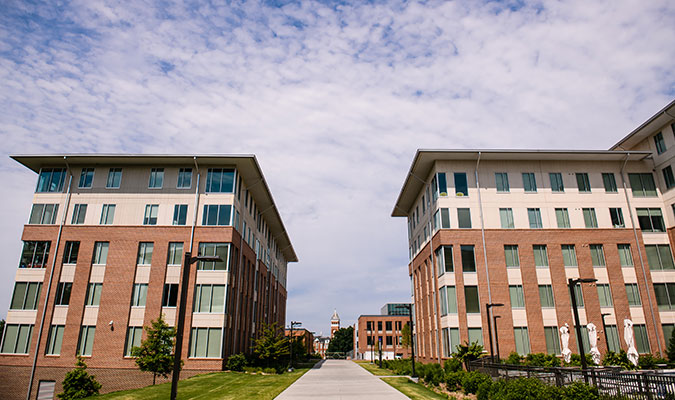 Cleaning
Enhanced cleaning protocols are in place to reduce the spread of illness. For more information, review the Occupational and Environmental Safety document (PDF)
University Facilities has a comprehensive plan for additional cleaning of common areas, focusing on high-traffic and frequently touched places. The facilities team has also contracted with an outside firm to conduct deep cleaning when notified of confirmed positive cases.
As a result of University Facilities' increased focus and attention on these high-priority areas, faculty, staff and students are asked to take personal responsibility for cleaning their spaces, both in offices and classrooms. Custodial staff have been provided with training on the appropriate and effective use of disinfectant products and are provided with the necessary personal protective equipment to safely and effectively do their job duties.
Enhanced Cleaning
University Facilities staff will frequently clean high-touch areas in common spaces at least twice a day and more often where feasible. Those areas include, but are not limited to: building entrance and exit door handles and push plates, common lobbies, restrooms, elevators, classrooms and other high-touch surfaces. Cleaning products have been used previously on campus for other viruses including coronavirus and are EPA registered. All cleaning disinfectants have been approved by the Center for Biocide Chemistries and Environmental Protection Agency.
The University will also conduct deep cleaning and disinfecting of areas with confirmed virus cases using contractors.
In the event a COVID-19 case is identified and reported on campus:
Clemson's Occupational and Environmental Safety (OES) office will be notified and determine the appropriate closure and/or cleaning process per CDC guidelines.
OES will notify the appropriate campus contacts so they can begin the notification process and close the vicinity.
Signage will be posted when a building or area closure is required. All occupants of the area will be notified.
The area will be reopened once cleaning of the space has been completed.