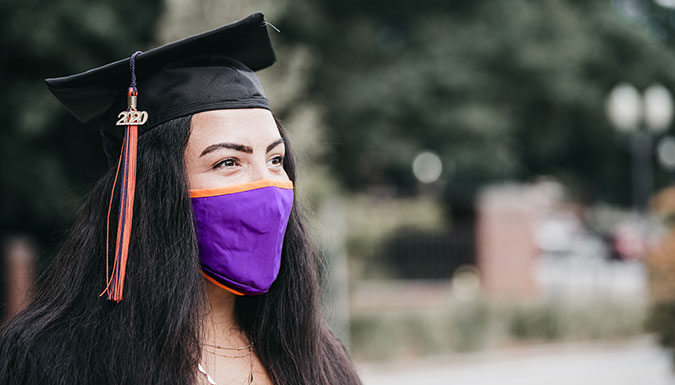 HEALTHY CLEMSON
UNITED AS TIGERS
We are Clemson Tigers. Our strength inspires others. It rocks our stadiums and fills our classrooms. We're committed to getting back on campus and staying here, and that means keeping our spaces healthy, safe and clean in the months ahead.
Cleaning
Enhanced cleaning protocols are in place to reduce the spread of illness. For more information, review this cleaning protocols document (PDF)
University Facilities has a comprehensive plan for additional cleaning of common areas, focusing on high-traffic and frequently touched places. The Facilities team has also contracted with an outside firm to conduct deep cleaning when notified of confirmed positive cases.
As a result of University Facilities' increased focus and attention on these high-priority areas, faculty, staff and students are asked to take personal responsibility for cleaning their spaces, both in offices and classrooms. Custodial staff have been provided with training on the appropriate and effective use of disinfectant products and are provided with the necessary personal protective equipment to safely and effectively do their job duties.
Enhanced Cleaning
University Facilities staff will frequently clean high-touch areas in common spaces at least twice a day and more often where feasible. Those areas include, but are not limited to, building entrance and exit door handles and push plates, common lobbies, restrooms, elevators, classrooms and other high-touch surfaces. Cleaning products have been used previously on campus for other viruses including coronavirus and are EPA registered. All cleaning disinfectants have been approved by the Center for Biocide Chemistries and Environmental Protection Agency.
The University will also conduct deep cleaning and disinfecting of areas with confirmed virus cases using contractors.
In the event a COVID-19 case is identified and reported on campus:
Clemson's Occupational and Environmental Safety (OES) office will be notified and determine the appropriate closure and/or cleaning process per CDC guidelines.
OES will notify the appropriate campus contacts so they can begin the notification process and close the vicinity.
Signage will be posted when a building or area closure is required. All occupants of the area will be notified.
The area will be reopened once cleaning of the space has been completed.
Gathering on Campus
Clemson University in-person meetings and events may resume.
The university urges all colleges, divisions, schools, departments, registered student organizations and other organizational units to continue to limit face-to-face interaction to the extent possible by using virtual alternatives such as email, instant message, telephone, or video conference tools like Zoom or WebEx.
Reservation requests will not be accepted from nonaffiliated individuals or organizations.
All events, activities and meetings in University facilities must adhere to COVID-19 safety requirements such as social distancing, density, maximum occupancy and mask standards and follow protective guidelines outlined in the Meetings section of the Return to Workplace Guidance. It is the responsibility of the host to ensure compliance.
For any Clemson University location, any event that includes 50 or more participants must be reviewed and approved through the established process for that facility which is outlined on the COVID-19 Event Request and Approval Protocol website.
Any off-site event hosted by a University unit, department or delegated student organization must have the written approval of the applicable Executive Leadership Team member. 
Guidelines for Meetings and Events