Planning your In-Person EUREKA! Experience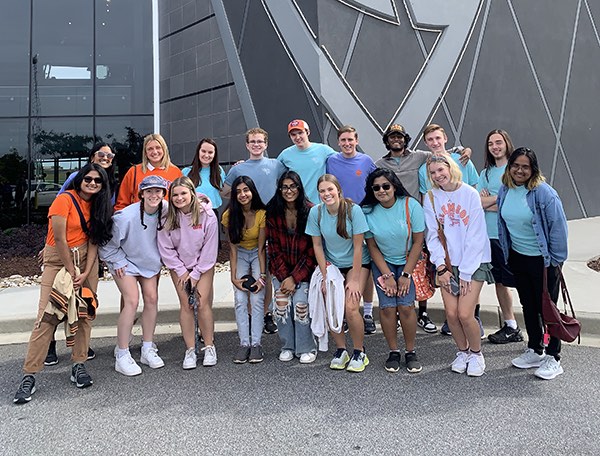 Have a question that isn't covered here? 
We're happy to help! Email eureka@clemson.edu or ask a EUREKA! program counselor. 
Whether you're just starting to prepare to embark on your EUREKA! adventure with us this summer or have questions about some of the finer details associated with your time on campus, such as how to do your laundry while you're here, this page provides the answers you need.
Forms
Clemson University requires all forms to be received before you arrive on campus for EUREKA! 2023.  These forms must be completed, signed by participants, signed by guardians (if the participant is under 18), and uploaded into the admitted student portal.
Rachael Wallace, the EUREKA! Program Coordinator, will contact you if any of your submitted documentation is missing information or is unreadable. If Rachael notifies you that you need to submit an updated form, please respond to her request quickly. All forms must be up-to-date by no later than June 1 at 11:59 p.m. eastern time. If any forms are not updated at that time, your admission to the EUREKA! program will be rescinded.
Getting Here
EUREKA! Move-In Day is scheduled for Friday, June 28, 2024. We do not allow early arrivals. You should report to Mauldin Hall sometime from 1-3 p.m. to check-in and pick-up your assigned residence key. Mauldin Hall is located next to Barnett Hall on Bryan Circle. All students will be staying in Douthit Hills. You can find the location of both Mauldin Hall and Douthit Hills on our campus map. Students must arrive prepared with TigerOne Mobile ID access setup on their cell phones in order to access their apartment. We will also have EUREKA! alumni volunteers available to help you with the move-in process.
Life on Campus
EUREKA! Opening Dinner
The EUREKA! Opening Dinner is scheduled for Friday, June 28 at 5 p.m. in the Hendrix Center Ballrooms. Dinner dress is casual - feel free to wear shorts, t-shirts, etc. You will also be able to bring your family, though RSVPs are needed in advance via the Admitted Student Form. That RSVP information is required because all participants, family, friends, and research group representatives will have assigned seats at the Opening Dinner. Table numbers will be provided in the week leading up to the dinner.
We will dismiss students from the opening dinner at approximately 6:30 p.m.  Parents and guardians should plan to remain in the Hendrix Center Ballrooms for a question and answer session with the EUREKA! Director.  After the parent/guardian meeting, family members are welcome to go to Douthit Hills to say final goodbyes but should plan to depart campus by no later than 9 p.m.
Moving Out
Move-Out is scheduled for Saturday, August 3, 2024 from 11 a.m. until 1 p.m.
Students that don't vacate their room in Douthit Hills, including all belongings, and return their key and/or fob to Mauldin Hall by 1 p.m. that day will be changed a $50 late check-out fee, deducted from the EUREKA! refund.
Planning for Your Poster Forum

All students will create a research abstract and poster of their projects by the end of the program. Students will complete online training and receive input from their faculty mentors and research teams to help them.

Participants will practice presenting their posters and receive feedback from EUREKA! alumni during the Mock Poster Forum. Students must wear business casual attire to this event.

Students will print their posters on-campus then take them downtown to Clemson Variety and Frame to have them mounted by Wednesday, July 26 at 4:30 p.m. Students will present their posters during the 2023 In-Person EUREKA! Poster Forum on Thursday, September 14, 2023 right before Family Weekend, where the entire community is invited to attend. Students should be in professional business attire for this event but attire for guests is casual.

Closing Dinner

The Closing Dinner is scheduled for Friday, July 28 at 5 p.m. in the Hendrix Center Ballrooms, just like the Opening Dinner. This dinner is required for participants but entirely optional for families, though they are welcome to attend. Attire is casual for this dinner as well. We will ask participants for the number of attendees in their Admitted Student Forms but will confirm that number about two weeks before the actual dinner.

EUREKA! Program Fee Refunds

Students who successfully complete the EUREKA! Program, including participating in all required events and in-person poster forum, will receive a $100 refund to their TigerStripe accounts.

As stated in the various forms participants and their guardians sign, EUREKA! has a zero tolerance policy concerning alcohol and drug possession or use. Students found in violation any EUREKA! or Clemson University policy, including the use/possession of alcohol or drugs, will be dismissed from the program. Students must abide by all University policies and state laws as we take them very seriously.

Any participant expelled from the program at any point will not receive a refund for program or meal plan fees.