The Civic Engagement & Voting Rights Teacher Scholars program serves as an avenue for faculty to work together to create classroom teaching materials – by faculty, for faculty – to support a thriving American democracy. Funded through a three-year grant from the Andrew W. Mellon Foundation, the Teacher Scholars are recruited and supported from across the nation to work in cross-institutional, cross-disciplinary, humanities and arts-based faculty learning communities (FLCs). The Teacher Scholars design, create, and disseminate pedagogical materials for use in college courses nationwide.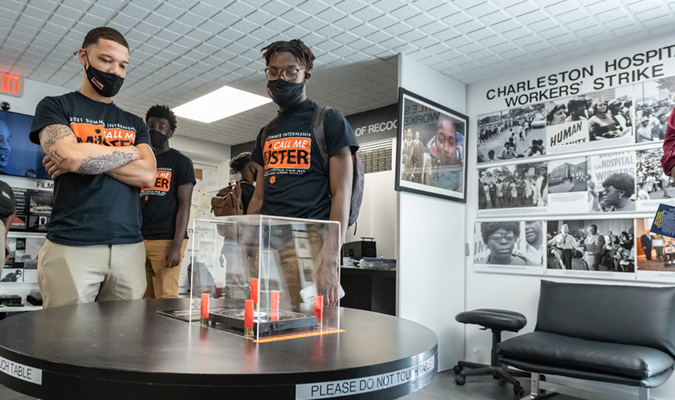 Instagram
Linkedin
Project Aims
Leaders
Dr. James Burns is Director of the Humanities Hub at Clemson University and Professor in History. He is a specialist in African history and the social history of film and was awarded a Fulbright scholarship to Zimbabwe in 1995.
Dr. Bridget G. Trogden is Dean of Undergraduate Education and Professor in the School of Education at American University. She is an expert in undergraduate general education curriculum and pedagogical design.
The Civic Engagement & Voting Rights Teacher Scholars program is supported via collaborations throughout the civic, democratic, and voting rights networks, and especially by the Curriculum & Scholarship Subcommittee of the Faculty Network for Student Voting Rights.
Meet the team
How to Apply: Expectations for Cohort 1
Each Teacher Scholar will attend an in-person 2-day Summer Institute in Clemson, South Carolina. The 2023 Summer Institute will be held June 6-7.
Each Teacher Scholar will virtually attend and participate in a year-long Faculty Learning Community (FLC) of 8 Teacher Scholars (including a facilitator), that will meet for 1-1 ½ hours approximately every 3 weeks from July 2023 through May 2024.
As part of the FLC, each Teacher Scholar will create open resource educational materials consisting of at minimum 6 deliverables for improving civic and voter rights education in courses in their own or allied disciplines: 3 active learning in-class activities, 2 assignments, and 1 course syllabus. These materials will be attributed with a Creative Commons attribution-noncommercial license (CC BY-NC) and archived in the Clemson University Libraries open access digital repository, TigerPrints. As part of the CC BY-NC, the Teacher Scholar retains the right to use and adapt the materials and to widely distribute them to others for noncommercial use.
Each Teacher Scholar will continue with less-frequent FLC activities for a second year (Aug 2024 through May 2025) for check-ins, discussion, and occasional mentoring of cohort 2, with the total time commitment of 8 hours or less for the second year.
Each Teacher Scholar will participate in survey research, assessments, and/or focus groups to help with program and process improvements. Appropriate human subjects research and informed consent protocols will be followed and shared with all Teacher Scholars prior to engagement in these activities.