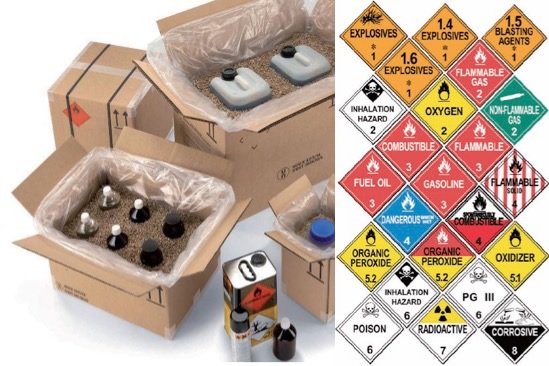 All hazardous materials/dangerous goods shipments, domestically and internationally, are regulated by the Department of Transportation and the International Air Transport Association. Both entities require that shippers (Hazmat Employees) be trained and certified in Hazardous Materials Transportation regulations prior to shipping by their HazMat Employer (Clemson University). Occupational and Environmental Safety is responsible for providing this training and certification to all CU faculty, staff and students.
What is hazardous materials shipping?

The United States Department of Transportation (DOT), to include Federal Aviation Association (FAA), Pipeline and Hazardous Materials Safety Administration (PHMSA) and International Civil Aviation Organization (ICAO), and the international Air Transport Association (IATA) regulate the transportation of hazardous materials or dangerous goods within the United States (domestically) as well as Internationally by ground, rail, air or water.

These regulations apply to all shipments (shipper/transporter) of hazardous material or dangerous goods made by Clemson Faculty, Staff and Students for university purposes.  These regulations also apply to shipments of hazardous materials or dangerous goods by non-university staff when they are "on behalf of" or in "collaboration with" university operations. 

Contact the OES Hazardous Materials/Environmental Compliance Manager for more information.

What is considered a hazardous material?

A hazardous material is defined as a substance or material that has been determined by the Department of Transportation to be capable of posing an unreasonable risk to health, safety and property when in transportation. Materials that are hazardous to the environment (i.e., hazardous substance, hazardous wastes, and marine pollutants) are also regulated.

Hazardous materials include but are not limited to:

Laboratory chemicals
Biological agents
Radioactive materials
Compressed gases
Patient specimens
Dry ice
Refrigerants and related equipment
Instruments/equipment that contain hazardous materials
Batteries

Training and certificate requirements

Per federal regulations, Clemson University must approve and authorize both the training and certification. The certificate must  be signed by the Hazardous Materials Manager (authorized agent for the university), or their designee. A copy of the certificate, test and syllabus for the training must be provided to the Hazardous Materials Manager in Occupational and Environmental Safety.

For helpful external educational references please see our References page.

For training as required by federal regulations or more information, please contact the OES Hazardous Materials Manager.
Hazardous Materials Blog & Events
Clemson Research News