Molecular Plant Pathogen Detection Lab (MPPD Lab)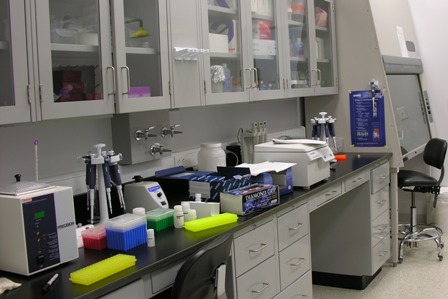 Since COVID-19 restrictions have been eased, our staff are now present in the lab 5 days a week. Samples may be dropped off at the front desk, and lab personnel are available to assist clients in person (by appointment only), or by phone or email. Clients who wish to submit are urged to call ahead and are required to wear a mask while in the building.
Samples may be shipped via UPS, FedEx, and USPS. We are here to receive packages Monday - Friday, excluding holidays. Samples may also be dropped off at our building's drop box located at our rear loading dock, which also houses sample forms, bags, and other supplies. Please notify Lab Coordinator Diana Low (dlow@clemson.edu or (864) 646-2133) when a sample is placed in the drop box.
The Molecular Plant Pathogen Detection Lab (MPPD Lab) utilizes molecular techniques to identify plant pathogens.  Pathogens will be identified by colony morphology, polymerase chain reaction (PCR), and by real-time PCR.  DNA is extracted from symptomatic tissue and prepared for PCR.  The PCR process allows us to amplify a trace amount of pathogen DNA into a larger and detectable amount of DNA.  This technique identifies pathogens much faster than traditional techniques, and identifies pathogens that are difficult to isolate and culture.  The purpose of the lab is to support South Carolina growers in the early detection of plant diseases.  The lab also identifies plant diseases of USDA-APHIS regulatory concern.
For more information regarding the MPPD Lab, call (864) 646-2133 and ask for Curt Colburn, or email gcolbur@clemson.edu