When misconduct is reported, the OCES is responsible for determining the appropriate method of resolution. Tiger Accountability is an educational program offered through Clemson University's Office of Community and Ethical Standards for first time, low level violations of the Student Code of Conduct. It is housed in CANVAS and is completed entirely online.
Tiger Accountability focuses on engaging students with the specific policies and regulations governing the Clemson community. It is intended to fill the gaps in students' awareness and Clemson's expectations regarding prohibited activities and behavior. By looking at the Clemson University Student Code of Conduct, Housing Policies, and relevant Federal and State laws, Tiger Accountability prompts students to acknowledge their responsibility to the Clemson community and assists them in developing ethical behaviors as community members.
A one-time, non-exempt fee of $100.00 is required to participate in this program. To sign up for the Tiger Accountability course and pay the $100.00 registration fee, please visit the CU Marketplace Link.
Clemson University believes that each of its students has unlimited potential to be successful, and that success is not barred by a few behavioral bumps in the road. The goal of the Tiger Accountability Program is to address these behavioral bumps by providing a one-time refresher on the standards of behavior expected of each student. Upon successful completion of this program, the incident in question is removed from the student's conduct record.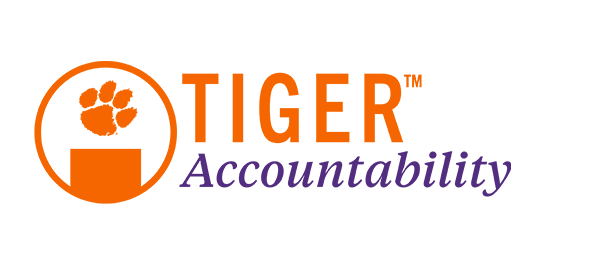 Office of Community and Ethical Standards
Office of Community and Ethical Standards | 202 Sikes Hall, Clemson, SC 29634