Tiger Students Taking Educationally Preventative Steps
Tiger STEPS is an educational program offered through the Office of Community and Ethical Standards that focuses on the growth and development of the individual through choice theory, value exploration, and reflective exercises. This program walks students through online modules designed to engage them in the exploration of their past, present, and future decision-making styles.
TigerSTEPS serves as a sanction/requirement for students following an applicable violation of the Clemson Student Code of Conduct.
TigerSTEPS is a two-part learning experience that is provided through an entirely virtual format via CANVAS. Part 1 of the program is a module-based course designed to engage students with topics related to the process of choice-making, personal values, and a student's role as a socially responsible member of this community. Part 2 asks students to then write and submit a short reflection paper about what they learned.
A one-time, non-exempt fee of $100.00 is required to participate in this program. This fee allows the OCES to continue to offer this program to the benefit of our students. To sign up for the Tiger STEPS course and pay the $100.00 registration fee, please visit the CU Marketplace link.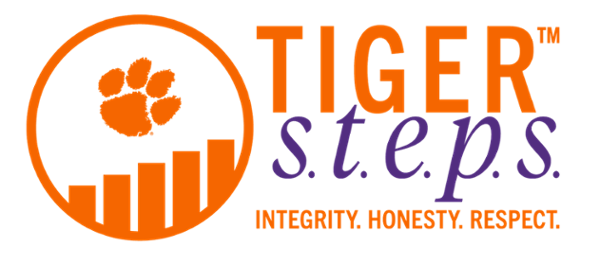 Office of Community and Ethical Standards
Office of Community and Ethical Standards | 202 Sikes Hall, Clemson, SC 29634