The Masters of Science in Data Science and Analytics (DSA) is an online degree program developed cooperatively by Clemson's School of Mathematical and Statistical Sciences and Department of Management. The program requires 30 credit hours, 15 hours from the School of Mathematical and Statistical Sciences and 15 hours from the Department of Management. This unique degree program is entirely online, targets current working professionals, and produces data analysts with course work in decision sciences and management. Career fields for program graduates include manufacturing, military, government, and healthcare administration. Student cohorts for this program begin every Summer.
The DSA Program held an Information Session on April 5th, 2023.  Click here to see the Zoom recording of that session.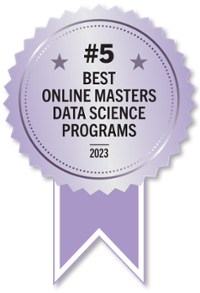 Request Program Info
Why Data Science at Clemson?
In today's market of constant information, the ability to take ideas from multiple sources to form solutions has never been more accessible or desirable. Students need to have a breadth of knowledge while maintaining an individual expertise. Clemson University's MS in data science and analytics will provide students with knowledge in statistics, mathematics, computer science, and business management. This multidisciplinary approach to learning fosters a breadth of ideas to strengthen the depth of an individual proficiency. A graduate degree in purely computer science, statistics, or business management will provide a depth of knowledge in a field of study, but may not provide the breadth component that has become crucial in today's workplace.
As one of the top ranked Data Science programs in the country, we can provide a rare opportunity to hone the skills needed to succeed in multiple career fields and provide connections with Industry leaders.
"After working in the technology industry for over 5 years, I wanted to expand my skillset and knowledge. Working full-time, I also knew that I'd need to find a part-time program that would fit my difficult schedule. The flexibility of the program and diverse background of my classmates in the program have exceeded my expectations and the skills I've learned in just the first semester have already been put to use at my full-time job. I'm excited to use this masters degree to further myself in the software industry."

Steel Schauer
"Data Science is one of the most influential and powerful resources of the 21st century. Acquiring the tools and necessary skills from a top-rated university like Clemson was pretty intimidating at first. As a full time mother and wife, I was nervous to start this new journey. I can honestly say the DSA masters program at Clemson is the best of both worlds. The faculty and staff are amazing. The cohort model adds additional benefits through interaction and collaboration with my classmates. It really feels like I'm part of a team here, or better yet, a family."

Tiffany Pirtle