Certified Student Leader (CSL) is a 8-week, cohort-based program for all students that takes place during the fall and spring semesters. Through this program, students will explore leadership topics and connect with their peers to learn about leadership, service, and social change. This is a great program for students hoping to learn about leadership broadly alongside their peers, or for those who might already be familiar with leadership and want to connect with others to discuss these topics more in-depth.
Students will explore topics such as personal values, conflict management, self-care, goal setting, and positive change. As a part of the program, participants will also participate in campus events and service opportunities. 
Upon completion, students will feel more confident in their self-understanding and their ability to enact positive change at Clemson and beyond! 
Upcoming CSL Dates
Fall 2023: Week of September 11 - November 14 (in person)
Register by September 11 at 11:59 p.m. 
For more information, please email Christopher Spellman with any questions.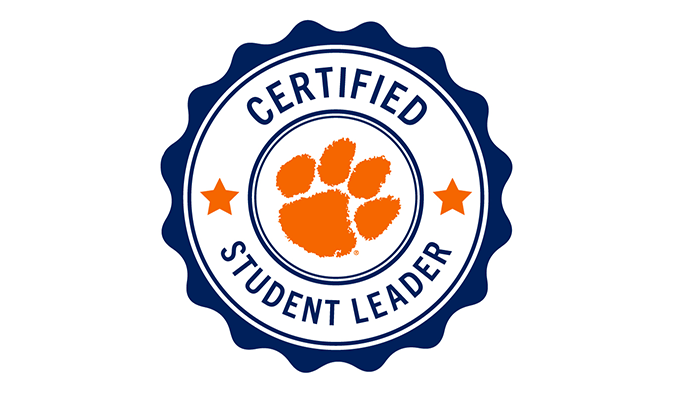 Certified Student Leader Testimonials
"I joined CSL's fall cohort with my roommates to work with my peers to better understand all aspects of leadership, ranging from goal-setting to conflict styles. I wanted to learn how to be a leader and better serve the Clemson Family during my time here as an undergraduate student. I use what I learned with my cohort daily in my classes, clubs, and personal life."

Sophia Wilson

FALL 2022

CSL COHORT
"My favorite part about the Certified Student Leader Program is the opportunity to develop and enhance my leadership skills in a structured and interactive manner. The program had various interactive presentations, providing diverse in-session practical experiences that significantly contributed to my personal and professional growth. I recommend it to another student because it helps you with invaluable leadership tools and cultivates a strong network of like-minded individuals. The program's emphasis on experiential learning and ongoing mentorship ensures an experience that prepares you for leadership roles and positively impacts your academic and future career endeavors."

Alok Kumar

SPRING 2023

CSL COHORT
"My experience in the Certified Student Leader program has enhanced my ability to know myself deeper and how my values influence the decisions I make, my distinct leadership style and life experiences. I have enjoyed taking the knowledge and skills gained in CSL such as conflict management, goal setting, etc. and applying them to my current leadership roles as well as everyday life. My favorite part of CSL was the opportunity to bond and grow with a diverse group of individuals from all walks in life. I am beyond thankful to have heard and learned from the various viewpoints and values. I would recommend CSL to any and all students, whether you have a lifetime experience of leadership or have not had the opportunity to be involved with an organization yet. I am a strong believer that everyone is a leader in some way or another, but with that comes a responsibility to continue to nurture and grow that leadership. CSL is just one of many ways to accomplish this and meet some incredible individuals in the process!"

Reagan Starin

SPRING 2023

CSL COHORT
Center for Student Leadership and Engagement
Center for Student Leadership and Engagement | 300 Sirrine Hall, 515 Calhoun Dr, Clemson, SC 29634